Automatic Steel Gates
Mechatronix is the leading security equipment manufacturer since last 18 years. We manufacture & install automatic gates, Sliding gates, Industrial grade sliding & Swing gates, Telescopic gates, Bi-folding & customized gates according to site & client requirements.
These gates are mostly used for industrial facilities,corporate, governmental & military sites & private residences. The range includes swing gates with heavy duty hinges, Tracked sliding gates.
All gates are designed with elegant look and friendly to use for everyone, designed to ensure maximum safety of functioning and reliable long-lasting performances, having intelligent control board that's allows slowing down the speed when approaching to the final position. Custom designs and constraints are openly welcomed and incorporated during development phase.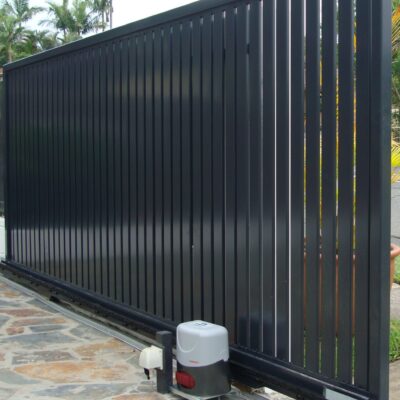 Smart Gate Details:
Mechatronix industrial grade swing gates with automation, Sliding tracked gates & telescopic gates. Mechatronix is the locally manufacturer of security, heavy duty & commercial Gates.
The Mex security solution for Industrial, Commercial & Residential sites. There is solution of Bi-folding & Telescopic gates for sites with limited space. There is a standard design of gates available. However any customization according to needs can be designed. The gates design & dimensions can be adjusted according to site requirements. The gates material is standard mild steel.
Swing Gates
Sliding Gates
Telescopic Gates
Bi-Folding Gates
Scissor gates
Louver Based Gates
Customized Gates
As similar to our dozens of products, smart gates are controlled electronically with a button, RFID or remotely. A smart switching system and sensors can also be design to control the complete set of smart doors from control room or command room.
With rockwoool, ceramic wool and honey comb panel compel it a strong wall, which defends again strong push. The Doors are created with imported heavy duty stain less steel covered with epoxy coating and enamel finish.
A smart door cannot de considered smart, if is not operated with RFID, Biometric, walking sensor or remote. We design doors with smart elements and super features to up the level of safety to make organizational environment more secure.