Full Height Turnstile – Turnmex Secure
Full-height turnstile is a fully secure solution for outdoor perimeter security. Mechatronix' "TurnMex" delivers a broad range of flexible, robust & reliable turnstile solutions. Mechatronix modular designs with Unidirectional & Bidirectional units in single & double Lane configuration with 3 wings at (120 degree) & 4 wings (90 degree).
Mechatronix Turnmex Full height turnstiles provides Easy & Quick integration with wide range of Biometric & CAS devices. The Robust design of Turnmex is easy to Install & power efficient. Dual lane Platinum, 3 & 4 wing Quadra turnstile models are best choice for many customers. Turnmex provides Security with ease and aesthetics.
• Mechatronix provides 3 years warranty & after sale service under SLA.
• PLC based control panel, Quick & easy Integration with Access devices
• Heavy duty MEXLock mechanisim.
• Available in Stainless steel & mild steel Material.
• Fail-secure feature with manual release keys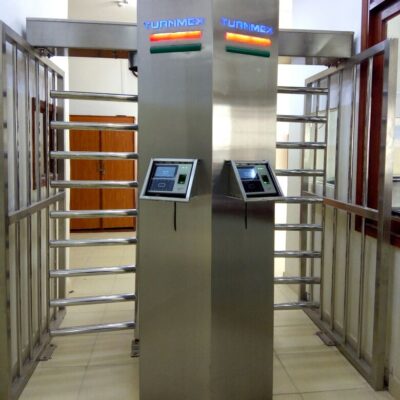 Types – Full Height Turnstiles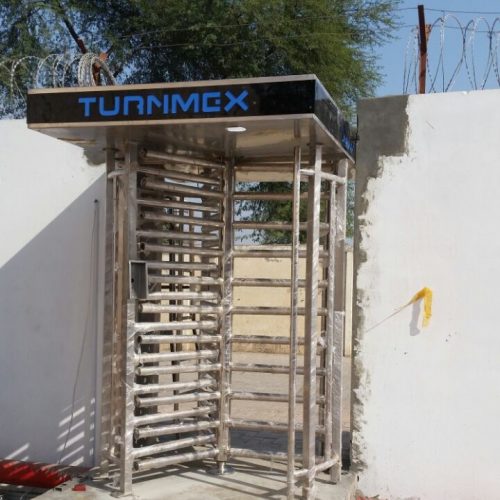 Product Description
Full Height Turnstiles are highly secure choice for Access & perimeter Security. TURNMEX Turnstiles are approx. 7.00 ft. The Robust & flexible design combined with reliable operating MEXLOCK mechanism.
MECHATRONNIX Turnstiles can be integrated with wide range of biometric access controls. It is a complete solution for Time & Attendance, IN/OUT & Access Control.
Full Height Turnstile units are complete & integrated solution connected with access control devices that provides superior attendance & access control. They can also be operated in free mode or through manual push.
These are available in various combinations & manufacturing materials, Uni & bi-directional configuration, single & double lanes. TURNMEX finish is available in Stainless steel standard and mild steel as optional.
For any requirements of access control, full heights turnmex can be used to provide the maximum security level at minimal effort applied. The Full Heights are best suitable solutions for high security requirements. The applications of Full length turnstiles are Military & defense areas, Government facilities, Embassies, Educational sites & Offices, industry & manufacturing plants, Power plants, data centers, Refineries and other high security risk areas.
Not just security but combines with safety and access control features. The primary responsibility is to protest site, assets and control access of visitors & employees. They are ideal for outdoor & harsh environmental conditions.
Security & Safety Features:
Flexible & Robust MEX design for Outdoor Security Installations
Heavy duty mechanical MEXLOCK Mechanism
Available finishes are 304 Grade Stainless steel standard & Mild steel Powder coated finish as optional
Programmable Logic Controller (PLC) Electrical Panel
Mechanical key override feature – directional control Clockwise & Anti Clockwise
Quiet & buffered solenoids & pawls in TURNMEX
Solenoids rated for 100% duty cycles
Fiber locking disk and pawls – Quick & Low maintenance
Fail-Secure & Fail-Safe (optional) feature available
Manual push type operation feature is also available
Easy & Quick integration with wide range of Biometric & CAS devices
3-Years Warranty & after sale service with parts under SLA
The Installation & complete drawings are available in brochure. For any further query feel free to contact us.
Turnmex has capability of bi-directional locking that improves the worth of safety. This locking system enables both sides passing, one at once with locking or simultaneous sides as well. It supports multiple application and flow of traffic control.
Turmex comes with both automatic and manual control system, if one somehow turns down the other is always there as secondary locking and both can be used for various purpose.
Mechatronic's full height turnstiles are compatible to integrate with RFID and Biometric identification system, an essential security application widely used in organizations and cooperations. Turnstile structure and features can be designed on custom specifications.