Certified Fire Rated Doors!
The core purpose of fire rated door is to prevent the spread of fire & smoke. These doors are designed and used to slow down the prevention and spread of firestorm in household and commercial buildings.
They are commonly installed in commercial buildings, Offices, residential structures, and especially in public buildings.
The Mechatronix MEX fire doors are designed to block the flame and protect lives, building architecture and valuable assets. These doors are based on the world authentic standards of fire ratings moreover professional locally fabricated of both steel and wood.
• Rockwool, Ceramic Wool
• Honey Comb Panel, Air Chamber, Vacuum Chamber
• Panic Bar, Push Bar, Trim Lock
• Optional Door Automation/ Motorization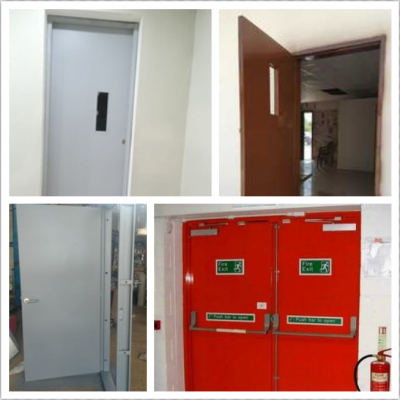 Types Of Available Fire Rated Doors

Product Description
These doors are designed, manufactured and tested by professional engineers and industry experts.
Our fire exit doors are fabricated to be installed in new and existing compartments areas that provides allowing time for occupants to escape. Steel crafted are usually used in shopping complexes, offices, factories and residential apartments.
Product Specifications:
Providing full range of sizes
High quality stainless steel hinges
High quality stainless steel handle
Door leaf with high quality fire resistance core
Choice of frames: wooden internal (standard), wooden embracing, steel frames (optional)
Provides wide range for finish & colors
Wide range of accessories and hardware available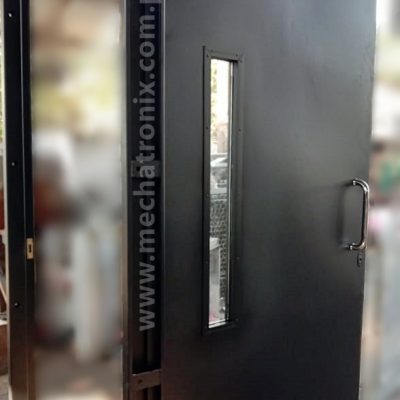 | | |
| --- | --- |
| | |
| Door Leaf Material | 20 Gauge Mild Steel |
| Door Leaf Sheet | G1 0.9mm thick sheet |
| Door Thickness | 1.5 inches (Min) |
| Internal Insulator | Hard Honeycomb Core, Rock Mineral Wool, Ceramic Wool |
| Surface Finish | Painted / Customer Choice |
| Door Frame depth | Normal Width of the frame: 115mm – 240mm |
| Door Frame Material | 16 Gauge Mild Steel |
| Anchors | Different Anchors, such as adjustable vertical anchor, Tee anchor, wire anchor, floor base anchor and etc. |
| Frame Type | Reinforced core frame with stiffeners and filled with Ceramic/Rock |
| Open & Closure Data | Turn or slide, in or out, left or right |
| Fire Resistance | 30 – 45 – 60 – 90 – 120 minutes |
| Certificates & Labels | BS 476 Certified License |
| Vision Panel | With or without as requested |
| Louver | With or without as requested |
| Accessories | Lock, Handle, hinges, door closer, panic bar, Smoke Seals, and other as requested |
| | |
Other Features:
Standards & Certifications:
– Standard for Safety for fire tests of door assemblies, ANSI/UL10B
– Positive pressure blaze test of door assemblies, ANSI/UL10C
– Standard method for fire tests, CAN/ULC-S104-15
Fire Door Applications:
– High impact applications
– Utility buildings
– Residential applications
– Interior applications
– Education centers & embassies
– Building fire exit doors
– Commercial towers
– Health centers etc.
Door Accessories (Optional):
Heavy duty ball bearing steel hinges.
All doors are equipped with self-closing and self-latching flame proof/ certified hardware.
Smoke seals to control fire and smoke spread.
For more details & technical Specifications download our brochure or visit or fire door blogs
Our fire rated door are designed and crafted to bear extensive fire heat for premium protection. Specially made from MS sheet pans, ceramics, honey comb panel with extra protection of epoxy and enamel coatings.
If you are worried about the build protection of the door, we are proud to present such special doors, that are not only heat proof but bullet and strike proof as well. These doors play a vital role for your security needs.
Mechatronics is always 1 step ahead to fulfill your security requirements. We provide you with most advance, modern and solid locking system in fire door, that keep safety at first and simply opened in emergency.