Road Blockers – Mex Rising Kerb
Mechatronix offers crash-rated protection of your company premises through wedge-shaped road blocker also known as "Mex Rising Kerb". As a large portion of it's supporting frame makes direct contact with the concrete-filled earth at all times, it is considered an extremely effective security solution. Heavy duty Hydraulic Power Unit (HPU) is used to operate the machine. Additional automation may be provided by loop detectors, IR sensors, or magnetometers.
The K12 crash rating designed wedge barrier deters traffic and is highly visible when in use. MEX Security aimed blockers have been designed to suit various security needs.
Automatic (PLC Based), UHF Reader, Remote control, Under Vehicle Surveillance system can be easily integrated with the road blocker. The blocker dimensions can be according to site open clearance or as upon client request.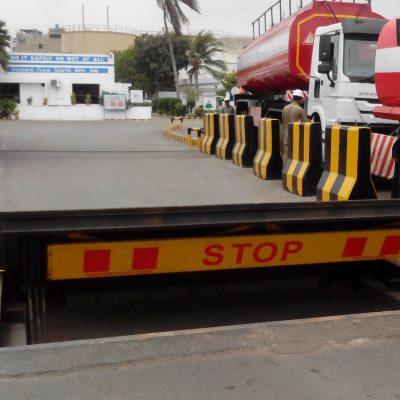 Mechatronix Road Blocker Types

Surface Mount Blocker Machine
Surface mounts are designed and installed on high security risk areas. The surface mount road blocker is a solution for quick installation & low maintenance. The surface mounts are unique in design and are highly secured solution. The machine does not have any depth as its installation does not require heavy civil work.
It is operated with Hydraulic control unit. In case of power failure the barricade can be lifted or lowered manually using hand pumps and valves.
It can be integrated with wide range of Biometric & Access control devices and control system. The internal control panel is PLC based.
• Hydraulically Operated, imported HPU
• Strong I-beam Main/ Movable Frame with a MS chequered top plate
• C-channel rectangular Supporting Frame with end-butt welded joints
• Relatively shallow excavation needed for blocker fitting or can even be surface-mounted
• Rust prevention through galvanizing, surface protection through epoxy coating
• Enamel top coat with user-defined color scheme
Delta – D Type Road Blocker
Delta type Road blockers are designed for permanent installation in a RCC foundation. The machine is hydraulic or pneumatically controlled that quickly raises or retract.
It is a crash Rated tested & certified solution to control heavy duty vehicles. The design & construction consist of heavy steel sections with mild steel skirts & covers. The top plate is checker sheet, anti-slip plate to withstand an axle load of 15-20 tons.
The blocking segment shall be secured into a subsurface mounting frame and will be rotated through 35~ 43 degrees to secure the roadway. On impact, the forces exerted on the blocking segment should be partially absorbed by the structure with the balance being transmitted through the substantial frame and into the re-enforced foundations. The segment is designed to absorb / withstand impacts from small and large commercial vehicles like, Cars, Vans, SUV & and other higher chassis vehicle.
Segment Height
The height of the segment when in the closed (raised) position, as measured from the top of the mounting frame, will be a minimum of 650mm (can be customized) to minimize the possibility of site penetration and to ensure that higher chassis vehicles are restrained.
Segment Width
The nominal width of the blocking segment can be 4,000mm although this may be decreased and increased to a maximum of 7,000mm. (Please note that it is not advisable to install units wider than 4,000mm due to the significant risk of a security breach caused by the possibility of dual lane traffic flow.)
Finish
The segment and mounting frame are to be finished with an anti-corrosion paint in black with yellow, black with white and Red with White diagonal stripes over-painted on the segments front skirt and road plate with highly reflecting text of "STOP" on the front skirt.
Hydraulic Operated/controlled Blockers
This is used for controlling the entry/exit of vehicles to sensitive security buildings, which has a threat of terrorism or crime by any sort of vehicle attack.
Most reliable and helpful for controlling the access of vehicles to sensitive perimeter. Hydraulically operated road blocker with Crash Rating can be installed for maximum security and safety applications.
• It is K-8/K-12 Rated Blocker (6,803.886 Kg 40 @ mph & 50mph)
• Military air bases, ministries and governmental buildings.
• Security buildings and police stations.
Product Description:
The Mex Road Blocker along with MEX security features are safety loop detectors & light sensors for vehicle safety. A heavy duty hydraulic system is best suitable for continuous operations.
According to the international standards our products are K-Rated Certified & tested. The K-Rated barricades are tested and proven to stop 15000 lb. Truck with impact Rate at 30, 40, 50 MPH. The K-Ratings are K-4, K-8 & K-12.
The road blockers feature manual raising and lowering, and install flush to the finished roadway when retracted.
For more details download product brochure or visit road blocker blogs.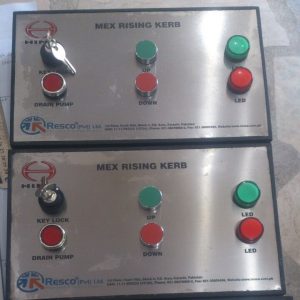 Material
Mild Steel
Raised Height
600-1000 mm (Adjustable)
Axle Load Resistance
20 Tons
Power Requirement
3 Phase, 50-60 Hz
HPU Motor
Hydraulic Motor with 5-7.5 HP capacity 400 V
Structure
Composite Fabricated Structure with Different Sizes of Flange Beams, UPN Channels and Equal Angle Section 6 – 10mm
Operational Speed
4-6 Seconds
Top Chequered Plate
6-10 mm Antiskid Chequered Plate
Hydraulic Pump
14Litres Per Minute at 1400 RPM , Gear Type , Max 2800 RPM , Aluminum
Hydraulic Actuators
65mm External Diameter, 50mm Shaft Diameter, Synthetic High Pressure Seals
Safety Valves & Gadgets
Pressure Safety Valve ,60-80 Bars instead of 140 Bars and Manual Relief Valve
Maximum allowable piping between Pistons of Road blocker and Hydraulic system
At maximum 10 meter Required
Tank Size , Filters , Gauges
40 Liters , Oil Level, Suction and Breather Filter Attached
Protection Relays
Voltage overload/under load, Phase Protection Relay Included, overcurrent protection through CB
Control Cabinet
Weather Proof Control Cabinet will house all active hydraulic, electrical and electronic component
Control Unit
Industrial PLC Based Electronic Control Unit
Finish

Red Oxide & Enamel Coating,

Colored Tough pavers (Optional), Hot Dipped Galvanized (Optional)
Our road blockers are strongly developed using imported HPU, K-rated and tested to block tons of weight. They are considered to be of best quality in Pakistan because of the readability and usability, admired by well known organizations such as Pak Army, FBR, Uniliver e.t.c.
Electronically operated with a single push button, automatic and manual systems are implemented on the basis of client requirements. Additionally the appliances are easily compatible with RFID and biometric systems.
The most highlighting factor now a days is changing technology and we take care of it with high priority. Our blocking machine cop-up with upcoming automatic technology systems and compatible with advance IT systems.