Flap Barriers – FlapMex
While tripod turnstiles have to be pushed to get across, flap barriers boast a contact-less solution. Our FlapMex are driven by motorized mechanical kit and are equipped with IR sensors at entry and exit to check unauthorized human passage. Access control devices are housed on the top surface for granting entry permission and LED lights are used in various configurations for indication purpose. These barriers are also known as speed gates, as they provide access quickly to let go pedestrians at indoor, outdoor stations, organizations and places with moderate level security required.
• Stylish metal sheet body, Colorful top panel
• DC Brushless Motors, high performance, less power consumption
• High flap opening speed, high passage rate
• Customizable software solution
• Controlled with RFID/ biometric devices/ Face recognition unit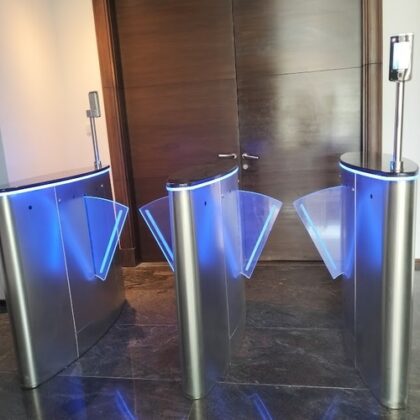 Flap Barrier Types / Variations
Product Description:
These Barriers has an advanced system of detection & tracking sensors, indications & Aesthetics. The standard finish is the Stainless steel 304 grade & acrylic flaps. The top cover can be a marble or stainless steel. The Lighting or color is an optional feature.
The Units are equipped with detection sensor on each side for intrusion & Access detection. The speed of flaps can be adjusted.
It is a fails safe security system. In case of power failure, Fire alarm, or emergency, the arms will open automatically.
These speed gates are used to control the pedestrian or employees and to mark automated attendance with access control system in offices, buildings, banks and commercial areas etc. The motor driven flaps are equipped with sensors at waist height.
Safety & Security Features:
Robust design for Indoor/Outdoor Security Installations
Includes Two Aisles for Single Lane and 2 Aisles and 1 Middle Aisle
For Two Lanes
Available in 304 Grade Stainless steel / Mild steel Powder coated finish
Wing Flap Body: Acrylic
Max Power: Consumption 80Watt, 24VDC (Drive Board)
Opening time: Variable, depends on customer requirement
Programmable Logic Controller (PLC) based Electrical Panel
Transparent and Color Acrylic (Optional) with Back Light (optional) for aesthetics/Motion indication
Built-in Signal Lights
Easy & Quick integration with wide range of Biometric & CAS devices
3-Years Warranty & after sale service with parts under SLA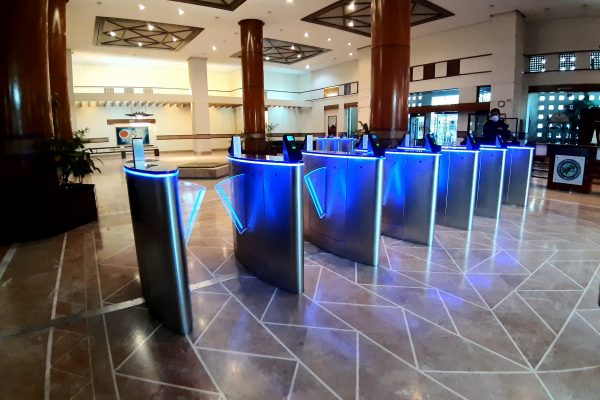 Security Barriers with delicate design and advance features of LED detection, automatic control and smart communication. With long lasting imported material and reliable tech support forever by Mechatronix makes their speed gates superior in the market.
Our Flap Barriers are integrated with advance recognition system such as RFID, Biometric and ID detection. The processing is done milliseconds with super smooth rolling of barriers and herds.
Mechatronix offers face recognition and identification technology with smart system. Meeting the standards of modern era security enables multiple applications that keep smart organizations safe and more useful against COVID-19 protection.
If you are looking for a software with custom or certain requirements for organization, Mechatronix's software team is capable of developing top-notch software applications that can be vital for your needs whether it is a cooperate, company, industry or any other.