Smart Turnstiles
Mechatronix offers high-quality turnstile solutions that meet customer's expectations. All models integrate with almost every brand of access control system available in the market and provide high level of reliability and efficiency in operation. In these days of heightened security, it is imperative to have a durable and reliable security system. Our turnstile solutions offer improved security and extended flow capacity.
• Turnstile is used for controlling pedestrian's entry and exit via Card or
manual Push Button.
• Maintains Queue lane
• It is a mechanical gate, designed to only allow one person to pass through at a time.
• It consists of revolving horizontal arms that are fixed to a vertical pole.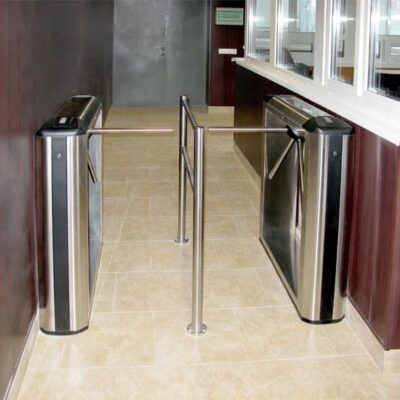 Product Types / Variations
The Turnstiles are integrated with advance recognition system such as RFID, Biometric and ID detection. The processing is done milliseconds with super smooth rolling of barriers and herds.
If you are looking for a software with custom or certain requirements for organization, Mechatronix's software team is capable of developing top-notch software applications for turnstiles that can be vital for your needs whether it is a cooperate, company, industry or any place.
Our Turnstiles comes with both automatic and manual control system, if one somehow turns down the other is always there as secondary locking and both can be used for various purpose.
Mechatronix's turnstiles are designed by high quality steel with epoxy coating and enamel finishing . Turnstile's structure and features can be designed on custom specifications.