Boom Barriers – Auto Operated
Barriers are the best choice and designed for entrances where there are high security requirements. The stopping barrier is designed for crash resistance through strong foundation & structure.
The boom Barriers are the most suitable solution for various security applications. Widely used in Military sites, Governmental places, Embassies, Public & Private properties.
Hydraulic boom barrier is K-4 Crash Rated Road Barrier. They are designed as Heavy Duty mechanical & hydraulic structure for certified crash ratings & long term reliability. The main unit is hydraulically operated & in case of power failure it can be lifted manually with hand pump.
The barrier can easily be integrated with a wide range of access control systems for automatic operations. Other accessories like Safety loop detectors, traffic signal lights and Indication lights can also be integrated with barrier.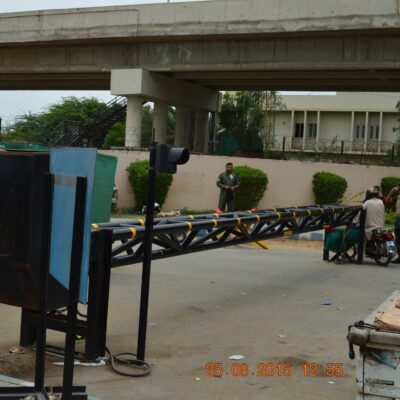 Crash Rated Single Boom
Hydraulic vehicle boom barrier K4 Rated is designed for fast and fluid movements with rectangular or Circular boom. Latest generation control unit is equipped with a  complete range of accessories. Practical with in-built control unit housed on side, the LED lights and various connections available for safety devices and power back-up.
Designed to blend into modern architectures, K4 Rated Vehicle Barrier is made up of a sturdy steel structure for reliable operations and long lasting appearance.
For a Rectangular boom the standard dimensions of a barrier are:
Height = 3 feet 7 inches
Length = 20 feet
Width = 2 feet 6 inches
Pipe thickness: 7mm
Crash Rated Double Boom
The Double boom barrier ensures the maximum security with its heavy duty mechanism. The double boom barrier is the standard hydraulic barrier of Mechatronix for high security Risk areas. It is certified K-4. K-8 & K-12 crash rated.
The double boom barrier is designed, Simulated & fabricated in our facility. The heavy gauge material provides maximum strength & durability for life time. It can be used for either traffic control along with maximum security or especially for high security risk areas.
Available Optional configurations include inductive loop detectors, Signal lights, Access readers, Manual push buttons & interlocking operation with other equipment.
Standard Dimensions are:
Height = 3 feet 6 inches
Clearance = 16 feet
Width = 2 feet
– Pipe Diameter: 4 inches
– Supporting pipes: 3 inches
– Barrier supports: I Beam 4 x 8 inches / H Beam
Crash Rated Delta Boom
Crash Rated Delta barrier is the enhanced and modified form of Double Boom Barrier. It is unique in design that provides high strength & maximum security & safety. Hydraulic Boom Barriers are the strongest road barriers on the market.
It uses Hydraulic System for its operation. It consists of Hydraulic Jack, Motor and other electrical Equipment. Usually these barriers are not used for conventional traffic flow. Installed on high Security threat areas or sensitive sites.
Security buildings and police stations.
Military and air bases.
Ministries and governmental buildings.
Stores, factories and warehouses.
Airports, ports and land customs.
Embassies and international organizations centers.
Manual Boom Barrier

They are the most common type for vehicle access control system.  These barriers are heavy duty & can bear strong impact of vehicle attack.
The operation is manual & usually designed for Access control flow. These barriers are installed where there is no electricity or frequent power failures. It is installed either for low maintenance or remote areas.
Stores, factories and warehouses.
Airports, ports and land customs.
Embassies and international organizations centers.
It can be integrated with all kinds of access control systems.
Imported Hydraulic Power Unit
Crash-Rated K-4, K-8, K-12
Safety & Security Features:
Crash Rated Certified K-4, K-8, K-12
Heavy Duty Mechanism for strength & Durability
Manual Hand Pump Operation in Case of Power Failure
Programmable (PLC) Control Panel
Low Maintenance & Easy Installation
Flexibility to Integrate with wide Range of Access Control devices.
Available in Mild Steel Painted Finish
Warranty & After Sale Services with Terms & Conditions
| | |
| --- | --- |
| Features | Description |
| Material | Mild Steel |
| Rising Angle | Up to 90 Degree |
| Barrier Arm | As per Site Requirement  (16 ft. standard) |
| Power Requirement | 3 Phase, 50-60 Hz |
| HCU Motor | Heavy Duty motor, 5HP 400V |
| Structure | Heavy Duty Rectangular or Circular Boom |
| Operational Speed | 4-6 Seconds |
| Magnetic contactors | Magnetic Contactor is installed in Electrical panel just to protect the system from back EMF of motor. Magnetic contactor isolates Motor from rest of the panel equipment. |
| Protection Relays | Voltage overload/under load, Phase Protection Relay Included, overcurrent protection through CB |
| Control Cabinet | Weather Proof Control Cabinet will house all active hydraulic, electrical and electronic component |
| Control Unit | Industrial PLC Based Electronic Control Unit |
| Finish | Painted |
| | |
K-Certified Boom Barriers are crash tested and certified by Department of State (DOS) for barriers, bollards & gates security measures. Mechatronix Barriers achieve all the given standards (k-4, k-8 and k-12) of K-certification and proudly execute to all over Pakistan.
Mostly the heavy barriers are operated electronically but turned out to be slow when used for certain time. We guarantee the fast execution and consistency of our electrically operated booms.
We always come up with top solutions for our clients, we know what fits where and why. RFID and Biometric integrated barriers are used widely and requirement of modern era and used for different applications to ensure safety.
Need Premium features in your boom barrier, no worries, our booms are hydraulic operated, contains LED signals, comes with emergency button and loop detector. This makes it most competitive product in the market and useful for organizations.