Mechatronix
How Flap Barriers Are Helpful In Security And Attendance Management?
Flap barrier is commonly called as blocking gate, turnstiles, or pedestrian barrier used explicitly for pedestrians' access control management. They are installed to provide valuable assistance to security personnel in any scanned entrance.
Turnstiles are generally available with device access control systems. It includes a tap card (RFID), fingerprint, and face-recognition control system. They often count the number and keep record of pedestrians passing through the gate at Amusement parks, Offices, metro stations, airports, and Malls to track entry and exit.
It has single or double side flaps that assist as physical barriers that prohibit entry and exit of pedestrians. They are available in different sizes and design materials as per needs.They generally available in waist height 3-4 feet high.
How do they work?
They are appropriate for one or two-way traffic access control of walkers. A retractable door is embedded in the wings of the turnstile. Doors retract rapidly when the device catches the opening signal and makes the current channel in an obstacle-free state. However, a pedestrian passes through the scanning point, and the machine control board informs the movement motor to turn off.
The flap barrier system is designed so that if a person does not have access to pass, flaps stay locked. And If a walker have the authorized access, flaps stimulate and after passing through and locked again in few seconds.
How flap barriers play a key role in restriction and management?
As we all know, security is the top most priority for one and all. Even if it is an organization, industry, firm or Government offices. Nowadays, security is proportional to any kind of institution and most businesses rely on the smart security systems. However, Due to the growth of technology, the 21st century has become gradually electronic and automated. Flap barrier appliance restrict the traffic, monitors the entry records and filter out unknown entrance, that proves to be critical as well as the first step to the safety standards. There are several reasons why these gates play a crucial role in restriction and management in this modern era.
Enhanced & Improved Security System:
Flap barrier is more in effect than the other procedures of security. To enhance the security system, they can restrict unauthorized entrance by syncing through sensors without much delay. They have biometrics (fingerprint), RFID (Radio Frequency Identification) for attendance management, and a face recognition system through which we can improve our employee management and identification.
Attendance Management:
For security management, a particular RFID system has been introduced in turnstiles that can also manage and record attendance in organization. Employees use their entrance point at offices, but it is tough to manage leaving and entry timing. For this reason, the RFID system is quite helpful and easy to integrate with online attendance system. It will be no need to hire another employee to manage personnel's attendance that look efficient for companies.
Rationalizes The entry Process:
By employing these gate assimilated with the access control system, authorized personnel are authenticated by verifying face recognition and restricting unauthorized entries. They are highly effective for blocking illegal entrances of pedestrians and recognizing the scammers, robbers or illegal individuals.
Modern Technology/Security System:
Swing barriers have become a renowned component of modern-day business security systems. The are fully automated, manageless and integrateable to online access systems, visitor management and emergency systems. We mostly have seen them at zoos, metro stations, parks, offices, subways, airports, railways stations, crowded places, etc. Flap barriers are highly recommended in areas where it will be unsafe to let go of the pedestrians without checking.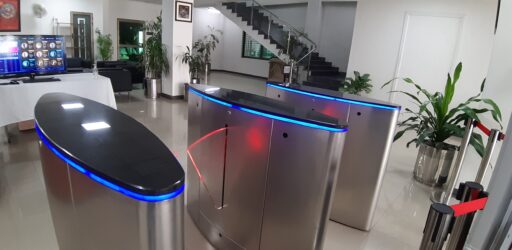 Employee Management:
Flap barriers are proving to be very helpful in crowded places. The key reason behind the success of this barrier gate is that they are extremely helpful in managing employees. Its RFID system is used to conduct physical entries, even their in and out timing, and provides excellent workflow. For this reason, companies do not need to hire any other employees for management.
Record And Data Management:
Flap barrier can work with other security equipment like cameras, doors, handheld metal detectors, x-ray baggage scanners, etc. These gates provide teams with the identification, location, and time of each person entering the building and recording them. The self-verification function  helps to condense the burden on receptionists and security guards as they do not have to verify by self each person.
Crowd Control:
Due to modern technology, flap barrier turnstile is highly recommended in European countries. They are a practical and efficient way of managing traffic in crowded places. You must have seen these restriction barriers at metro stations, parks, and stadiums. These flappers are mainly used to prevent unapproved entrances and control community access in crowded places.
How To Make A Decision On It!
These tools are used to restrict illegal entries. They are significantly helpful in security and attendance management since it has RFID turnstiles, biometrics, face recognition, and smart sensors for indication purposes and can work with the access control system. Moreover, they are suitable for places, like organizations, offices, parks, malls and sports stadiums, etc. If you are eager to buy flap barriers at your organization's gateway, you may reach out Mechatronix Solutions. Flap-Mex provide an advanced system of detection and tracking sensors. For any kind of inquiry, guidance reach us.
Our team will eagerly help and support!