Mechatronix
5 Important Reasons For Installing Flap Barriers At Your Entrance Points
Flap barrier is commonly called as blocking gate, turnstiles, or pedestrian barrier used explicitly for pedestrians' access control management. If you are considering installing automatic swing gates, you must search for their benefits or reasons to adopt such a security system for your premises.
UAE is considered to be the economic hub. As we know, UAE has the tallest buildings in the world any other state has. It is challenging to manage such facilities. They install advanced tools like turnstile and swing barrier gates to manage employees and visitors.
States like China, India, Japan, and UAE are the highest importers of flap barrier turnstile to make their organization management system smooth, effective and secure. In the modern era, institutes must present themselves in the best light. Since outdated technology affects business badly, it is better to be in a contemporary society with advanced security tools.
The gate has two flaps and can manage the inflow and outflow of pedestrians; moreover, they prevent pedestrian tailgating and entries and record data in ACS (access control system). Let's discuss some more reasons for using automated doors at the entrance.
Human Facilitation
In the earliest times, people hired many security guards to record data, manage visitors, audiences and employees, check them properly etc. it was a headache for everyone. After such a hectic long work, there were still some flows. Sometimes the data needed to be more accurate, and sometimes workers were not loyal.
That's why engineers have introduced swing flap barriers to facilitate humans. It is helpful for an organization, employees, and visitors.
For instance, if the employee is presented with an entry card from the organization that lets him enter through an automatic swing gate. The entrance and exit timing will be recorded in the system. In this way, no guard needs to write anything in the notebook, and the organization will need to hire extra guards.
The same is the case with visitors or guests. A visitor card will work for unknown people whom you want to give entrance into the organization.
Better Human Recourse Management
Data management is the most significant advantage of swing flap barriers. Swing doors integrate mechanical, electronic, and microprocessor control and different identification technologies and can be compatible with IC cards, ID cards, barcode cards, fingerprint identification, face identification, ID cards and other verification methods.
Such identification systems need for different occasions and provide better human resource management.
Computerized gates can work in complex environments, like solid light exposure, short circuits, rain, typhoons, etc. This is also one of the motives why flutter gates are being used at entrances for safety purposes in various places.
Operated Smoothly and Flexibly
Since we are observing one tool, what will happen if the tool is not smoother and more flexible? The noise and disruptions in barriers can make it less practical for organizations.
If we talk about the operative factor, the flap barrier gate is stable, and the entire process is carried out smoothly. There is no mechanical wear or noise, and it feels good to use such equipment.
The opening and closing of the wings are swift and timed, thus allowing the person to check in and check out quickly. This makes foot traffic smoother and makes accessing the space efficiently.
Furthermore, the automated barricade system can smoothly work with buildings' security and access control systems.
If an intruder or unauthorized person is detected at the mechanical swing door, an alarm can quickly be triggered, doors locked down, and cameras turned on to detain the threat. With the integrated access control system, you'll also be able to collect information such as the specific identities, times, and locations of every person coming and going through exit and entrance points.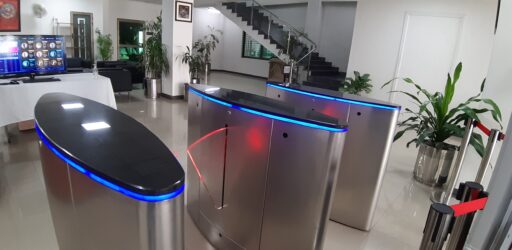 Increased Business Economy
As we live in the 21st century, everyone wants to work in automated and advanced organizations. Teachers want to work in a flexible environment, even in universities, colleges, and other institutes. Writing projects, exams, everything is on a computerized system, so why do they need entrance on paperwork?
Flap barrier gate doesn't just helpful in managing pedestrian traffic, but it also ensures the security of your data so that employees can work smoothly with no stress.
When the organization installs advanced tools, the standard of work will automatically increase because everybody wants to work in progressive and modern organizations.
The mechanical wing barriers have multiple appearance designs and different colour lighting instructions. Moreover, the overlapping shape is elegant, dynamic, and adapts to the users' requirements. A graceful, smooth, automated and integrated security gate can complement an organization's logo more.
Provide security and safety
Modern technology has made it easy for organizations to inspect people; the crowd doesn't matter for such an inspection. Allowing only one person from a gate gives security personnel a point in time to examine any suspicious characters, spot potential danger and intervene if necessary.
Flap barrier turnstile could have any number of people passing through, with valid access any time the doors open. The venues like stadiums, museums, stadiums, universities, schools, amusement parks etc., need to allow only one person with a high-security tool.
Automated tools can provide multiple advantages with complete proof of security and safety control. It even works to prevent terrorist attacks or the sudden entrance of a terrorist. It also worked disabled people can easily pass via this gate. It gives minimum hindrance and makes a perfect way for defense purposes. Thus, it controls a massive flow of people entering the barrier.
Are you searching for ideal flap barriers in Pakistan?
As we know, China, Thailand, India and many developed countries are installing wing barriers rapidly to make their governments more secure and safe. Now Pakistan also has certain companies that can offer such facilities as Mechatronix.
Mechatronix offers the best flap barriers in Pakistan and all advanced features. Flap-Mex standard and Flap-Mex Multiple lines are suitable for every type of premises. They are mostly installed inside the building and have a contactless solution. The visitor does not need to push like a turnstile. Since they are computerized, they will be open automatically after a valid credential.
Visit us for more information, or can contact us with no hesitation. We will be glad to provide you with our service!