Speed Humps And Bumps
MEX Speed Humps and MEX Speed Bumps are among many types of "traffic calming" measures. A typical length for a speed hump would be about 22 feet from start to end. These types of traffic calming measures are designed for relatively low speed roads. The maximum comfortable speed for crossing a MEX speed hump is about five miles per hour so they are usually only appropriate for parking lots, private roads, and some low speed residential streets.
MEX Speed humps typically are used on residential streets where speed limits do not exceed 25 miles per hour. The relatively low speed requirements for speed humps, humps, and tables generally make them more appropriate for municipal streets than state roads, although use at both levels is theoretically possible. In practice, they are likely to be found more commonly on local residential streets.
Dimensions (per piece)
Length: 330mm
Width: 370mm
Height: 55mm
Typical road length: 24ft
Weight (per piece): 6kg
Material: Casted silver
Anchoring method: Metallic bolts with expansion plugs.
No. of bolts (per piece): 4
Bolt Dia: 10mm
Bolt length: 6in
Expansion plug Dia: 12mm
Types of surfaces for installation: Asphalt, Concrete. (Paver and tiles not recommended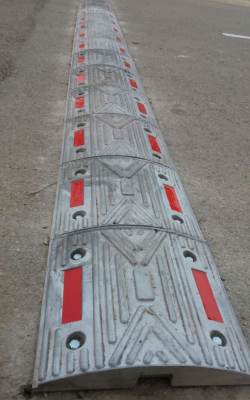 Our speed humps are rock strong and longlife. Also they are ultraviolet rays moisture proof. All the segments are available separately.
The extraordinary construction make sure of wraps, cracks and chip. The flexibility allows the comfort on all kinds of surface.
Instant installation with easy handling, strage removable and relocatable.