Mechatronix
Undercarriage scanning of a vehicle crucial for security purposes!
There are several such cases where threats happened because of not taking security issues seriously. Security personnel can check the driver's face and whatever is in front of the vehicle. However, they cannot identify the complete picture of a car, due to this, scanning an entire vehicle is crucial.
There are number cases, 90% of incidents happened because of the irresponsibility of guards or not completing the check. For this reason, UVSS providers provide a whole package of security checking of the undercarriage of a vehicle.
Why is undercarriage scanning of a vehicle important?
Undercarriage scanning is essential because you need to identify everything in the automobile. You cannot find any risky thing easily if something is hidden in the car until you would have a proper tool to scan the entire vehicle.
People used to check undercarriage vehicles with a specific mirror that reflects the vehicle's undercarriage. The technique is not successful because it always needs a guard to prevent the automobile and the other thing is, it does not entirely imitate the vehicle's undercarriage.
For this reason, under motor surveillance system is being introduced. UVSS is a method that contains imagery systems fixed in a roadway and used at different facility access points, mainly at highly secured places where high rates of terror attacks can happen. So, the under-vehicle surveillance system is imperative if you want to take your security seriously.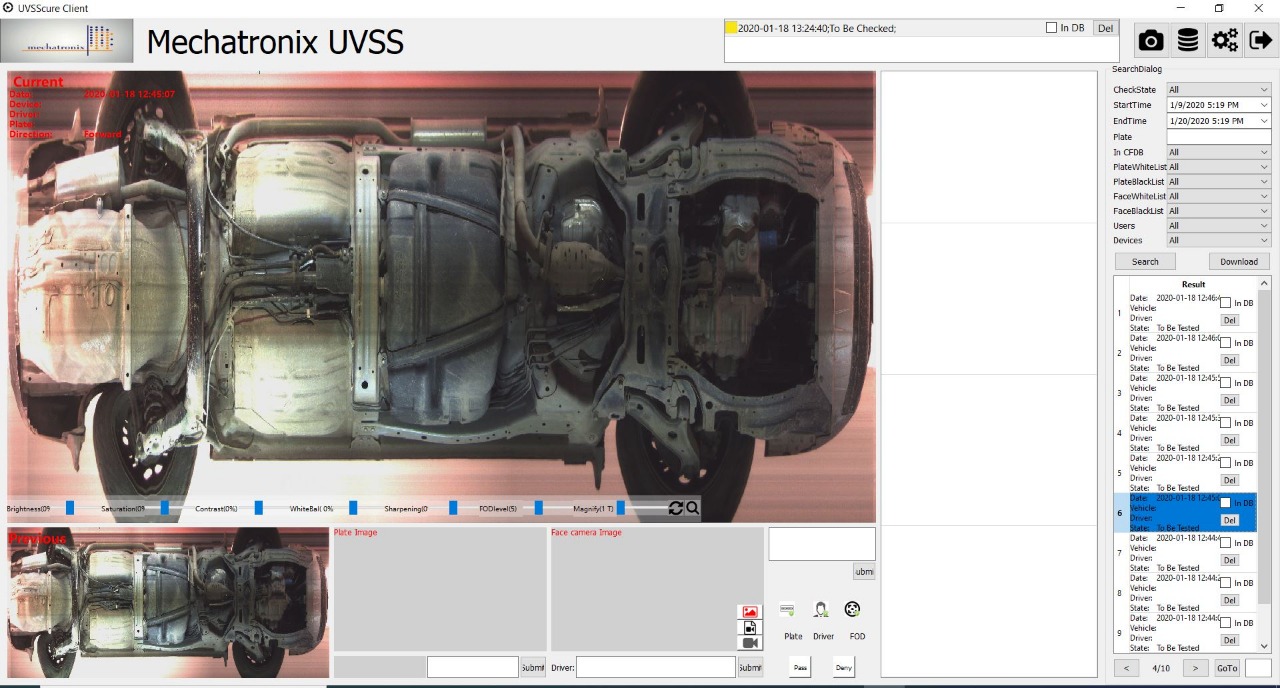 How UVSS works:
The undercarriage vehicle testing device works very efficiently without interrupting multiple tools. When the automobile reached the imaging system's point, the UVSS camera started to capture pictures and send them to the control room. Security personnel will observe all the images on the screen and then allow the vehicle to enter if everything remains fine.
Mechatronix UVSS software includes several features that will help to increase security professionally. Such as CCTV cameras, number plate recognition, video observation, driver facial recognition and X-Ray systems.
As per different features and the need for Security, UVSS scanning comes in two different variations:
Area scan: under vehicle surveillance system provide the 2D vehicle scanning in a single cycle coverage with vertical and horizontal elements. 2D vehicle scanning is primarily used for all-purpose.
Line scan: The vehicle x-ray scanning system scans the image in one shot. It has a solo row of pixels. The picture is formed line by line, and the images captured are outstanding as related to the Area scan. They are used for a particular purpose in high-security places such as military areas.
UVSS cameras mostly use places like the military, government offices, hotels, and residences where Security needs are high. That is why we must know its substantial benefits to protecting our buildings from terrorization. Some of the benefits are to have a look at how they help increase security.
Maximum security:
Practical, reliable and consistent workplace security is crucial to any business as it lessens insurance, compensation, liabilities, and other expenditures the company must pay its investors, ultimately leading to increased business profits and reduced operational charges.
To provide maximum security, you must know that the vehicle's undercarriage is the only area that is not visible. It is easy to hide dangerous objects such as contraband, bombs, etc. Thus, to keep maximum security & ensure proper safety, Under car testing device can be the best solution at the vehicle entrance gate.
Night and day functionality:
Another excellent advantage of the UVSS camera is its night and day functionality. Night-time security is also crucial for high-security places. Due to this, security professionals customized this valuable device that can scan vehicles day and night. A vehicle x-ray scanning system can monitor the complete picture of the undercarriage at night and helps to increase security professionally.
Mechatronix is one of Pakistan's leading companies that helps increase security. Their under-vehicle scanning system is barely intelligent and informed. Mechatronix comes with all advanced features, including day and night functionality.
Intelligent security system:
UVSS providers provide an intelligent security system that can automatically scan the vehicle, will take the image and match them with reference pictures in the system. All these processes prove undercarriage vehicle testing device is intelligent and professional.
Moreover, Immediate display of live and archived video from all cameras; fitted machine vision cameras, traffic lights, barriers, electronic displays, and third-party systems are entirely customized and provide maximum security to the business owners. UVSS Scanning can help rationalize inspection methods, and examinations can easily be managed during the day or night.
Assists in management:
It plays a massive role in management, as it is specially made to make life easy for business owners and personnel. When the system captures the images digitally by 2d vehicle scanning and x-ray vehicle scanning system, it can reduce labour by recording and matching the pictures with reference. All this work is done by a single tool in seconds.
Moreover, it also has number plate recognition, through which the machine can check from the system whether the vehicle is legal or illegal and will also save them for later use. Furthermore, it can also help save time and ease personnel's workload. Owners can avoid manual misjudgment with under vehicle surveillance system.
Automation in operations:
Traffic and rush are the only things that can create a mess at the entrance. Everybody wants to manage the rush, specifically at the gate, as it shows a bad image, and people can take advantage of doing damage. UVSS camera installation does not disturb traffic flow while checking automobiles. It works very smoothly and flexibly. During the examination at entrance gates, the vehicle x-ray system scans the complete auto without disruption and does not take extra time to inspect the unattended vehicle.
Pocket Friendly:
Furthermore, the undercarriage vehicle testing device is a handy solution and does not necessitate much space. UVSS machines are relatively inexpensive and pocket friendly than other techniques of protecting your properties.
Finest inspection solution:
We have discussed several features of the undercarriage vehicle testing device. That tells us about the importance of undercarriage vehicle security and how vehicle testing devices help increase safety. Under vehicle surveillance system is one of the finest solutions to maximize our security as it provides many facilities along with its flexibility, management skill and intelligent security system.
All the features mentioned above prove this device is the most satisfactory inspection solution, and if you are interested in the best UVSS software in Pakistan, you must consider Mechatronix. It is one of the leading firms in Pakistan that provides the best security products to save your business and Pakistan.
UVSS software is an intelligent optical technology that provides security personnel with the tool to detect today's threats. The system helps those in the energy, transportation, commercial, and government sectors protect their people by detecting threats in time to act. From checking undercarriage to plate recognition system, Mechatronix offers complete 360-degree vehicle scanning to ensure any threat is found.
Our team will eagerly help and support you!
Consultation is 100% free of cost!
For any query or assistance feet free to reach us here..!