Mechatronix
Decoding K-Ratings: Exploring Their Significance in Ensuring Safety!
In an increasingly security-conscious world, where safeguarding critical infrastructure and public spaces has become paramount, the concept of "K-ratings" has taken centre stage. These enigmatic figures, often accompanied by perplexing acronyms like "K4," "K8," or even "K12," may sound like something straight out of a spy thriller. However, they hold the key to a genuine and pressing question: how do we effectively protect our environments from the potential threat of vehicular intrusion? The impact of K-ratings in Pakistan, much like a silent guardian, can mean the difference between a secure perimeter and a potential breach.
In this exploration, we will unveil the secrets behind these alphanumeric codes, revealing their crucial role in fortifying our roads, entrances, and critical infrastructure against the ever-present spectre of unauthorized access. So, buckle up as we journey to understand the intriguing world of K-ratings and their far-reaching implications for modern security.
What Are K-Ratings?
Certified K-Ratings are classification system that measures the effectiveness and robustness of any product. It tells us how long a product can stand with high-speed vehicles. The product is tested according to the international system by the Department of State (DOS) and can be locally certifies by authorities such as Pakistan Engineering Council. They are typically based on the impacted speed of the motor starting from 15000 lbs. Such ratings are typically divided from K4 to K12. Here is a brief overview of K-ratings.
K4:
A K4-rated barrier provides a basic level of security and is designed to stop a 15,000-pound (6,800 kg) vehicle travelling at approximately 30 miles per hour (48 km/h).
K8:
A K8-rated barrier offers increased security compared to K4 and can stop a 15,000-pound vehicle travelling around 40 miles per hour (64 km/h).
K12:
The highest common K-rating, a K12-rated barrier provides the most substantial protection and can halt a 15,000-pound vehicle travelling roughly 50 miles per hour (80 km/h).
Product Evaluation for Crash Ratings:
When it comes to stopping unwanted vehicles, crash ratings are a crucial consideration. However, it can be confusing to know which products have undergone evaluation for crash safety and where to find them. The good news is that various products with crash ratings in Pakistan are available. In addition to barriers, blockers, and Bollards are included in the crash-rated products category. This means users can find a complete package of road safety products to meet their needs.
Factors Determine K-Ratings:
Determination for certified crash rated tests is imperative. They tell us how many automatic or other products can withstand and which traits have been investigated during testing. Various factors influence the selection and execution of these tests, such as barrier design, type, weather conditions, etc. Still, for most, these three factors contribute to certified crash rated tests in terms of k-ratings or M-settings.
The weight of the vehicle.
The speed at which the vehicle is travelling.
The distance truck travels beyond the opening.
You might be wondering about reading all this. You must have been going through specific questions about certified product. Why should I install a K-rated product and not the ordinary one? What's the difference, which one is more durable and so on?" the answer is here!
K-rated Barrier vs. Ordinary Barrier:
The certified Barrier is engineered with a singular purpose – to provide high security against potential vehicular attacks. These specialized security barriers are designed to resist and mitigate the impact of fast-moving, heavy vehicles that could be used as weapons.
To determine their effectiveness, they are assigned a specific K-Rating, such as K4, K8, or K12, which indicates the type of vehicle, speed, and weight they can withstand. These ratings are a critical aspect of their design and evaluation. Crash rated is characterized by robust construction featuring heavy-duty materials like reinforced steel.
They have sturdy frames and mechanisms designed to absorb and disperse the energy of a vehicle impact as they undergo rigorous testing and certification by independent agencies.
However, k-rated blockers' enhanced security features and certification comes at a cost, making them more expensive. They are typically used in high-security environments, such as government facilities, critical infrastructure, or locations with a high-security risk.
In contrast, Ordinary (Non-Rated) barriers serve a more general purpose in traffic control and access management. While they offer some security level, they are not primarily designed to withstand high-velocity vehicle impacts. Unlike automatic road barriers, ordinary blockers lack specific K-rating designations.
Their construction may involve lighter materials, and they may have a different level of reinforcement. These road barriers are more versatile and can be employed in various applications, from commercial properties and parking facilities to areas with lower security risks.
They are also more cost-effective than their crash rated, hydraulic operated counterparts, making them suitable for situations where the highest level of security is not required. Their versatility and cost-effectiveness make them a practical choice for scenarios where a moderate level of security, combined with traffic control, is sufficient.
However, they may provide a different level of protection against determined vehicular threats than K-rated products.
Now it's up to you what kind of security you need for your premises.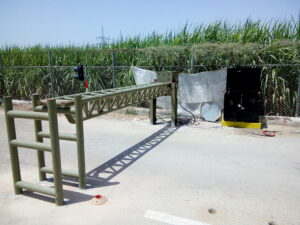 Critical Considerations for Selection of Certified Barriers:
Road Barriers in Pakistan are included in heavy-material products. As you invest your money, it is essential to have complete knowledge so that no one can fool you. Here are some guidelines you must consider while purchasing a crash rated barrier.
Certification and Labeling:
The first and most important thing to consider is its certification and labelling. As we have discussed, certified blockers and many other products typically undergo testing and certification by independent agencies, such as the Engineering Council or ASTM International, to determine their resistance to forced entry, especially from vehicles. So, it is essential to look for certification labels, stickers, or documentation indicating the specific crash rating of the product.
Product Specifications:
Examine the product specifications before, provided by the manufacturer. K-rated products will have specific performance data, such as the vehicle speed and weight they are designed to stop. Simple products may need more detailed specifications.
Physical Appearances:
K-rated security barriers are typically robust and designed to withstand high-impact forces. While purchasing, please check its strong material. They may include reinforced materials like steel to enhance their resistance. On the other hand, simple products may lack the heavy-duty construction associated with K-rated barriers. They are primarily hydraulic operated and can be controlled effortlessly.
For any query or assistance feel free to reach us here..!