Mechatronix
Maximizing Safety and Control: The Power of Tyre Killers at Restricted Areas!
See in your mind's eye a high-security facility hidden from prying eyes, where access is strictly limited to authorized personnel. How do you ensure that no unwanted intruders breach the perimeter?
The answer lies beneath the surface, lurking like a stealthy guardian – Tyre Killers!
In this era, everything is marked by increasing security concerns and safeguarding restricted entrance points. It becomes imperative for both public and private organizations to be secure and conscious of their doorways. You may be wondering about the importance of securing entrances. Some of the reasons to block entry points are.
It is easier for any person to run in case of creating a mess.
Entrance points show how concerned you are about your premises
It also discourages potential intruders from attempting unauthorized access.
One of the best innovative solutions that are gaining popularity nowadays is using tyre brusters.
Tyre stoppers, often dubbed the "silent guardians of restricted zones," are the James Bonds of access control. They may look ordinary, but don't let their mediocre appearance fool you. These retractable road spikes pack a punch that can stop even the most determined trespassers in their tracks.
They are potentially used where organizations want to restrict entrances or specific areas. Whether they are public or private entities, a study shows a dire need for tyre destroyers in each organization for self-safety is essential. To understand whether they are beneficial or not. You need to look at its purpose and benefits. But don't worry; we will clarify your doubts about buying this valuable product for your premises.
Are Tyre Killers Beneficial at Restricted Entrance Points or Not?
If you are searching for a solution to control one-way traffic that must be ideally suited to banks, military offices, prisons, airports, garages, corporate headquarters, residential communities, embassies, toll booths, checkpoints, etc., hydraulic tyre stoppers are the best choice. They are highly beneficial to controlling wrong-side driving.
After months and years of research, investigation and testing, the tyre killer manufacturer designed this incredible product in Pakistan. It assures quality and is ideal for your premises. You must be thinking about how they are beneficial at restricted entrances. Here are some facts that will tell you about the importance of installing tyre killers in Pakistan.
1. Control Wrong-Side Driving:
Typically, Heavy-duty tyre killers are an effective deterrent against wrong-side driving at high-security facilities, ensuring that vehicles can only enter through the designated access points.
Sometimes, people think wrong-side driving is easy as it becomes a short root for the people, but it can lead to massive destruction if the accident happens near your building. Obviously, people with bad intentions choose alternate ways to leave the building, so you can apply tyre spikes to control intruders.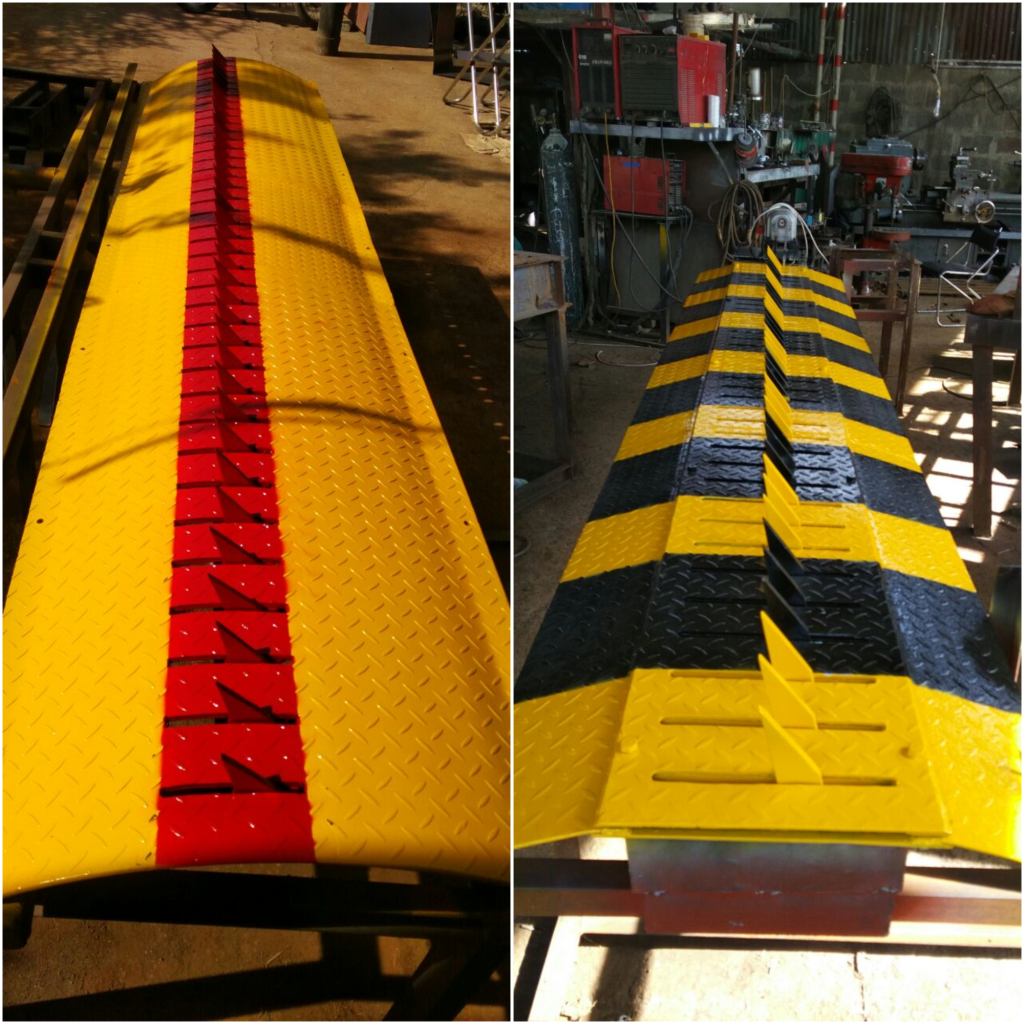 2. Dual-Purpose Machine:
The best thing about tyre busters is that they are highly beneficial as they can become a speed hump in no need, and the operator can activate its spikes to control while. So, it is a dual-purpose machine.
A Tyre puncture device is highly in demand as it can significantly reduce road safety risks with its retractable teeth. They can be controlled hydraulically. In the case of an emergency, you can press the button, and spikes will hold the vehicle. Otherwise, as previously discussed, a tyre buster can be used as a speed hump.
Many modern heavy-duty tire killers can be controlled remotely, allowing security personnel to raise or lower them as needed from a safe distance.
3. Regulates the Traffic:
One of the ways to control the passage of vehicles in a systematic order is the use of tyre bursters. It indicates drivers to choose the right side of driving. Otherwise, the tyres will get punctured if they will try to go forcefully.
It is highly beneficial for controlling unwanted vehicles. If the car is trying to enter from the wrong side, the equipment spikes will rise in 1.5 seconds up to 250 to 300mm and puncture the car's tyres.
After wheels brust, the vehicle will loosen its mobility and no longer run far. For this reason, retractable spike strips are surviving as they are super innovative and beneficial for restricted entrance points.
4. Sustainability:
Knowing that the tyre stopper is used for restricting entrances and is highly beneficial, you may be thinking of the product's durability. There are more suitable options than yearly changing a product and investing money. That's why we are providing you with a sustainable development which is robust and corrosion-free.
Its sturdy construction of robust materials such as steel or high-strength alloys ensures its durability and permanence. As rust and corrosion lower the durability of equipment, tyre killer in Pakistan is also coated with protective finishes or materials so they can survive the more extended term.
Furthermore, they are also weather resistant. It can withstand weather like rain, snow, and extreme temperatures.
5. Made-to-order:
Another notable advantage is its security integration. Its retractable spike strips enable access to different control systems during the operation of the safety equipment. For example, consider integrating LED lighting systems under the spikes. When the LED lights turn on, they make the trough of the spike barrier red in colour when the security personnel raises their teeth. It is the same as the spike barrier turning green while lowering the spikes, such as ACS or surveillance cameras.
It is an entirely customizable product; you can adjust its height. It can be made based on the specific needs and preferences of customers.
Necessity of Tyre Stopper:
Consider a scenario where a thief with a truck breaks into a car parked in a parking lot. Now, the thief needs the parking receipt, which one needs to show to the exit booth employee to leave the premises. In such a situation, the thief will try to smash the boom barrier and, if successful, can go to the property with the stolen car. However, suppose the parking lot owner has a hydraulic tyre killer installed after the exit point. In that case, the employee can simply press the button when the thief crosses the exit point, immediately raising the spike barriers. This will either force the thief to stop the car before reaching the tyre killer or cause the car's tires to be punctured if the thief doesn't stop, effectively preventing the theft of the vehicle. You need hydraulic tyre killers in front of your building in such situations.
Consultation is 100% free of cost.
For further queries, contact us without any hesitation. We will help you with your questions in every possible way.
For any query or assistance feel free to reach us here..!