Mechatronix
Top 7 Leading Pros of Using Access Control Turnstiles!
The rising of threats and attacks by terrorists became the reason for being secured more than before. Besides this, security is a rising concern, from hackers retrieving valuable information to interlopers threatening people and property safety. Firms are concerned about the need for better security. One of the best options to improve the physical security of buildings and facilities is often using intelligent turnstiles to control employee and unauthorized visitor's access.
Turnstiles are the smart gates that help control and detect unknown entries into the premises. They ensure the highest security with the combination of multiple features within budget.
Today's appreciation for technological advancements since they help us to grow better. Physical security turnstiles are far from basic metal gates. These smart gates are built for reliable and long-lasting performance in high-volume situations, intelligently monitoring, counting, and maintaining reliable access control.
If you are interested in increasing security with such barriers, Mechatronix offers you the best turnstiles in Pakistan with a complete package of access control systems. Such gates are integrated with every brand of ACS by providing high-level reliability and efficiency in operation. But before buying such smart gates, look into their pros so that you can get an idea of their importance.
Pros of access control Turnstiles:
The following blog will highlight the pros of using a turnstile gates rather than a door, including security advancements with facilities of access control system etc.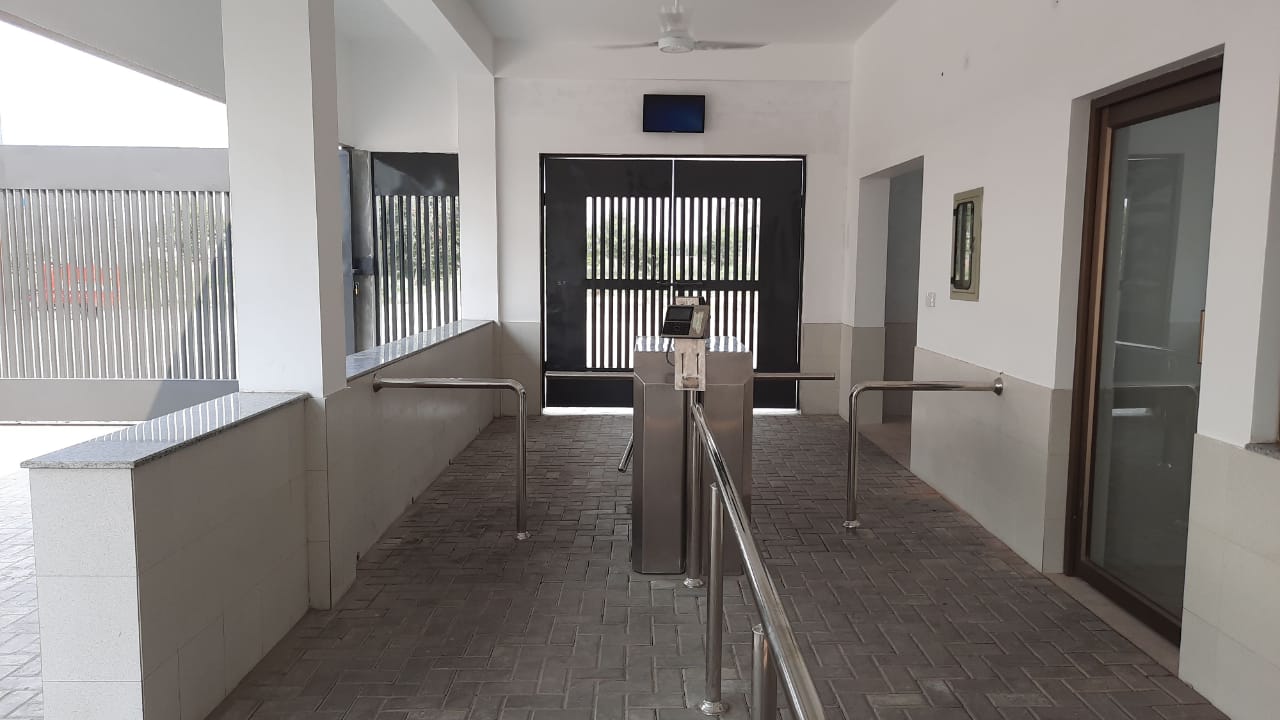 Increase Security:
Turnstile access control is inherently designed to increase security. Since barriers allow only authorized and legal entities into your premises. By simply employing a turnstile gate, you can get complete control of entries in a stress-free way. AS tripod turnstiles are integrated with ACS, the entrant will first show his credentials with a card, coin or biometric system. The barrier will automatically unlock and allow the person into the gate. In contrast, the border will remain locked if the person cannot show identification. In this way, smart turnstiles enhance security for the firm.
Moreover, in contrast with doors, the access control gates can bound the number of people who can enter or exit on each presented identification and control the direction of the passageway. Some barriers have enhanced identification detection features, such as hounding and forced passage. An illegal entry attempt will trigger an alarm, notify the user and alert the control centre of the conflict.
Access Control Integration:
The access control system allows such gates in joint with doors, cameras and other security equipment to ensure only specific cleared entities are using the entry. It can also save helpful information such as entrant timing, ID number, and further related information. Furthermore, if an ACS does not accept the credential, the alarm activates and will stop the person at the gate.
Mechatronix turnstiles are also integrated with RFID, biometrics, auto and manual. Biometric turnstiles identify the person by fingerprint, whereas RFID systems recognize the person by card. All designs are completely customized and can enter into barriers to make them smart turnstiles as customers need.
Data management system:
Turnstile gates have one more significant feature that makes them more innovative and unique from others. Smarter security turnstiles record all the data in the system and then allow pedestrian access.
For instance, take an example of a metro bus stations in Pakistan. The commuter's card balance (credit) will be added to the system once the credit is added. Whenever the walker uses the turnstile to access, the mechanism will match eligibility from the database and allow him to move the turnstile, update the available balance on the card, and refresh it in the system. Otherwise, without the digital credit, he will not be able to go through. The same function is applied in full height turnstiles. Recordable data will help to manage the system proficiently, and you will not hire employees to collect your statistics.
Such gates are mainly used in parks, subways, metro stations, airports, Military & defence areas, Government facilities, Embassies, Educational sites & Offices, industries & manufacturing plants, Power plants, data centres, Refineries and other high-security risk areas.
Data Management:
Another significant feature of tripod turnstiles is managing individuals' data and saving them for later use. This feature makes the turnstile gate a more innovative and unique tool to secure premises.
For instance, if someone is using biometric turnstiles, they will match their fingerprints with the fingerprint acquisition head, and ACS will save the fingerprint for next time. It also helps administrates to research a specific person in case of emergency. Moreover, owners don't need to hire several guards to record information. By employing only turnstile, landlords can get rid of several struggles.
Turnstiles in Pakistan are mainly used in parks, subways, metro stations, airports, Military & defence areas, Government facilities, educational sites & Offices, industries & manufacturing plants, Power plants, data centres, Refineries and other high-security risk areas.
Efficient Throughout:
You may think this barrier is time-consuming, as it does not identify the person but also saves the information. However, the reality is the opposite of that. Physical security turnstiles are efficient throughout. Such a type of border at the entrance can handle up to 30 people per minute. This way, time and crowd management will be effortless for personnel to operate.
Depending on the functioning needs, access via the access control gate can be further shared with almost every type of credential, including an RFID card, barcode, QR code, or cash, as we have discussed. Specifically for extensive or high-flow amenities such as offices, libraries, or stadiums, tripod turnstiles are still considered the most efficient method to legalize access.
Operational Flexibility:
A significant advantage of this innovative tool is its automation, which makes this device more flexible and reliable. For instance, if you are installing an entrance control door at your office premises and your worker wants to get access, he must have to show some identification by RFID, fingerprint, or face recognition. After recognition, its flippers automatically unlock and allow a person to go. Furthermore, it will also secure employees' information regarding the entrance and exits timing.
Management can be scheduled as per specific modes to stimulate at certain times of the day to meet operational requirements. For example, more barriers may be set as entry-only during morning hours when staff arrive to work, then swapped to exit-only in the afternoon when workers leave. Fences can also be locked at night or on weekends when the facility is closed. Turnstile modes are typically set through the ACS or, for more advanced barriers, controlled remotely using an application on the facility's network.
Entrance Control:
Another considerable benefit of a tripod turnstile is to get complete control over the entrance. As we have discussed earlier, you can unlock the gate anytime for all entries or modify it only for authorized persons. Its ACS system is advanced and manageable. For that reason, you adjust your schedule effortlessly.
They are most used at facilities and venues, where you can also pattern entries and departure timing. Installing an advanced system at your entrances will give you a helping hand and relief from managing traffic.
Turnstiles in Pakistan are available in several sizes and shapes per your premise's requirement. Contractors and installers should know that not all smart turnstiles are created equal. They can be tailored as per your requirements and pocket. It includes its advanced ACS system, steel, size etc. Knowing this vital information earlier can save time and resources during the installation process of barriers.
Minimized Expenses:
While installing advanced barriers in your organization, you must remember your company's layout, size, number of users, and traffic patterns. In a smaller area, one or two turnstile gates may be enough. However, in a large organization, you may need more than that, as we have discussed that a maximum of 30 people can enter through a gate in a minute. So, it will control the barriers' traffic load and the risks of unauthorized entries. Installing tripod turnstiles can save you money in this way.
Since this advanced system works self-sufficiently, you don't need to hire any guard or personnel to check in people or verify their suitability to access. They also make it much harder for the public to sneak into the location without paying, allowing you to condense losses and increase your bottom line. By incredibly considering lowering labour charges and losses from illegal entries, it is easy to see how a turnstile access control system can minimize expenses and save you money in the long run.
After the above discussions, it has been proven what role these physical security gates play, and now you may have an idea of this treasured equipment. For more details and technical specifications of the biometric turnstiles in Pakistan, please do not hesitate and feel free to ask questions. We are always here to help you!
Thank you!
Our team will eagerly help and support you!
Consultation is 100% free of cost!
For any query or assistance feet free to reach us here..!