Mechatronix
Importance of Turnstiles for Complying with Workplace Safety
Are you interested in turnstiles? Of course, yes, that's why you came here. Barriers become a necessity for today's businesses and buildings. You never know when any illegal person will enter your premises and create a mess. That's why it is essential to have complete control over the entrances with strong and sturdy solutions.
This blog will provide you complete knowledge about Revolving doors and will also tell you how they can help comply with safety regulations. Enjoy our blog with a cup of tea.
Unveiling Safety Barriers: The Gatekeepers of Access:
Pedestrian gates play an essential role as a barrier line for entries. Such gates are not only controlling entries but working intelligently. They can be integrated with other systems simultaneously, such as security cameras, digital records, scanning RFID card systems etc.
When the person enters a gate, security cameras scan him. After this, if a person shows his validity with the card, biometric etc., the turnstile will record his identity. If one is authorized, the gate will automatically be unlocked; if not, the door will remain locked.
They are available in different shapes and sizes. For instance,
Full-height turnstiles
Waist height turnstiles
Tripod turnstiles
Providing safety is one thing; security barriers are now helping emphasize business and safety regulations. Here is how the doors can Help Businesses Comply with Safety Rules.
There are specific tools that can integrate with ACS to limit unknown entries in your company's security.
Compliance-Focused Visitor Management: Beyond Traditional Access Methods
Typically, turnstile gate is employed at crowded places like amusement parks, cinemas, and stadiums, where it takes work to manage crowds for guards. It is crucial to have proper control over visitors at such places.
These gates only allow single entries and can make the visitor experience easier by preventing crowding and additional hassle.
Registering the names of visitors on paper has become an old method since industrial revaluation brought enormous changes in technologies. A security gate is one of the advancements in this field. Entering gates allows you to manage control by recording all entries in the system, so you can check them later. It will automatically help grow your business.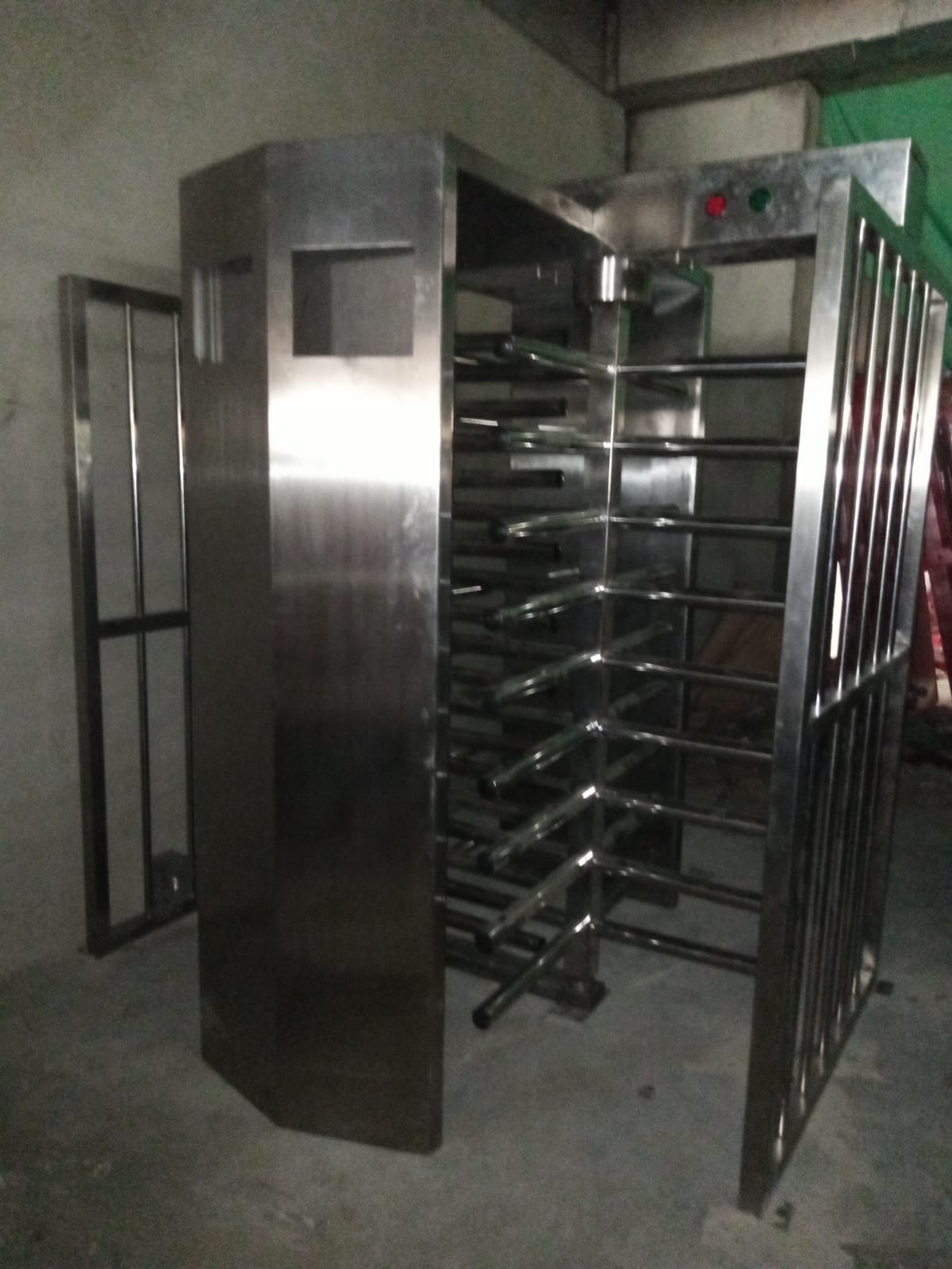 Balancing safety and Compliance with Advanced Access Control:
Biometric turnstiles control access and allow only approved persons by verification. When the employee or a visitor shows reliability in the system, the turnstile will let him. It prevents unofficial individuals from the building or hazardous areas. This helps businesses comply with regulations that permit limited access to specific zones, such as manufacturing areas, server rooms, chemical storage, or research laboratories.
Attendance Tracking Innovations: Enhancing Accountability:
Biometric turnstiles are applicable at workplaces, educational institutes, offices, metro bus stations etc., to track attendance. In offices, it helps in monitoring entry and exit timings. You can also integrate these doors with cameras, fire alarms and other turnstiles.
Such data is helpful for attendance management, employees' working hours and punctuality. Moreover, it can also be beneficial while checking records in critical situations. No one can make fooled this machine.
Security turnstiles are famous for their multi-functional system. That can be valuable for any growing business.
Risk Reduction Strategy:
Suppose a thief enters the building and takes some important documents from the office. Your cameras may catch him instantly, and the guards want to stop, but unfortunately, he is too fast to get out of the office. What will you do in such situations?
In that event, guards need to lock security turnstiles for everyone, and a thief cannot take away outside. This is the way such gates work.
As for everyone, safety protocols are a necessity, same as for us. If management authority cannot protect their employees, they cannot grow in the market. That's why Mechatronix is trying its best to maintain security standards for you in Pakistan. Have a look at their products.
Tailored Configurations: Personalizing Your Controls:
The best feature of the turnstile gate is its customized settings. You can change the setting in your own way. They can be set to different modes, such as "normal operation," "lockdown," or "emergency exit," as needed. You can feel confident that your business is safe when you have control.
Pedestrian gates are available in different sizes and shapes with other features. They can be bi-directional and mono-directional. This barrier is the best intelligent gate for your business in critical situations. Its smart mode makes it the most widely used pedestrian access control gate. It is considered a high-tech product mainly for intelligent management of personnel access control.
Choose the Right Barrier for Your Premises.
Choosing the correct bar gate involves an all-around decision-making process that hinges on security, functionality, aesthetics, and cost-effectiveness. In today's fast-paced world, it is challenging to select the best product. That's why looking at its functionality, customization's, and many more features is imperative.
Mechatronix Solutions provide a complete guide to your confusion, and you can have the best quality product.
Contact us for organization security improvement, freely reach out for any assistance here..!