Mechatronix
Get Complete Control of the Security Entrance with Full Height Turnstiles!
Since threats are everywhere, that's why security has become the primary concern in the world today. There is a diverse range of reasons for being secured, for instance, preventing shoplifting, fraud, theft of tangible and intangible goods, services and other purposes in the improvement of protecting the security or integrity of software, accounts, applications, online services, or any person. Despite that, you may preserve an organization's internal security if you control the security entrance.
One of the best options is using full height turnstiles to control access, to get complete physical security of buildings and facilities,
They are designed to allow one person at one time and condense traffic at the gates of any organization. These gate helps access and provides security to control the crowd and protracted flow capacity. Smart security turnstiles are available in several sizes and shapes, from waist to full height.
Full height turnstiles:
Full-height automatic turnstiles offers you complete security. These gates are grounded with a mechanical rotating barrier. We can call these doors revolving doors that provide us with absolute safety and will allow a single person to pass through at once. Moreover, access control offers maximum protection with robust features like biometrics, RFID (radio frequency identification), face identification, PLC-based control panel, and CAS (Content-Addressed Storage). Based on different elements, full height turnstiles are further divided into categories. For instance:
– 3 & 4 wings single lane
– 3 &4 wings double lane
– Dual platinum
– Single lane Quadra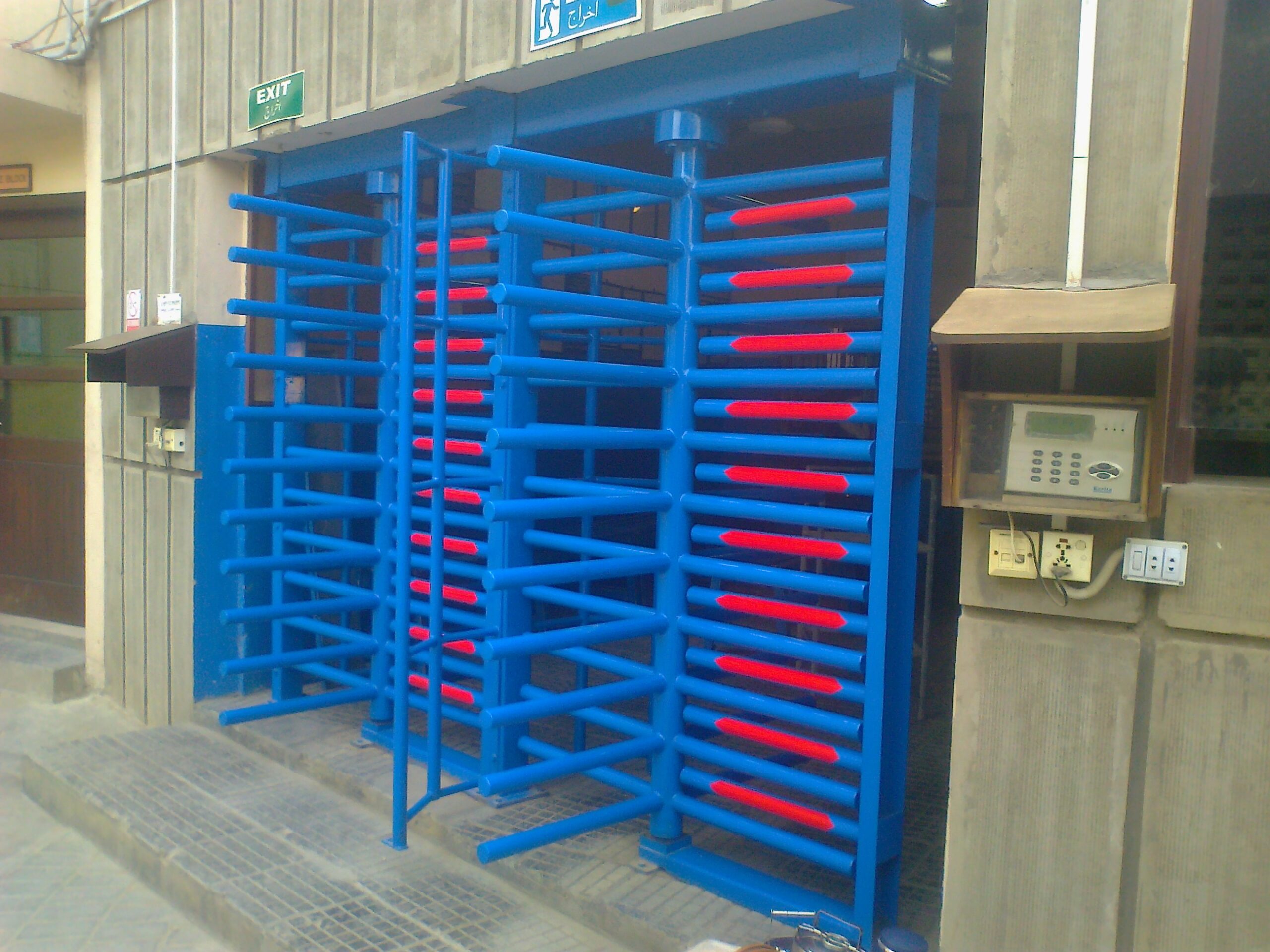 How does it function?
The working of automatic turnstiles depends on a specific model. Tripod turnstiles gate spin when pedestrian shows identification. Identification can be verified by biometrics, RFID system, and face recognition, through which the walker will be able to get access.
Full heights are floor-to-ceiling horizontal rotating barriers and can operate similarly to a revolving door by only allowing access to one pedestrian at a time. Once the key is granted, the automatic turnstiles will be unlocked, and the transaction will be recorded, while when the ticket is refused, the turnstile gate remains closed, and the attempted action will be registered. These full height gates are designed to offer utmost security because it is impossible for an unauthorized applicant to crawl under or climb over them.
Biometric turnstiles are the most often used gates, as they provide factual verification of entrant. Other than that RFID card system is also much used for organizations in Pakistan specially for employees and visitors.
Get Complete Control of Security Entrance:
Smarter turnmex help you effectively and intelligently improve your entrance management. It will also easily manage your incoming and outgoing traffic for pedestrians and guards. Furthermore, a ratchet mechanism has been installed to allow rotation unidirectionally and bidirectional.
Physical security turnstiles offer a lot of benefits. The mechanism provides advanced security for the people in the parks, subways, metro stations, airports, and other crowded places. Following features of automatic full height turnstiles will help you know how you can get complete control of the security entrance. Please have a look at them.
The prominent feature of full turnstiles is their mechanical verification. When the walker tries to access the organization, he will show his authorization by biometric, RFID card, face recognition or any other system installed within the gate. After that gate will allow the person to get access.
Biometric ones can monitor individuals who pass through the gate with ID cards or badges. If the person is not certified, the gate will detect, and the system will raise the humming alarm or will not move further as the turnstile access control system communicates with the rotating door and identifies the validity of a person.
Automatic turnstiles have various access control systems that give you complete control over the entrance. Turnstile access control can be customizable with three scenarios.
Biometric: Biometric mechanism identify the person by fingerprints. The person will use his finger in the access control system; the biometric system will record data and let them enter through the gate.
RFID: RFID allows the individual through card; the card may be given from organization to employees. In that case, information is already recorded in the system. Or, in another case, data can be registered after the entrance. However, the rest of the system will be the same.
Face recognition: face recognition system identifies the person through his face as the name tells. Face identification distinguishes people using face bio-statistics based on supervising technology in physical security turnstiles.
All systems mentioned above are entirely customized and can enter into rotating barriers per the consumer's needs. Mechatronix TURNMEX is modified and offers you a complete package with advanced functions such as Bi-directional locking, automatic and manual control and biometric integration.
Turnstile gates have one more significant feature that makes them more innovative and unique from others. Smarter security turnstiles record all the data in the system and then allow pedestrian access.
For instance, take an example of a metro bus stations in Pakistan. The commuter's card balance (credit) will be added to the system once the credit is added. Whenever the walker uses the turnstile to access, the mechanism will match eligibility from the database and allow him to move the turnstile, update the available balance on the card, and refresh it in the system. Otherwise, without the digital credit, he will not be able to go through. The same function is applied in full height turnstiles. Recordable data will help to manage the system proficiently, and you will not hire employees to collect your statistics.
Such gates are mainly used in parks, subways, metro stations, airports, Military & defence areas, Government facilities, Embassies, Educational sites & Offices, industries & manufacturing plants, Power plants, data centres, Refineries and other high-security risk areas.
Flexible functionality & quick response:
Automatic full height turnstiles are explicitly flexible in management because it is stress-free in many ways. For instance, you don't need to hire personnel for verification, register their bio-data or check them individually. Guard system is always time-consuming and inaccurate; however, physical security turnstiles do not make noise and come in three phases. It includes lockdown (remains locked and does not allow entry), free pass (allows access without authorization), and controlled passage (requires validation before allowing entry).
Moreover, these intelligent doors store information such as barcodes, names, phone numbers and other related information, which helps to identify the person. It is also a certified helping hand for guards that do not mislead the owner by mistakes and helps to give authentic details related to applicants.
Automation in operations:
As we have discussed multiple features of modern gates, they are entirely customized and automated. For this reason, you can get complete control over the entrance. For instance, when you insert certain information into ACS, you can look over the incoming and outgoing traffic, and employees' personal information and details will be visualized; moreover, new entries will insert into the system effortlessly.
Other than that, if someone is unknown to the organization, physical security turnstiles will be locked and cannot let him enter the gateway. Due to this feature, no unidentified person can harm you by a personal attack on the firm. All the operations in rotating gates are automated and up-to-date.
Entrance gates are frequently used at facilities and venues to control who and when they can enter. Moreover, arrival and departure timing will also write down in the data management system. Installing such advanced tools at the entrance will provide a helping hand and relief. It allows a company to control entry into their facility independently and efficiently; all Sports venues, fulfilment centres, warehouses, and many more use access control systems to ensure that access is controlled.
Allowing automatic full height turnstiles allows the efficient entrance and exit. The reason is that entrants can present their identification (fingerprint, access pass, ID card or face recognition) to a turnstile and get access. Without a modern entrance gate, people must be manually checked for testimonials by an attendant, which takes much longer than turnstiles. This efficient work achieved by using a turnstile access control system also ensures no traffic or endorsement at access points.
Installing full turnstiles can save you money in the long run. This advanced system works independently, so you don't need to hire any guard or personnel to check in people or verify their eligibility to access. They also make it much harder for the public to sneak into the location without paying, allowing you to reduce losses and increase your bottom line. By considerably lowering labour charges and losses from illegal entries, it is easy to see how a turnstile access control system can reduce expenses and save you money in the long run.
Moreover, Mechatronix TURNMEX is a high-quality and cheap solution that is used for the long term. Other than that, multiple advanced features make turnstiles more intelligent and refined. It also exposes in front of your collaborators how much you are concerned about your organization's security.
Now, as we have discussed, how many features smarter security turnstiles are providing you to get complete control over the entrance? They are not just convenient for personnel but staff as well. Choosing the suitable turnstile requires consideration of different factors, including whether it is for indoor or outdoor use, the desired level of security, finances, features needed and aesthetic preferences. For all such concerns, contact Mechatronix. Mechatronix provides a wide range of automatic products to secure our premises. TURNMEX turnstiles are proven highly recommended with completely customized features. For further details, don't hesitate to get in touch with us.
Our team will eagerly help and support you!
Consultation is 100% free of cost!
For any query or assistance feet free to reach us here..!