Mechatronix
Make Entrance Management Easy With Automatic Turnstiles!
Automatic turnstiles:
Automatic turnstiles are high-tech automation that controls traffic over any organization's entry and exit points or crowded places. Smart turnstiles commonly consist of horizontal arms that stand on the vertical post. For access through the turnstile, a pedestrian must need necessary identification like a coin, pass, ticket, or any other access Id. Places frequently demand automatic operated: amusement parks, , public transport, government offices, museums, stadiums, and other crowded places.
Safety turnstiles are significantly designed to allow one person at one time and condense traffic at the gates of any organization. The turnstile gate helps control access and provides security to control the crowd and protracted flow capacity. They are available in several sizes and shapes, from waist to full height.
Full-Height Automatic:
Full height automatic turnstile offers you complete security. They are grounded with a mechanical rotating barrier. We can call these doors revolving doors that provide us absolute security and will allow single person to pass through at once. This turnstile access control offers maximum protection with robust features like biometrics, RFID (radio frequency identification), face identification, PLC-based control panel, and CAS (Content-Addressed Storage). Based on different elements, full height turnstiles are further divided into categories. For instance:
3 & 4 wings single lane
3 &4 wings double lane
Dual platinum
Single lane Quadra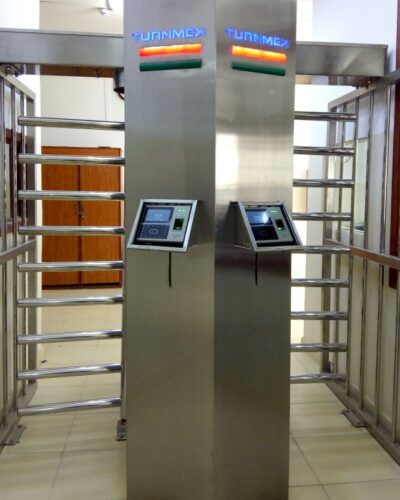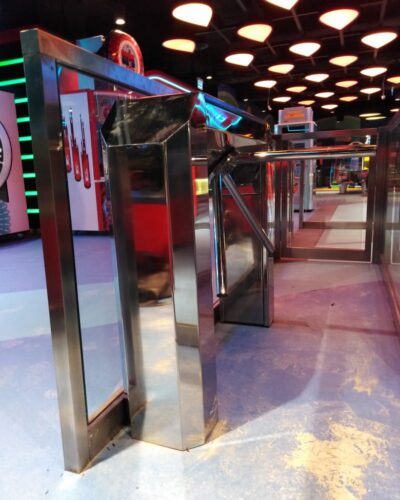 Waist height Automatic:
Waist height tripod turnstiles gate provide easy and quick addition of pedestrians. It also offers security with stress-free management. The waist height turnstile gate is a three-arm-based barrier at waist height with a lock mechanism; smart one's provides ample security to the organization and maintains management. Tripod base are high-tech safety with PLC and RFID mechanisms. Waist height turnstiles also have different categories divided by their features. For example:
Turn line-single
Turn line Dou
Tripod single
Tripod Dou
How does it function/operates?
The working of automatic turnstiles depends on a specific model. Tripod turnstiles gate spin when pedestrian shows identification. They are also available in biometric devices, through which the walker will identify his finger or identify face to get access into the entrance.
On the other hand, it operate by a lock mechanism, and only an authorized person can enter. When the access is granted, the automatic turnstiles will be unlocked, and the transaction will be recorded, while when the ticket is refused, the turnstile gate remains closed, and the attempted action will be registered.
Making Management Easy With Smart Solution:
Smarter security turnstiles help you to improve your entrance management effectiveness and security. It will also easily manage your incoming and outgoing traffic for pedestrians and guards. Furthermore, tripod machines only move in one direction. A ratchet mechanism has been installed in this tool that allow rotation of the door in one order.
Physical security turnstiles offer a lot of benefits. The mechanism helps you provide higher security for the people in the parks, subways, metro stations, airports, and other crowded places. Several features will help you improve your safety far better than other methods. For instance:
Automatic monitoring/ verification
Smart data management system
Access control system
Flexible functionality & quick response
RFID/ Biometric system
Face recognition system
Automation in operations
Automatic Monitoring/ verification:
Smart turnstiles can monitor individuals who pass through the gate with ID cards or badges. If the person is not authorized, the turnstile will detect, and the system will raise the alarm or will not be moved further. Since the turnstile access control system communicates with the turnstile and identifies the validity of a person.
Smart Data Management System:
The machines record all the data in the system and then allow a pedestrian to get access. For instance, take an example of a metro station. The commuter's card balance (credit) will be added in the system, once credit is added. Whenever he uses the turnstile to get access, the mechanism will match eligibility from database and allow him to move the turnstile and updates available balance in the card as well as refreshes it in system. Otherwise without the digital credit, he will not be able to go through. Recordable data will help to manage the system proficiently.
Flexible Functionality:
Automatic turnstiles function is undoubtedly flexible to manage because it is stress-free in many ways. For instance, they can function single or bi-directional. It has three Passage modes that include lockdown (remain locked and does not allow entry), free pass (allows access without authorization), and controlled passage (requires validation before allowing entry), and the modes are independent for each direction. The authority may choose the method as per their requirements.
Access Control System – ACS:
A turnstile access control system is a system through which a commuter can get access, and an organization can efficiently manage its crowd flow. In this system, three types of access are available: biometric, RFID, and face recognition. All the features of turnstile gate control the entry of pedestrians and can manage entrance stress-free for the organization.
RFID/ Biometric system:
Automatic turnstiles has RFID (radio frequency identification) system. It is a wireless method of communication that consists of three components: a scanning antenna, a transceiver, and a transponder. Its electromagnetic spectrum can quickly identify a person, thing, or animal.
A biometric system benefits you to collect data individually with a managed, minor security system. It can verify a person by fingerprints and record or count it by the system.
Usually, it is tough to store information regarding barcodes, names, phone numbers, etc., in the cards individually. To solve the issue,  and RFID systems give us a helping hand and can manage or record all the data in the system without any employee, and it can even count the number of walkers passing through the barriers.
Face recognition system:
Leading organizations use a face recognition system for attendance management. Face identification is a method of distinguishing people using face bio-statistics based on monitoring technology in automatic turnstiles. It also proved to be one of the best solution for automated attendance. The whole system works very smoothly with low noise and high speed. It is known to be the best solution for higher security for any firm.
Automation In Operations:
Once the automatic system is installed or integrated, all the data auto transmit. For instance, when we charge our card automatically and then tap it on the smart detection system, the payment will be deducted from the card automatically, further update the information in it and then send a report to the system of automatic working. Other than that, the deducted fee will also be sent to their bank automatically. On the other side if it organization entry pass, the system will the mark the entrance of the individual and if its integrated with attendance system, presence will be counted with time and no effort.
Operation are done automatic and managed quickly in all this process without any manual intervention.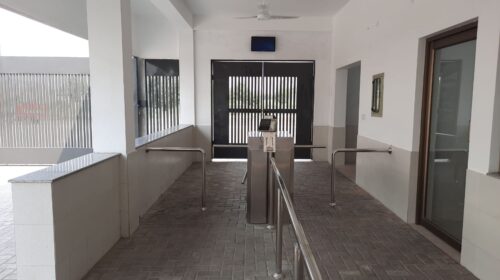 Decide To Choose The Best Automatic Turnstile:
We have discussed how turnstile gate will make your entrance management quicker and more ordered. It will also be convenient not only for security personnel but for staff. Though, automatic turnstiles are helpful in monitoring and supervising the organization in a well-organized way and will increase the catalog of customers in a business, easing the process of professional services, organization efficiency and various marketing campaigns.
If you want to decide to choose automatic turnstiles, choose Mechatronix reputed one of the top turnstile manufacturer in Pakistan. A  leading company in Pakistan in the automation and security field whose, mission is to provide safety and automation with comfort. The company offers different variant automatic turnstiles of the best quality, durability with effective cost. It improve your security and extended flow capacity. All of the models incorporate every brand of the access control system and will provide a high level of efficiency and safety in operations. For any queries, please contact us without any hesitation.