Mechatronix
How Walk-through Metal Detector Proved to Be the Best Protection for Your Organization?
Security is a crucial part of any organization since it affects the association's standard and reputation in front of stakeholders. A practical and reliable workplace reduces risk in business. It can be physical damage, robbery, theft, or system hacking. Therefore, companies must be secured to build trust with their partners.
Maintaining security at bulky and crowded places like large organizations, parks, educational institutes, and government offices is tough. For this reason, walk-through metal detector give guards exclusive partnerships to maintain security.
This blog will elaborate the importance of a walk-through detector gate and its role in protecting an organization.
Get More Details:
It is used to detect metal like iron, cobalt, and Nickel by magnetic fields passively or actively. Walk-through metal detector is categorized in single and multiple zones. Advance technology relies on multi-zone categories as it is adjustable and can differentiate between weapons and metals that do not create danger, such as keys or coins. Moreover, walking through metal detector can also pinpoint the place of a magnet in the human body.
For massive, crowded places or government offices where extra security is required, walking-through metal detector is an irreplaceable tool there. It ensures that no one can enter or leave the building without being spotted by detectors. Metal detectors in Pakistan are primarily used in parks, zoos, universities, schools, malls, government offices, etc.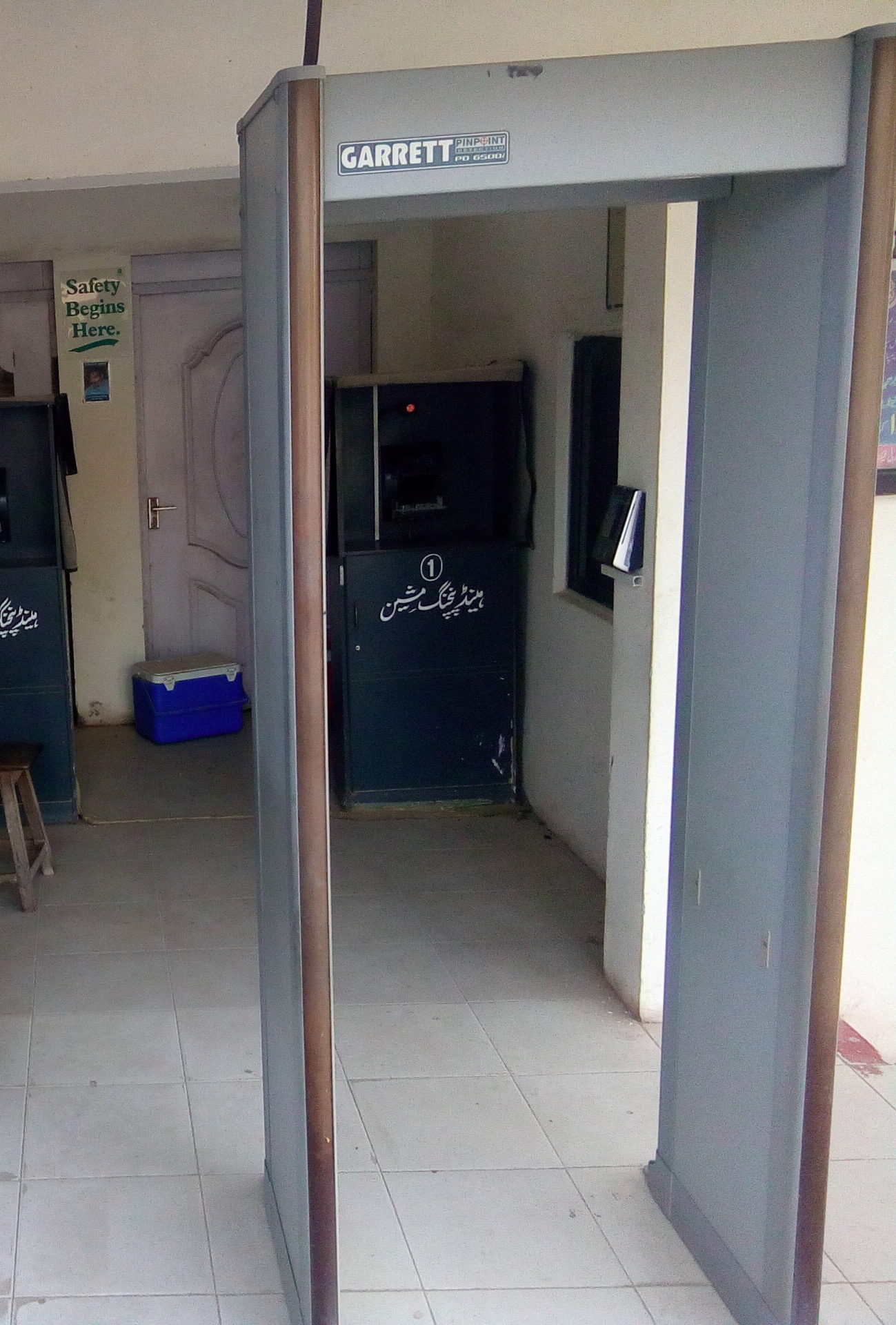 The function of walk-through gate:
Walk-through gate predominantly uses pulse induction (PI) technology. PI technology work by sending signals through the copper coil to create a magnetic field. The copper coil works as a sender and receiver in this process. A reflected magnetic field is produced when metal passes through the magnetic field. This magnetic field then responds to the receiver coil, which inducts the alarm system, and the beep will start.
PI-based metal detectors gate typically sends 100 pulses per second, but it can vary from manufacturer and model to next. Walk through metal detector, create a large magnetic field and cover all the area inside the gate. Specific lights on the side of the device will produce an alarm and make this tool much easier for the security personnel to find the item.
Features of the walk-through gate:
A walk-through gate is the best protection for any organization based on its features and types. Since it enhances security checking, they are ideal for crowded and public places. Metal detector gate has multiple low to high sensitivity settings for detection. Its LED alarm indicators are accurate in determining the location of metal objects.
These detectors are used to lessen the risk of physical and monetary harm. For this reason, Mechatronix plays an imperative role in providing advanced security. Mechatronix is one of the leading companies of walk-through metal detector manufacturers in Pakistan. They are providing best quality metal detectors in Pakistan with multiple advanced features.
Why did the walk-through gate prove to be the best protection?
As we have discussed the function of the walk-through gate, and how security becomes crucial part for any countries' growth, now look at the importance of this technology and why it is proven to be the best protection for an organization. There are several reasons to apply a security scanning gate at your door. Let's discuss some of them.
Easy To Move:
Walk-through detector gate is a kind of gate that can move or be fixed at the entrance point. It does not permanently adjust at the entrance point of an organization. If someone wants to change the location of their gate. It will be an effortless task for them to move walk-through gate.
Installation of a walk-through gate at multiple places can reduce the crime rate and proved to be the best protection for organizations. They are easy to carry and give multiple features to secure your association.
Prevent crimes:
They very efficient and intelligent in detecting risky metal inside a person. It notifies the person and alerts security guard to take an action against the walker. Moreover, violators will not be able to do anything, they will think twice or maybe thrice while passing through the security scanning gate.
It is specifically designed for security purposes and to prevent crime. It also helps to develop a secure and safe culture where everyone can move anywhere and feel safe.
Prevent weapons:
Walk-through metal detector has a high detection security system that can detect sharp objects instantly, such as weapons, firearms, knives, and blades. It can modify different safety & security standards from the lowest to the highest.
Walk-through metal detector is specifically designed to maintain security in high-density locations or possible targets for a criminal act, such as airports, football stadiums, government offices, and larger companies.
Regulates security:
Pakistan has been going through a challenging situation with terrorism in recent years. Pakistan faced huge security threats and many disparaging incidents, but installing metal detectors In Pakistan at different places has recovered the situation. Still, there is an ominous need for a walk-through detector installation to certify a safe environment in the country.
As the security scanning gates scan a person's whole body and detect hidden violent objects, it maintains the security regulations and provides a safe and healthy environment.
Ensuring peace and safety:
security is one of the basic needs of any individual, without which lives, properties, and our future would be in danger all the time. That's why every country must provide a peaceful environment to their citizens.
It is not just the duty of the government to provide security; the private sector can also play a positive role in ensuring a peaceful environment. Installation of security scanning gates in any association is self-security since it provides complete satisfaction. Being a responsible citizen, it is our responsibility to bring a safe and calm environment because Collaboration with teamwork has incredible power to grow productivity.
Building vital trust level:
Trust is the primary thing that people can give to each other. But trust is earned when the action meets the world. For this reason, it is mandatory to build trust with customers, school parents, business partners, etc.; when you prove them your trust with your action, you will be a trusted association for everyone.
Take an example of a school, a secure environment in any school builds a strong trust among parents and school owners. It shows the importance of education for school and parents as well. Metal detectors make complete trust by providing security and help in the school's growth and the students' safety.
Improve national economic growth:
When the country is safe, it will also improve economic growth. Investors want to invest in terror-free countries, so security is the primary indicator of national economic development. Each citizen must raise their country's standard and clean their reputation in front of the world.
As we have discussed, terrorism in Pakistan it affects its economic growth in past years. Pakistan is snowballing, but it is still very much needed to install walk-through gates in multiple associations. So that countries' reputation can be good in front of world.
Walk-through sanitizer gate:
when a pandemic situation arises, several measures are being applied to control the spread of infection. In such an effort, people started to install walk-through sanitizer gate. These gates provide an overhead shower of sanitizer solution for 20 to 30 seconds when the person passes through them.
Walk-through sanitizer gate has been installed in various countries in their public places, in front of their associations, airports, and other crowded places. Walk through sanitizer gate is a sub-category of a metal detector gate.
Health-conscious and effective:
Walk-through metal detector manufacturers made this technology safe and secure. It is not just providing physical security but also health security for each individual. Its rays do not affect the health of people. Even pregnant women are not affected by its glow and rays and can get physical or health security as well.
Walk-through detector gate is easy to use and more affordable than other security devices. It increases security without much preparation and is also effective at a meager cost.
Traffic control:
A walk-through metal detector gate is also sufficient for controlling traffic and ensuring people make their way to the device. Security personnel wants to ensure signs can direct people to the device.
Moreover, security teams have a basket or tray set up next to the walk-through metal detector so people can move through it quicker and more smoothly. It also helps to ensure that individuals remove and place items such as watches, keys, coins, belts, and other large metal objects into the baskets so the device doesn't beep false alarm.
One of the advantages is the reduction of waiting for people to get in and out at places where high-level security is required. For instance, airports, courts, and prisons. These places need a detailed and rapid examination of bulky numbers of the public. In these cases, detectors are essential.
Cost of security scanning gates in Pakistan:
Walk-through gate price in Pakistan is between 1 lack to 10 lacks range. However, the price is depends on their features. Multi-zone metal detectors have more advanced features than simple gates; therefore, their price will be considered according to the quality. The average featured walk-through gate price in Pakistan starts from $3,000. Mechatronix has all kinds of metal detectors, from single-zone to multi-zone detectors gate. They are providing with every type of advanced feature in security scanning gates with a reasonable range of cost.
Contact us for more information!
For any query or assistance feet free to reach us here..!