Mechatronix
What Kind Of Weapons Are Detected in Walk-through metal detector?
There is no question whether violence is a severe issue or not. Walk-through detector gate alarms in case any person possesses violent objects. It is a valid safety guard for your firm or organization to mitigate the danger of physical and monetary damage.
You may have seen a walk-through metal detector whenever you travel through the airport. It is a device that scans people for metal objects frequently. Such gates are widely used at schools, universities, metro stations, banks, stadiums etc. The door is placed at the entrance of a building or an area that needs to be secured. If metal is found, the detector will sound an alarm.
Let's look at the working process of advanced detector doors so that you may know what kind of weapons locator can detect.
What Walk-Through Detector Gate Detects?
The walk-through gate is operated by pulse induction technology (PI). Pulse induction technology creates an electromagnetic field and then allows it to collapse—the technology work by sending a high amperage signal through the copper coil to create an electromagnetic field. A reflected magnetic field is beeped when metal passes through the magnetic field. This force field then reacts with the receiver coil, which activates the alarm system. The magnetic field generated by the walk-through detector gate will be huge. This magnetic field will enfold all items of the metals. Suppose anyone passes through a locator and activates an alarm. In that case, the airport security personnel will be warned that the person may have hidden malicious metal-based weapons, such as knives or guns, swords etc. and can take action against him.
Modern metal detectors gate have multiple zones that not only sound an alarm but also can tell the security personnel's object's location. The multi-zone indicator contains multiple coils that generate a separate detection zone. Apparatuses are available with up to 33 zones. The alarm lights on the side of the unit make it much easier for the personnel to find the item.
Security scanning gates come in varieties of three, which work on different standards:
Hand Held:
Handheld indicators are specifically designed to detect suspicious items that contain metals. The working principle of a handheld detector is the same as a scanning gate. It is an alternative tool to see knives, weapons and blunt objects by personnel accurately. It is a complementary tool to fixed scanners, which bring more mobility and flexibility.
Hi-PE:
The Hi-PE walk-through gate is a high-performance walk-through multi-zone metal indicator which meets all international security standards. It is completely reliable and efficient in speed. Moreover, it can detect magnetic, non-magnetic and mixed-alloy metal weapons. HI-PE's exceptional immunity, high discrimination and rapid installation make it more helpful and dear to everyone.
Hi-PE Plus:
The HI-PE plus walkthrough gate is more accurate than HI-PE as it provides precise detection, a high level of discrimination of non-threat items, and full compliance with the latest strict security standards. It has 60 localization zones (20 vertical and three laterals) and rapid installation. Moreover, HI-PE Plus detects firearms and knives, even if hidden within body cavities. It can flawlessly point out the location of the item in the body.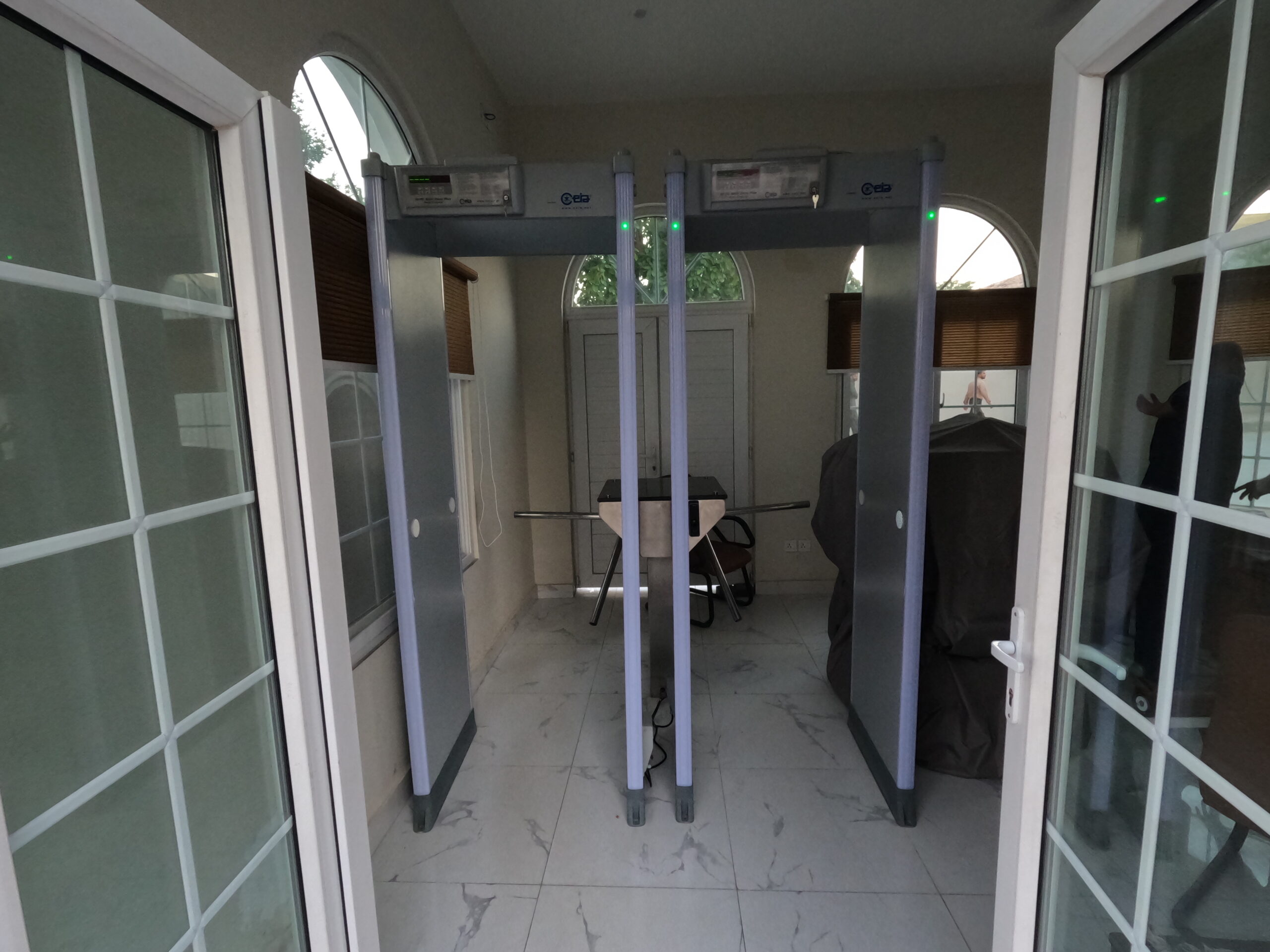 Walk-through Sanitizer Gate:
Covid-19 was the primary reason for inventing a walk-through sanitizer gate. It is also the advanced category of security scanning gates. The Full body disinfection booth showers mist on a person and their luggage for 20 to 30 seconds while passing from the gate. The mist spraying won't wet clothes or bags, and it is quick and safe. Many countries have applied walk-through sanitizer gates to lessen the danger of Covid. However, it becomes the need of an hour now.
Features of Walk-Through Metal Detector Machine:
Metal detectors in Pakistan are widely used due to their helpful features and the demand for security. They are best for public events and buildings. The device enhances guard checking without having multiple guards. Let's discuss some of its attributes to know it in a better way.
It provides Ultra detection efficiency.
It facilitates instant checking of any individual.
Walk-through gate scan weapons, Knives and ordnance in different materials by a single object.
It has multiple low to high-sensitivity settings for detection.
Machine's LED alarm indicators are accurate in determining the location of metal objects.
How Effective Are Metal Detectors Gates?
The walk-through metal detector machine is exceptionally effective from per security point of view. The 9/11 attack was a wake-up call for everyone. Different countries have begun using security scanning gates as we know the door work by detecting and deterring foil objects on a person's body and sounding an alarm. It is in charge by defense recruits who can then identify the person for any potential weapons.
The metal detector in Pakistan has become more critical after the Peshawar school attack. Many people suffered due to irresponsible security. Since indicator gates can identify each type of weapons, like a gun, knife, nail cutter, or even drug, if it is folded in a coil, doors are now applied in front of every school, university, college, port, office etc.
Let's look at some of its advantages so you will be satisfied while buying it.
Prevent Crime From Weapons:
Regarding protection point of view, the locator door has a decisive role as it is a kind of indicator for the violator not to do anything. They will think twice or three times while passing through the metal detector's gate. The foil detectors are efficient enough to point out who has deadly or life-threatening severe objects.
With metal detectors gate, the authorities create a culture of a safe atmosphere where everyone can safely move to any place. The installations of foil indicators at numerous locations have allegedly prevented the crime rate and proved to be a real savior in modern times.
Improve Economic Growth:
Pakistan has lost its reputation in front of the world due to terrorism; that's why it is necessary to install such weapon barriers to prevent crimes. It does not stop terrorism but will improve Pakistan's economic growth. International firms invest in countries that they can trust on a protection level.
Take an example of a school. A secure environment in any school builds strong trust among parents and school owners. It shows the importance of education for schools and parents as well. Just like this, Investors want to invest in terror-free countries, so safety measures are the primary indicator of national economic development. Citizens must raise their country's standards by providing complete protection to their employees and business companions and cleaning their reputation in front of the world.
Pocket Friendly:
Metal detectors price in Pakistan depends on their features and specifications, "the deeper the well, the warmer the water" means that as much you invest in safety equipment, you will be secure and raise your reputation in front of the modern world. The average featured indicator starts from $3,000. Price in Pakistan lie between 1 lacks to 10 lacks range. Mechatronix foil locators come in a variety of single-zone to multi-zone indicators. However, multi-zone has more advanced features than single-zone; for this reason, the price range is also dissimilar there. If you invest once, such foil locators are long-lasting and will last for years.
Disadvantages of Metal Detectors gate:
As for the disadvantages of using any walk-through gate, they cause privacy concerns. Sometimes, foil locators can cause embracement for people who have installed surgical alloy devices inside the body due to health issues. In this situation, the alarm will beep, which might create a problem for the non-violator.
Another disadvantage is the creation of electromagnetic fields. It can cause electrical interference to electronic devices such as pacemakers that one person might have in their possession. It can harm pacemakers because they have a powerful electromagnetic field. In this case, such detectors can be lethal for those people, and it is strongly advised to avoid passing through them.
Moreover, walk-through gates can give a wrong alarm in many conditions if people wear a jeweler, watch, phone, loose change or something similar. A false alarm caused by sensors can be inconvenient for personnel and the person to whom the notice is turned on. However, security personnel can see on their computers that the metal object that caused the alarm is a harmless tool, not a weapon.
Overall, applying walk-through gate is a productive way to deter and detect potential threats. Although they are not perfect, they can help to keep people safe.
Make a Decision on Walk-through Detector Gate:
Suppose you want to install such weapon barriers at your premises. Consider Mechatronix as your first choice. Well known firm of metal detectors in Pakistan, providing special security equipment. The firm deals with CEIA products, handheld, HI-PE, walk-through sanitizer gate and HI-Plus. If you want to install foil indicators in susceptible areas such as military bases or government offices, then HI-PLUS is the best choice. They are entirely affordable and the best in quality. If you want to know more about weapon indicators, Contact us without hesitation.
Consultation is 100% free of cost.
For any queries, contact our team of experts. We will solve your questions in every possible way.
For any query or assistance feet free to reach us here..!