Mechatronix
Improve Organization's Security Without Guards
As a commercial building owner, security should be your primary concern. Vandalism, theft, and unwanted intrusions can risk your tenants' safety. Hiring security guards can also be effective but exorbitant. Due to this, the role of officers is coming under increasing scrutiny. Contrasting security officers, there are technological ways to improve your Organization's security.
Restrict Entries:
One of the ways to secure an organization is by restricting entries to a central point. Fewer people will enter, and less damage will happen.
You can install an Access Control System (ACS) to identify users.
For this, you can integrate ACS with,
Bio-metric Verification/Access
Card Identification
Face detection
The significant difference between guard and machine is; Officers may become careless with no immediate threat, and everything is going well. In contrast, integrated security works 24/7 and provides guaranteed protection.
There are specific tools that can integrate with ACS to limit unknown entries in your company's security.
For instance,
Turnstiles
Flap barriers / Speed Gates
Swing gates etc.
Upgrade protection outside of the Organization:
It is crucial to have both inside and outside protection for safety. Taking physical measures to safeguard against external threats like attacks, civil unrest, robbery, and unauthorized vehicles.
Advanced technology has introduced barriers to controlling outside threats. For instance
Road blockers,
Boom barriers,
Bollards
Tyre killers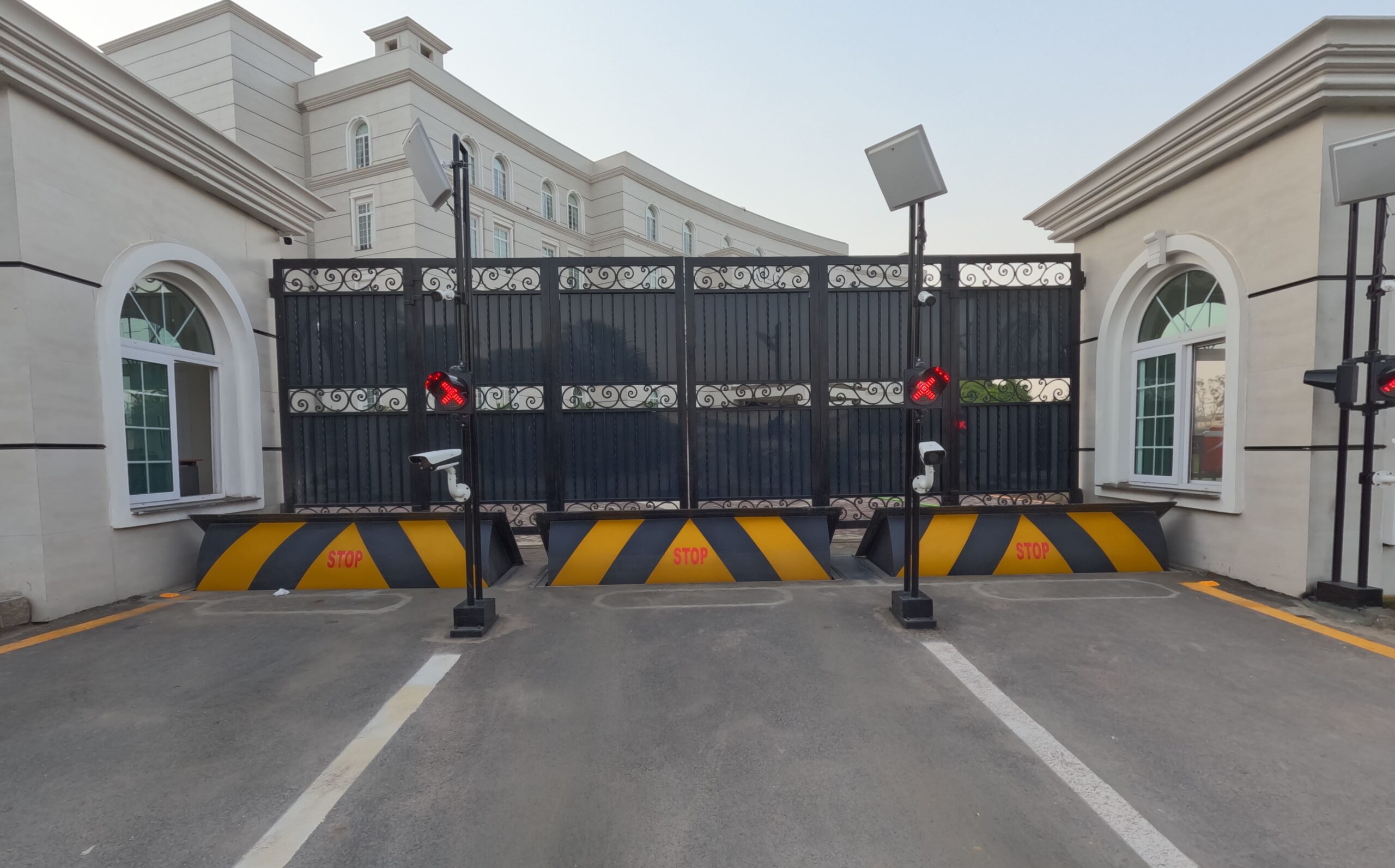 Company security at the entrance is necessary, as destruction generally happens from outside.
Above mentioned tools can stop vehicles if someone tries to enter forcefully.
It is essential to know why these tools are necessary.
The reasons are:
Guardians may need help to respond to emergencies rapidly.
An intruder may be more skilled than physical security.
Officers may react after some time in critical situations.
Thus, companies must install an integrated security culture to supplement their security measures.
Upgrade protection for Employees:
As an employer, you must invest in staff coaching. Ensure staff are fully aware of security threats, and every company member must be trained to act on any potential hazards.
Numbers of employees working inside, for their security you must install fire alarms in emergencies. Fire alarms provide zonal coverage for all types of buildings. So In case of any attack or planned fire incident employees get alert and save their lives as well as valuable assets.
Install High-Quality Surveillance Systems:
Surveillance systems are crucial for industry security. To improve your surveillance systems, install high-quality security cameras.
Security cameras are a productive tool for monitoring and identifying potential threats. Use cameras with appropriate resolution, night vision capabilities, and wide coverage angles. Place them strategically to cover doors, exits, parking lots, and areas with valuable assets.
Metal and Weapon Detection Systems:
Install metal detectors that collect and analyze log data from various security devices and systems to identify potential threats. You can also install walk-through metal detectors to control dangerous entries. The metal detector scans people as they walk through the gate. If a metal object is detected, the sensor will sound an alarm.
Regular Maintenance:
Regular maintenance of machines is as essential as your food. Always check locks, entrance points, digital security systems, records, and cameras.
Please pay special attention to the devices for any damage or faulty hardware, whether they are working or not. Regular maintenance will highlight any flaws with the system and allow for repairs to be carried out.
Regular Software Updates For Systems
Regular software updates of system software are an essential element of maintenance. It enhances performance and addresses vulnerabilities, while calibration and configuration adjustments ensure accurate detection and monitoring capabilities.
Valuable data, battery, and power management daily. Documentation of maintenance activities further contributes to security systems' effectiveness and reliability. Regular software updates help organizations maintain a robust security posture and mitigate risks.
Regular Software Updates For Systems
Sturdy fences and gates integrated with company security will help you manage central areas.
This will help you control unwanted actions by robbers. Along with doorways, parking areas, and garages are also important places of industry security.
Above mentioned indoors, like turnstiles, swing gates, flap barriers, security gates, and doors. They help you in controlling unauthorized entries and build a safe environment
Why Technology is an Alternative To Security Guards:
As the world is fast-paced, everyone is aware of protecting their business. Countries like America, Japan, and Germany have a long history of introducing the culture of machines since industrial revaluation. Now devices have taken the place of men due to human limitations. It can perform the work of many individuals at once. The above products also switch officers with integrated security systems.
Keeping in view organization security, equipment like Access Control System integrated with security cameras, revolving doors, automatic bollards, etc, will help you with security measures.
These pieces of equipment are not omitting security guards entirely but reduce the headache of personnel by giving them a hand. It will be beneficial not only for the company but for personnel as well. As we know, Proper records of entries and giving duty 24/7 are challenging for humans. For this reason, it is necessary for company security having such apparatus.
Equipment costs may look expensive, but it is a long-term solution, unlike paying each month. Once you install them, they will run long-term.
So don't hesitate to install them and take action to secure your company. For further queries, you may contact us or visit our site.
Contact us for organization security improvement, freely reach out for any assistance here..!