Mechatronix
Integrated Security And Benefits To Your Organization!
If you spend more time on coffee or tea rather than securing yourself and your employees. You deserve to be commandeered. Security is a shared responsibility. The more system we connect, the more secure we all are.
It would be ironic to say that the provision of security services has undergone tremendous changes over the back in few decades. Technology has played a specific set of hurdles in the threat landscape, but it also offered us new tools to counter the threats. Integrated security system is one of the combined set of tools.
What is ISS?
An integrated security system usually refers to joining or 'integrating' two or more electronic security systems, such as video surveillance, access control, and intruder detection, etc.
The world has become a universal village that leads us to an intelligent lifestyle integration. As we know, integration makes business smoother and streamlined. That's why many business managers must put enough effort into the type of system they have or make it advance to provide smooth protection effortlessly to get better results.
In this blog, we will be looking at how system security is integrated. Moreover, we will see how a it can benefit your organization most simply.
How is System Security integrated?
System security integrated is developed to provide tight security with connected systems. Earlier, people were used to relying on a compartmentalization system. The organization had a security system on each floor. This system caused trouble for employees and visitors. Modern system security brings together all the organization's departments into one arrangement.
We have the most prominent example of (the National Database and Registration Authority) NADRA. It is an organization with multiple branches in Pakistan. But wherever the employee or client goes, entire data is entered into a system that will not provide the information repeatedly. Moreover their CCTVs, ACS system are connected to each other in some of the branches. It shows the way to management, efficiency, easiness in identification and less human interaction.
The following essentials you will find out in modern security systems.
Access Control
Video Surveillance
Video Monitoring
Video Review and Analysis
Audio Warning Speaker
Fire Alarm System
Integrating Video Surveillance System with Access Control System:
The video surveillance system can be combined with access way easily. CCTV and access control can work together, if you place cameras in an organization. Remote monitoring becomes simple because when one element is affected, it triggers a response in the others.
Imagine getting instant alerts from a security camera at the mall or ports. If the camera spots unusual movement at night, it sends immediate notifications to the right people. These will alarm the personnel and the access control system on high alert.
Access Control System integrated with Fire Alarm System:
Access control devices are widely used. It includes fingerprint, face identification, and RFID card identification. Due to this, access to a limiting area will only be allowed to some.
If there is an emergency like a fire or bomb attack, verifying identities could delay evacuations, endangering lives. Suppose, in such a situation, an integrated fire and security method will work. In that case, the system can switch the entry points to open on sense a fire and save many lives without needing personnel. This shows not just security but also the management skills of a system.
Integrating CCTVs with Alarm System:
Integrating the Communications System and ACS can make a big difference in crisis response. Think about a hospital. If guards are alert about a suspicious person, that person can hide from them, causing an unknown result. However, the video surveillance system has live examination and is integrated with the alarm system. In that case, the guards can provide more security to the premises. Thieves will struggle to escape, especially in places with strict rules, like ports or military bases.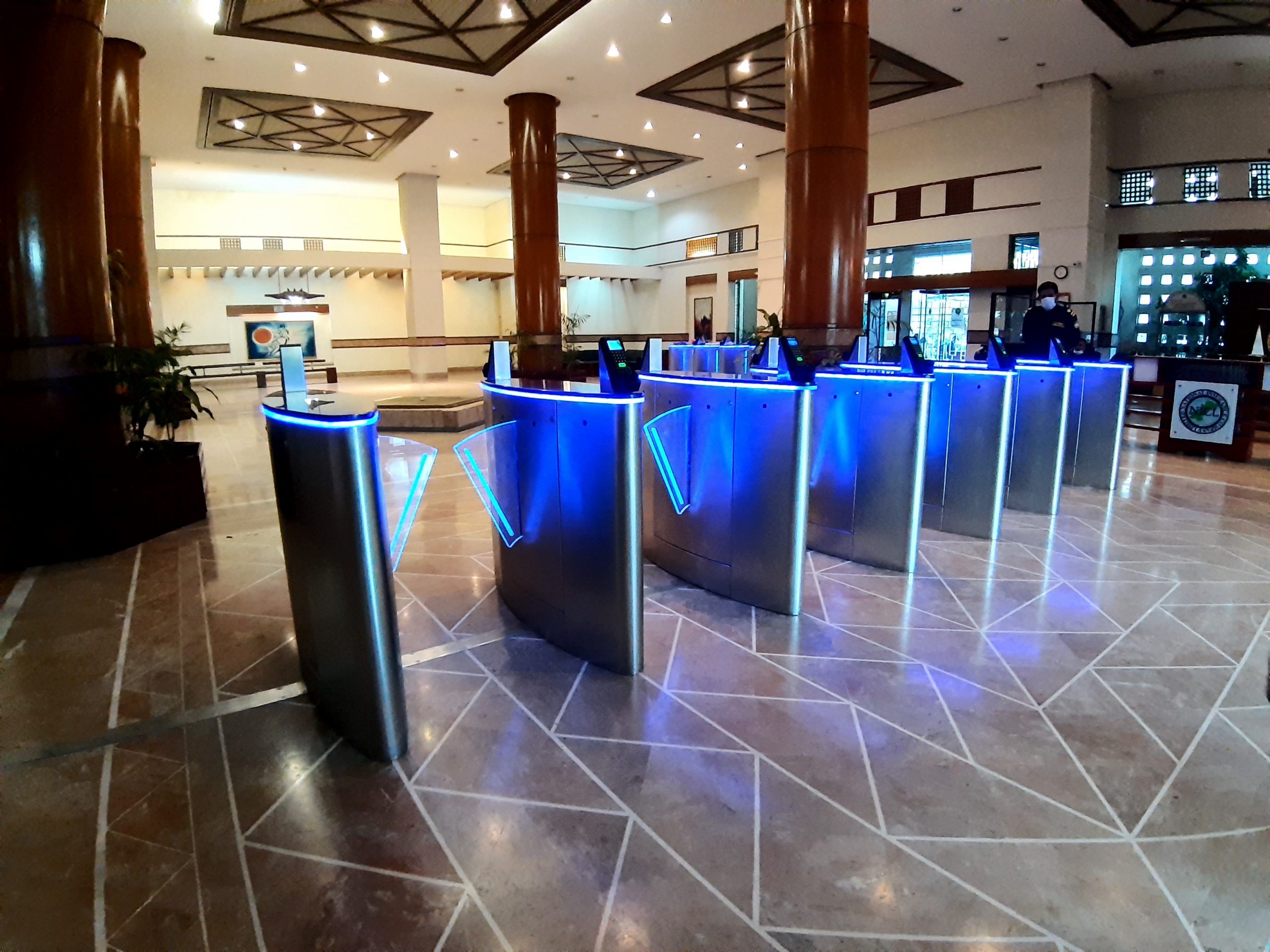 Benefits of Unified Systems:
Security management systems simplify monitoring and reporting while strengthening security. Integrated security can help us in various scenarios like the ones mentioned above. These systems make things easier in the corporate world and many other situations. Consider these solutions if you want to improve your business and address safety issues. In that case, you must consider the following benefits of security management with integrated security.
Custom and centralized Security System:
Security cameras are a good start for crime prevention, but large organizations need more. Without a doubt, you need to increase security while increasing your business. An organization's security provider can integrate security cameras with a business alarm system. It will also be connected with ACS at the entrances.
The RFID card could detect suspicious activity like off-hours entry and send an alert. You can also set up cameras to turn on when doors open or motion detectors activate. In this way, each type of crime can be prevented effectively via different strategies of this method.
Improving Safety and Productivity:
Workplace safety is essential for many reasons; if the person does not feel safe, they will not give you a productive result. In this way, wireless security systems can help improve safety and security. Look at some integrated security elements and how they can provide protection.
A wireless alarm system for businesses can inform managers about crime with accurate time monitoring, improving safety.
Using surveillance cameras for business security integration can significantly deter crime and improve efficiency.
An access control system can effectively exclude those who may commit crimes from the premises, which can help make for a safer workplace for your employees.
Deters Theft and Fraud
Theft and fraud happen everywhere, so factories and industries often experience scams. This includes construction sites, offices, and retail spaces. Moreover, sometimes, they also face internal threats and theft of data. The reason is the weakness of the security system. As we know, guards can perform poorly in each department. If you do not concentrate on a security system, you can face significant damage to your organization and buildings.
Many customers of a famous Pakistani bank lost money recently due to technical issues and fraud. Furthermore, every new day, we see looting and theft cases in banks, marts, and in malls and it mitigates such kind of issues.
Real-time Monitoring:
When running a big company, it's essential to handle any security breaches that happen first. With these systems, your team can monitor your business in real-time, improving workflows with a single click. Instead of finding individual alarm systems, contact Mechatronix. The manufacturer of security management systems will provide customized products of good quality. They will also discuss your company's needs within your budget. They aim to reduce human involvement.
Humans are efficient and intelligent workers but can't match a multitasking system. The manufacturers of security management systems made it so you can trust something other than people. Guards can run different functions, but it will cost much more than this.
The system involves all functions that will join the departments in a circular and will be controlled by one or two personnel at a time. This way, it is safer and more protective as you can efficiently monitor the entire backdrop using the required human resources.
Easy Management:
If you are looking at an incident in your corporation, you can move from an intruder alarm system to a CCTV camera and then to the access control method. When you have an organization security provider, they can all be managed and controlled from one program.
It will also be helpful for monitoring, managing and controlling security at once. The good news is that the system can be integrated and compatible with smartphone apps and programs for desktop computers. Even when you are away from the business, you can check and manage your video surveillance cameras review access reports, or receive custom alerts about alarm concerns remotely.
Efficient in Use:
Organization security providers can manage your business more efficiently. As all systems lead to one source, the security hub can act in tandem with all immediate needs, from integrated fire and security to theft to quick help. We have an example of 911 (Pakistani emergency helpline number). The earlier caller needs the police, ambulance, or fire department number individually. But now customers can figure out the phone number for each one. Just dial 911, and the transmitter will know which department needs to get involved in which matter.
Another example we can quote is Careem, Uber, or inDriver for a ride. They all provide services online via smartphones integrated with one joined system in one office. As the system, incorporated that's why they work smoothly and efficiently.
Budget-friendly:
Organization security provider provides you with a budget-friendly product. The cost of security guards alone can make it extravagant for most companies to use as a security measure. Even if an organization has the budget for security personnel, it will still be problematic for you. Perceptibly, they can only monitor a small property area at any specific time. The costs will multiply with every guard you hire and increase your budget. Video surveillance is more cost-effective and allows you to keep more profits.
Security Management Systems Manufacturer in Pakistan:
f you want to install a security system for your business, customise it to fit your needs. Why would you pay for more than you need? Mechatronix is a famous organization that provides security. They will help with all your security, safety, and financial concerns. If you need clarification on what's best for you, consult security experts and ask questions about your company's needs. Other than this, there are much more customized security systems.
For any queries, contact our team of experts. We will solve your questions in every possible way. here..!