Mechatronix
Behind Closed Doors: A Comprehensive Comparison of Fire-Rated and Standard Doors!
While selecting doors for offices, organizations, warehouses, or buildings, looking at their functions and features is essential. Fire accidents can happen anytime, anywhere; that's why it is necessary to have complete control over the entrances of rooms and premises.
Some people might have this misconception that all gates are the same; the difference is that some are made up of solid material, which is why they can resist fire. However, there are some other differences as well. That makes these gates more comfortable than standard doors.
In this blog, you will learn the critical differences between certified fire doors and normal doors so that you can identify them while selecting your standards.
Fire-Rated Door vs. Standard Door:
Both gateways are applied on entrances and have no difference in appearance. Fireproof doors perform the same function as regular gates but serve different purposes. These doors ensure to resist fire from entering other building compartments. There is a dire need for Fire Doors in Pakistan, as incidents of Gas blasts and other accidents in office buildings are no longer buried. Everyone must take responsibility for installing such safety measures in offices. Let's have a look over the fundamental differences between these gates.
Purpose and Requirement of Fire Proof Doors:
As the owner of your building, it's a huge responsibility to take care of each individual in the office. You need to ensure safe routes for people to exit the premises in the occasion of an emergency. This route should be as short as possible and as protected from fire as it can be – it should be totally unhindered and lead to a final exit where safety can be reached. So here is the solution: an emergency door is specifically designed to keep you safe in critical situations.
The primary purpose of an emergency exit door is to create compartments in the premises and keep away fire for a certain period to let you go out of the building. It creates safe routes for people in tragic situations. Also, it is required to be installed by the building safety code of conduct – Fire Safety Provision 2016 which is part of the building development safety by the government of Pakistan.
When it comes to local fire doors, they are suitable for homes but cannot give flame-retardancy properties as certified fire doors. Normal doors are a massive risk for business these days.
Fire Barriers: The Role of Fire-Rated Door:
Some believe that emergency exit doors are fireproof and cannot let fire into a building. But the reality is slightly different from that. It can resist fire for a particular time but cannot stop. Its resistance level comes in different ratings like 30, 45, 60, 90, and 120. The resistant level or standard decides the timing of keeping the fire away from another compartment.
Emergency doors will have to pass specific tests. They are subjected to endurance testing, where the sample gate is exposed to extreme heat of up to 180 minutes at 1925 degrees F. If the gate remains intact in its frame with no through openings and limited flames, it is considered certified with an endurance rating of either 20/45/60/90/180 minutes.
On the contrary, standard doors cannot help save buildings in hazardous situations as they don't have safety certifications. Its only purpose is aesthetics and regular use.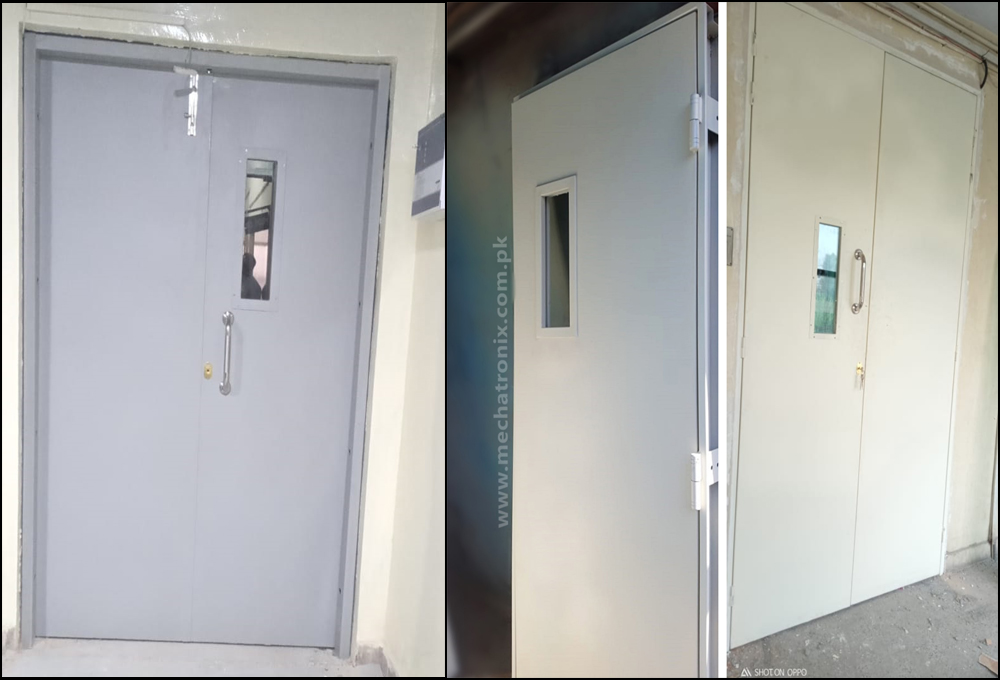 The Science of Fire-Rated Door Structure: What lies in its composition?
One of the primary reasons for fire-rated doors is creating compartments. Compartmentalization is essential for three reasons in the building:
Human safety
Loss Prevention
Quicker extinguishment
The primary concern during a smoke incident is getting people out of the building as quickly and safely as possible because smoke inhalation is the most common reason for flame injury.
Smoke travels fast and can quickly fill up a room. By compartmentalizing the building, you're slowing the spread of smoke through barriers. This helps keep occupants safe during evacuation and will delay the fire by cutting off airflow.
Compartmentalization breaks the building into smaller areas for firefighters and emergency personnel to manage. Unaffected areas of the building will be sealed off from the fire and smoke, while affected areas will be segmented into smaller, easier-to-manage sections. The more quickly a building can be compartmented, the faster firefighters can enter the building and begin to get the combustion under control.
Enhancing Flames Safety with Intumescent Seals:
Intumescent seals are also known as fire stop seals, commonly in conjunction with emergency exit doors to enhance resistance for a specific time. Intumescent seals are applied around the edges of these doors to seal gaps and prevent the passage of flame and smoke through the gates' periphery. In the wake of a blaze emergency, these seals are the best-known solution for doors.
However, when it comes to normal doors, no such fire-retardant material is used. They are painted with simple paints and thus are not made for flame resistance.
Final Thoughts:
After all the above discussion, one thing is to mention if you are willing to start your own business. You do not need to take risks of installing non-fire-rated doors. If you cannot take measures to save the lives of your employees, you cannot grow.
4 main differences make these doors unique rather than simple doors.
1. Certification
2. Purpose
3. Function
4. Composition
Certified doors are given certification of resisting blazes for up to 120 minutes. Till then, you can help people out of the premises safely. Moreover, such gates are unique and decent and come up with new designs such as single-leaf, double-leaf, and locally Fabricated. Emergency windows are also available in the market. You can search for the best fire doors in Pakistan at Mechatronix Solution.
Contact us for free fire safety inspection or audit, freely reach out for any assistance here..!