Mechatronix
Are Road Blockers Considered As Best Protection Against Terror Attacks?
Although road blocker machines throughout the world are structured to ensure safety and facilitate effective and convenient vehicle halt, It is a depressing fact that Pakistan faced terrorism a lot in the past now a days we are moving towards a new era but still security threats could not be neglected. However, vehicle attacks are primarily in common at several premises. For this reason, we must deliberately protect our commercial premises, property and schools from unwanted entries and attacks. Our talented engineers give us ways to control such vehicle terror attacks by an access control system or electric panel, such as road blocking barriers or rising kerbs etc.
Since the name tells that road blocker is specifically used to halt entries on the road. However, it is usually used to stop or control entries at the gate of premises. If you are wondering about road obstacles' function or want to ask whether auto operated road blockers are the best protection against terror attacks or not? Don't worry. We will clarify it for you.
We will be looking in the following blog about:
Safety barricades
Functioning
Types of road blockers
How road barricades are the protection tool against terrorism
What Are Road Blockers?
An obstacle barrier is an anti-terrorist tool installed explicitly in susceptible areas where unauthorized or illegal vehicles have restrictions on access. They are installed to control or stop the roadways from the vehicle passage route and to obstruct vehicle-based attacks.
Automatic road barriers provide a highly secured method of protecting a passageway against vehicular entries. They offer an apparent visual restriction, which matches their ability to stop any road vehicles trying to gain unauthorized access to your site.
Certified Road Blocker:
When a driver is forced to enter the premises, there is a probability of crashing the gate with common barriers. As a result, your company will be severely damaged, and your security will be all in vain. In all these circumstances, human resources are incapable of controlling such incidents. Having a certified road blocker at the access point is crucial as your access point is the root hole of the security assurance.
Certified road blockers in Pakistan are available with a crash rating of k-4, k-8 or k-12 standards. The test involves 7500 kilograms or heavier trucks hitting speeds of 48, 64 and 80 kilometers per hour. It is necessary for you. While selecting a road barrier for your building, such certifications must be considered to ensure security equipment's reliability and quality.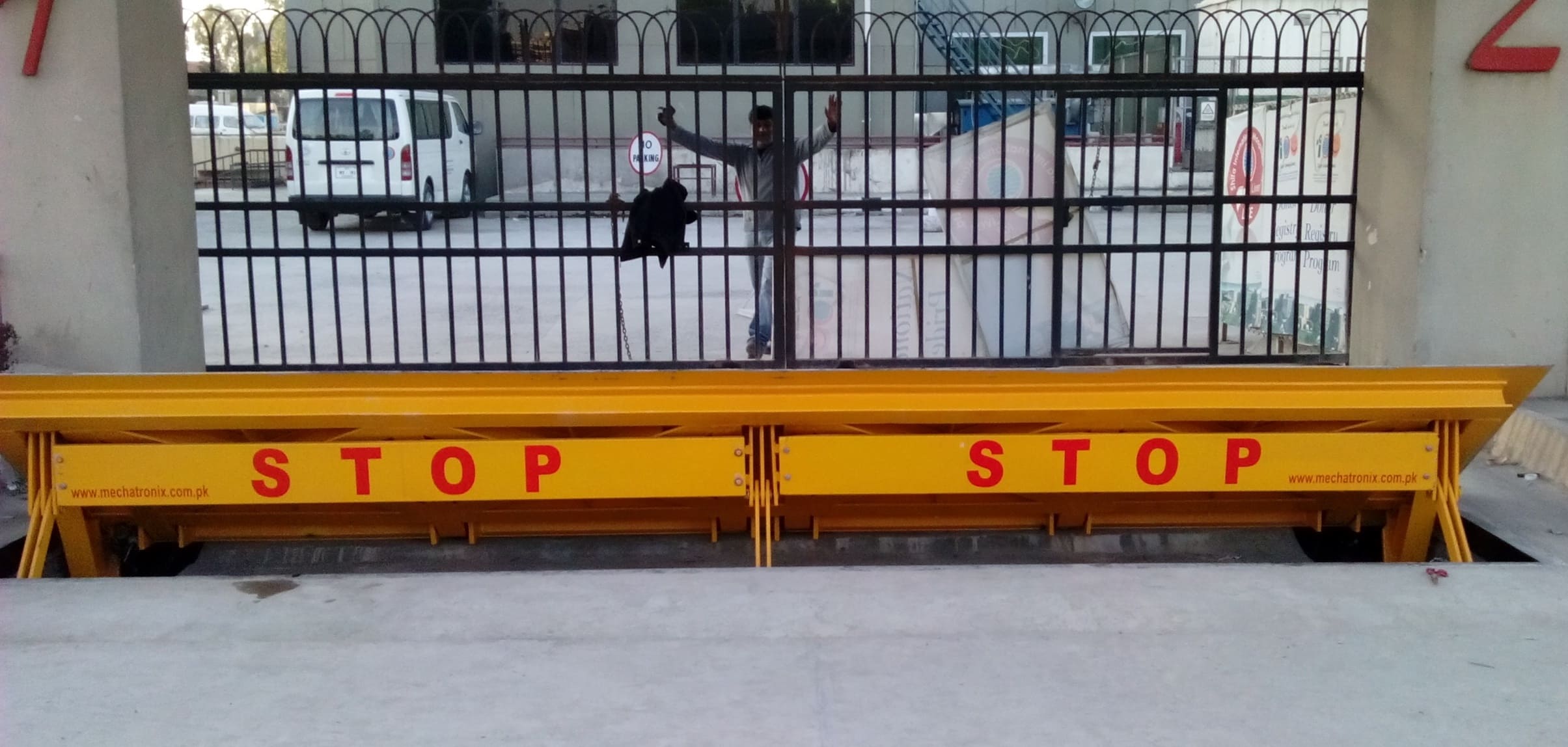 Types Of Blockers:
The road barriers are mounted by digging the ground surface and installing a shallow foundation. Some obstacles can be surface mounted. They can be dropped to the ground to clear the ground surface for movements of vehicles and also raised as an inclination to behave as a barrier. For this reason, they are divided into different three types of road blocking barriers:
Hydraulic Road Blocker
The hydraulic road barrier is the most reliable and qualitative solution to prevent threats and vehicle terrorism. They are recommended for highly sensitive perimeters such as government buildings, police stations, military air bases etc. Moreover, the hydraulic road blocker is entirely hydraulically operated that can give you foolproof satisfactory control over the access.
Surface Mount Blocker
It is the most specific category of road barrier installed directly to the ground and does not require heavy civil work. It is completely customized and can be integrated with an access control system (ACS). Another benefit of a surface mount blocker is that it can be operated with a hydraulic unit in case of power failure.
D type Road Blocker
The D-type road blocker is highly recommended to control not permitted vehicle access. You can see them mostly at checkpoints, prisons, industrial and corporate sectors, military base stations and ports etc. The D-type road blocker is designed explicitly for entrance points with a threat of vehicle attack or those with high-security procedures.
Above mentioned types of blockers are entirely customizable and budget-friendly for your organization. Each blocker has its function. You can modify them as per your choice and need.
How Are The Road Blockers Protection Tool Against Terrorism?
We have discussed road obstacles and their function as per categories since they are the best protection tool for your security insurance. Please keep in mind its benefits and how they act as an anti-terrorist tool against vehicle terror attacks. Some of its advanced features will tell you how important they are for you.
Automation:
One of the best features of retractable obstacles is their automation factor. Recently, it has been the need of our daily life that our machinery must be advanced and automated. Automatic road barriers are wholly customizable and up to date. For this reason, such obstacles are in demand. It is trouble-free to use. You can pin the "release" key when the automated road barriers operate. The system will mechanically begin all functions, such as barrier lowering, vehicle detection, and automatic barrier setting. It will help you more in automation technology.
Automatic road barriers have become more reliable and safe due to their mechanical function. Its rising and lowering feature, safety loop detector and light sensors make such obstacles more valuable.
Can Stand High Impact Load:
The certified road blocker is highly recommendable due to its bearing load feature. Road obstacles are specifically designed to stop vehicle terror attacks. For this reason, it is necessary to check its crash-rating tests before its use. We have discussed its ratings above. You can go through it.
The chief purpose of designing this invention was to prevent illegal vehicles. However, it was not achievable without crash-rated tests. Such exams show how strong these products can bear each load without damage. Remember, when deciding on a blocker design, the type of vehicle, mass, and speed that may collide with the building must be measured.
Protective For Sensitive Sites:
Sensitive sites are where you need the most protection as it is the critical target area where terrorists always lurk to attack. To limit their access to such pain points, it is crucial to do measurements against them. The best protection tool to restrict terrorist access is retractable obstacles. We will recommend you a k-12 certified blocker as it is the best choice for protecting your susceptible sites. Critical locations include Government buildings, financial institutions, supreme courts and data centers.
Automatic road barricades indicate how much you take your organization's security seriously. Certified road blockers are the finest choice to enhance security and relax your property's environment.
Risk Mitigation:
As technology brings new changes, terror attacks are also increasing. Data, inventory and business supplies are targeted for theft daily. However, a vehicle access control system of safety barriers mitigates the risk by up to 90% for your organization.
It would be challenging for visitors to enter private areas of your premises. Additionally, you can keep a record of workers who can reach restricted boundaries. In case of misplaced inventory or tampered data, you can quickly identify the responsible staff members.
Budget-Friendly:
Maybe you are thinking of safety barriers life range. Retractable walls can stand for 30 years on your premises. Comparatively, other safety obstacles need minor maintenance and can stand for the long term. Due to their high durability and stability, obstacles are solid as they can endure high impacts of collisions, strong winds, rainfall, storms, and any other tragedies.
There is no need for service work, which makes this tool a more favorable option for road safety. These barriers can stand for more than 30 years and can save you money in the long run. A hydraulic road barrier is an eco friendly and energy–saving machine with a low failure charge, long service life, and reduced protection cost.
Decide On Safety Barriers:
We have discussed several factors of road obstacles in this blog. They are really in need at our premises. Suppose you want the best customized road blockers in Pakistan.
Mechatronix will provide you with the most exemplary safety barriers. It is the best-integrated security company in Pakistan. For further queries, contact us without any hesitation. We will help you with your questions in every possible way.
For any query or assistance feet free to reach us here..!