Mechatronix
Restrict Wrong Way Vehicles With Hydraulic Tyre Killers!
Since the entrance is the root of an organization, securing your driveway entrance makes your organization more secure and trustable. Tyre killers are advanced barriers which are operated hydraulically to control one-way traffic. Such obstacles are ideal for places with a chance of vehicle attacks coming from the wrong sides, such as highway tool stations, government agencies, embassies, military base-station, custom ports, banks, industrial and mining companies, ports, warehouses, parking etc. Hydraulic tyre busters include heavy-duty spikes which rise from the ground. This system operates like an access control blockade that can stop the entry of any illegal vehicle in a control area.
Hydraulic tyre busters:
Government or commercial buildings need extra security due to vehicle attacks. Tyre buster is one of the finest security systems, per point of view. Certain features make this tool the most acceptable advanced security system in today's world; for instance:
– It controls the vehicle's high speed.
– Heavy-duty tyre killers will damage the vehicle's tyre, making it impossible for a car to move for about 3 minutes.
– Spike barriers can be lowered and lifted manually.
– In an emergency, retractable spike strips will be low and become speed humps within 1.5 seconds.
– Tyre killers for wrong-side driving are the chief purpose of manufacturing busters.
The Security with tyre killers:
Tyre killers in Pakistan are deliberately in use as they are instrumental in restricting vehicle attacks. They work in a hydraulic chamber with heavy speed. Moreover, they can work consequently or physically with an access control system. The tyre buster takes approximately 1.5 seconds to change its position from low to rise, and in case of any urgency or power failure incident, it can be operated manually.
The hydraulic tyre busters' machine is incorporated with a motor and a trigger device, which are mounted in the electric control box toward one side. If any non-permitted motor vehicle tries to enter the driveway entrance forcefully, security personnel can press the remote control access to activate the spikes. While being used, the machines drive the shaft to pivot to raise the spike around 45 degrees starting from the floor to stop the illegal motors into the organization.
Furthermore, heavy-duty tyre killers can be turned into simple road humps and barriers. It is completely customized to add or deduct anything from the tyre buster. Moreover, a Programmable logic controller (PLC),  access control system (ACS) system can easily be mounted in busters.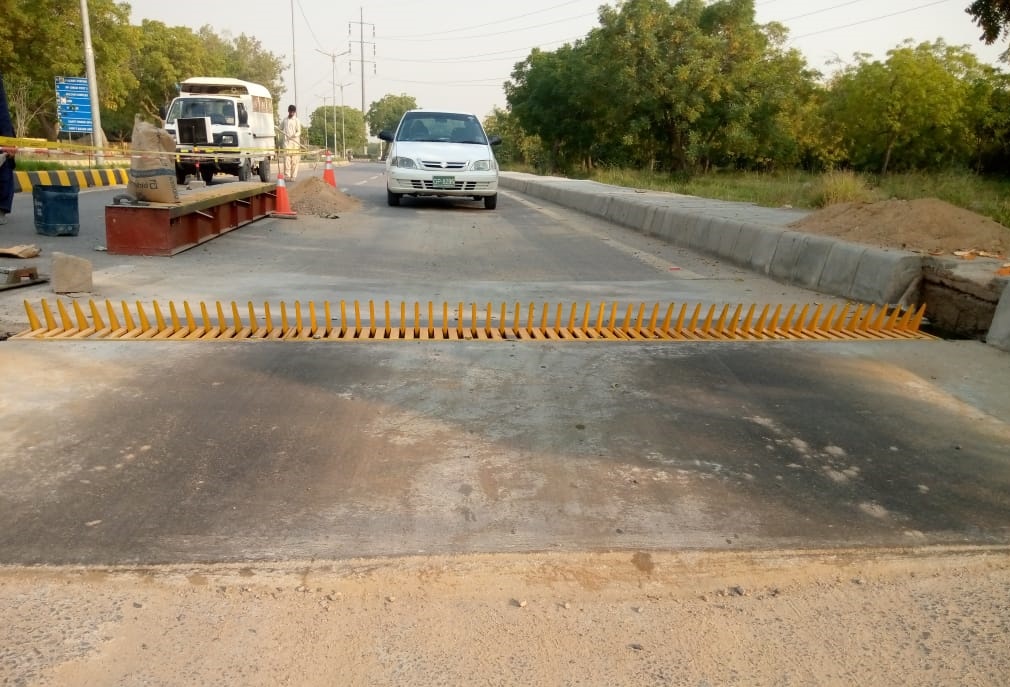 Types Of Hydraulic Tyre Busters:
Wheel killers can be divided into three further types, for instance
Surface Mount Spike Barriers
Surface mount spike barriers are best for wrong-side driving at places where you cannot afford civil work or installation. Such hunters can easily be mounted without any preparation at the site. These are planned with a ramp, either rounded or to some degree.
Manually Operated Wheel Busters
Manually operated tyre killer is for wrong side-driving are best if you need a maintenance-free and ease-in-operation tool. They can work either individually or in joined. The vehicle entry coming from the wrong side of driving can enormously damage the vehicle tires. The spikes can be lowered altogether when required.
Electronic Wheel Killer
An electronic wheel buster is the chief type of hydraulic wheel hunter. These retractable spike strips can stop a high-speed vehicle with a tonnage load. The controlling drive unit of the machine is hydraulic, and in case of a power cut, the tyre buster can be lifted  manually with the handle bar.
In general, the raising & lowering time is around 3 Seconds. However, time can be managed for a sensitive or urgent situation. The electric motorized unit can be incorporated with an extensive range of access control devices such as PLC, ACS, and UVSS.
How Tyre Busters Restrict Wrong Way Vehicles?
The primary purpose of manufacturing tyre killers is for wrong-side driving. A wheel killer indicates drivers to choose the right side of driving. If not, the armed mode of a machine will punch the wheels, and the vehicle will stop moving after 3 minutes. Spike barriers are designed after broad investigation and testing. As a result, it is decided that wheel destroyers are great for lying out at the entrance of premises that require tight security against vehicle assaults.
With the advancement of science and technology, the popularity of cars, the progress of society and the frequent incident of high-speed chasing on roads. Moreover, Some criminals will try to hide from the pursuing police by driving vehicles at high speed, and some cause an illegal hit-and-runs. Whatever the situation is, it will bring no minor potential safety hazards to road safety and personal safety; that's why equipment like tyre busters have been invented.
Retractable spike strips prevent the entrance and exit of an unauthorized automobile from the premises. It tends to be incorporated with road safety systems like a boom barrier to getting an entrance control checkpoint at the most significant level of security. Government offices, airports, armed force bases, banks, checkpoints, etc., are the central location for mounting wheel destroyers. Barriers are mainly designed for entry and exit points of the perimeter and to control the forced entrance of the drivers.
Advanced private and government organizations are interested in mounting tyre killers in Pakistan. As we know, it is best to restrict traffic and improvising safety in a better way. Security experts always advise securing the entrance at any cost as it is the main route to the door in a building. About 80% of protections depend upon the site entry point; if it is covered enough, it mitigates the major terrorism.
Modes of wheel buster:
Wheel busters work in two modes, armed and unarmed mode. You can switch between the modes whenever you require them for security. The armed mode of tyre killer is for wrong-side driving. In the Armed manner, the spikes are raised, so they punch the motor's tires from the non-permitted side, whereas in unarmed mode, the ends are lowered and become speed hump and allow the vehicles to pass in both directions.
Precautions:
 Wheel killers are best for no or most minor maintenance. Certain things must be considered for the long-term use of busters.
 A mechanism must be cleaned regularly to work in good condition for the long term.
Spikes must be checked frequently for unrestricted movement.
There must be no pebble, shopper, or other obstruction in the mechanism, as dust and dirt can condense the life of the mechanism life.
The equipment needs to be checked regularly to examine the software and hardware.
Equipment that blocks the work and sees whether the indications of various devices are correct or not.
Spikes must be lubricated commonly to prevent parts and equipment from rusting.
The Best Tyre killer manufacturer:
Tyre killer manufacturer firms always aim to provide the best way of controlling one-way traffic. One-way passage control regulates vehicles in systematic order. They are cost-efficient and quality-satisfied busters, along with all customized functions.
Mechatronix offers the best tyre killer manufacturer in Pakistan. They provide you with three types of wheel barriers with different spike positions and installations. MEX-KILLERS are sturdy with heavy-duty sharp spikes. Its easy structure and maintenance-free function make this machine valuable. If you are interested in installing tyre killers in Pakistan, you must consider MEX-killers of Mechatronix. They are best in quality and efficient in use. They are available for each type. For more details, contact our website.
Consultation is 100% free of cost.
For further queries, contact us without any hesitation. We will help you with your questions in every possible way.
For any query or assistance feet free to reach us here..!