Mechatronix
What is The Difference Between Fire Exit Door Vs Emergency Exit Doors?
Whether the situation is worst or under control in the building, the backup plan must save your essential people's lives. Emergency gates are intended to help you in urgent situations; they could be Fire-rated or traditional accesses. Both entrances are installed internally as a prerequisite in a company for hurdle situations in your premises. They are mostly kept close and used only in disasters.
Emergency exit doors and fire rated doors work day and night differently in unusual situations. Let's look at their differences so that it will be patent for you to buy the right product for the correct position.
Emergency Exit Doors:
Emergency doors are installed inside the building to let people out in any urgent situation. Sometimes they are fire-rated or simple but mounted for the public in abnormal conditions. Emergency exit's are usually mounted to the outer of the organization.
You may have seen such gates at the theater with a red sign for exiting or inside metro buses and many other office buildings. They can also stay open and closed and do not have to be flame-resistant. It must have an available dual system wherever possible in the direction of traffic flow. So that in an emergency, it can be used by any public member. The chief purpose of the emergency exit door is to allow a quick and unrestricted flee through a well-lit entrance into a place of safety while stopping not permitted access from the outside.
Fire Exit Doors:
Fire exit doors are also called Fire rated doors as they are certified by various certification tests. Since the purpose of flame doors is to prevent the spread of blaze throughout an organization, they act as a physical barrier in the event of combustion accidents. To function appropriately, fire-rated doors must be solid, sturdy and fire-resistant, which is why they are prepared from flame-resistant metals.
Unlike emergency exit entrances, certified fire door can be mounted inside and out.
Furthermore, fire rated doors allow egress from the gap and close once released. They also create compartmentalization in a building and Protect depletion routes from the effects of Fire (smoke, gases and flames). It is also helpful in controlling the amount of oxygen available and slows the growth of a flame.
Which One to Choose?
Both gates have their benefits and use—however, both focus on the security of premises. The significant difference between these doors is their purpose. The principle of these doors is to let the public escape the premises in the event of a conflagration, while the principle of fire doors is to control Flame from spreading from department to department. The main focus of emergency door is on letting people out. However, the focus of certified fire doors is on creating compartmentalization in the building.
If you decide which one is better, we recommend a Fire exit door because they can also be installed as emergency gates as they accurately perform dual functions. Consequently, the exigency entrance only performs one operation of letting people out of the building, but they will not control the Flame from spreading Flame in other departments of facilities.
There is also another difference in the materials of making. Flameproof doors are made from strong but light substances to repel trespassers and open easily from the inside. In contrast, a certified fire door is an authentic world fire rating standard. Mechatronix is a local professional manufacturer of commercial Steel Fire proof entrances made from solid materials because they have to withstand Flame and smoke.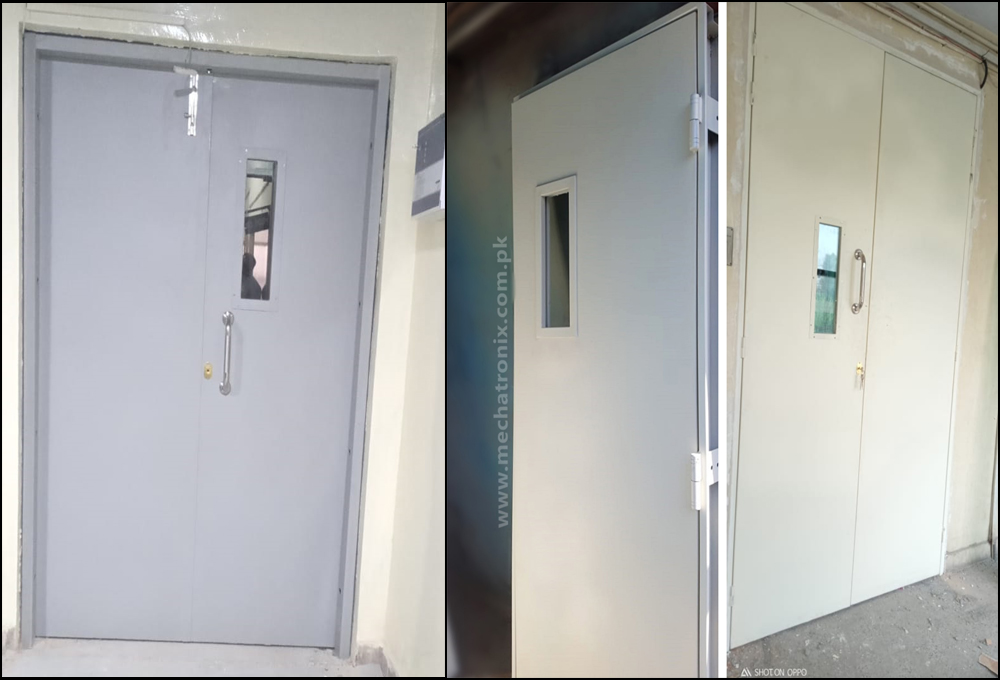 Which One You Should Choose
A fire exit door is the best deal for you when choosing it since Fire-rated glass must pass a battery of tests certified by national test standards. Such as BS-476 certified tests, run the tests, and then assign suitable ratings based on the outcomes.
They are also available in fireproof windows. Fireproof windows look like simple glass; however, when it comes to combustion accidents, such windows become a matter of life and death. Fireproof windows and their glazing can prevent fire damage to a restricted area. Laminated glass can last until about 500°F. At the same time, fire-rated glass can usually survive heat above 1600° F.
Make Sure You Reach Out The Best Manufacturer
Another imperative reason for using fire doors in Pakistan is to ensure you are a responsible and caring company that cares a lot about their employee and collaborators' lives.
MEX Fire doors in Pakistan are the best in performance. The gates are passed through authentic world standards of fire Ratings. Mechatronix is a local professional manufacturer of commercial Steel flame proof gates in Pakistan. Contact us if you are interested in the best quality fire exit door. We will help you in each possible way of providing the finest gates for your organization. Contact us without hesitation if you want further details regarding quality and prices.
Consult Us For Any Kind Of Help Or Query.
For any queries, contact our team of experts. We will solve your questions in every possible way.
For any query or assistance feet free to reach us here..!