Mechatronix
How Fire Proof Doors Can Protect Your Industry from Fire
Industries are an essential part of the economy. They play an indispensable role in providing employment and contributing to the GDP. But, with the presence of manufacturing units and heavy machinery, there is always a risk of fire hazards. This is where fireproof doors come in, as they are an essential tool to prevent disasters and save lives.
We often see industries needing more attention to fire safety and protection measures in Pakistan. In fact, combustion is more common in industries than in any other type of building. This is because industries often use flammable materials and equipment. They usually have large amounts of combustible materials stored on site. If industries neglect blaze safety measures, consequences could be severe. One of the essential tools for such safety measures is the installation of fire doors.
Introduction and Working
Fire-rated doors are usually designed in a specific manner with a blaze-resistance rating of up to four hours. These materials, like steel, gypsum, and vermiculite board, resist high temperatures and halt fire spread in firms.
Before installing, you need to understand how these doors can protect your industry from combustion? What type of material is used, and how are they mechanised? For such queries, look at the details.
The primary purpose of a fire door is to divide a building into sections. It contains flames within a specific area and slows down its progress. People can evacuate through the gate. Flame doors have intumescent seals that expand when exposed to heat. It creates a tight seal around the door. This growth of blazes helps prevent the passage of smoke and hot gases, which contributes to containing the fire. These gates seal the gaps around the door edges, preventing the passage of flames and smoke.
Moreover, they have a feature of self-closing mechanisms. It remains shut in case of a combustion outbreak. We can open it if we need to.
Fire-rated doors undergo rigorous testing and certification to meet specific fire-resistance standards. They ensure that doors can withstand blaze for a specified duration. They are usually ranging from 30 minutes to 120 minutes. It depends on the door's intended use and location within the building.
A Cost-Effective Way to Protect
Fire proof doors are designed to resist the spread of fire for a specified period of time. This gives people time to evacuate the building safely and allows firefighters to contain the fire. They are also made of materials that will not release toxic fumes when exposed to fire. This helps to protect people from smoke inhalation, which is a leading cause of death in fires.
There are several different types of fire proof doors available, each designed for a specific purpose. Some fire proof doors are designed to be used in areas where there is a high risk of fire, such as chemical plants and manufacturing facilities. Other protection doors are designed to be used in areas where there is a large number of people, such as schools and hospitals.
The type of fire proof door that is best for a particular business will depend on several factors, including the size of the business, the type of industry, and the number of people who work there. It is important to consult with a fire protection expert to choose the right doors for a business.
These doors are an important part of any fire safety plan. They can help to protect businesses from the devastating effects of fire. By installing fire rated doors, businesses can help to keep their employees and property safe.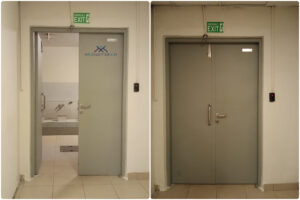 Impact of Fire Doors in Industries:
Reduce the risk of fire spread
As we are discussing, a fireproof entrance is drafted to withstand high temperatures, prevent the spread of fire smoke, and protect people and equipment. They act as a barrier between the fire source and the hydrocarbon units, thus controlling the fire.
Protects Employees, Property and Assets
Industries possess expensive equipment and machinery, and a fire hazard can cause a significant loss, not only in terms of finances but also in terms of jobs. These flame-proof gates protect the property and equipment from the flames, which can prevent the collapse of the building and, in turn, save jobs.
Meet fire safety regulations
Pakistan's laws require industries to comply with certain fire safety standards and provisions. By installing these doors, industries can ensure compliance with the relevant laws and regulations.
Provides Safe Escape Routes:
In the event of a fire, it is essential to have a safe escape route for the employees. Emergency fire exit doors are crucial in providing such a passage as they prevent the spread of fire and smoke, enabling people to evacuate safely.
Contact us for free fire safety inspection or audit, freely reach out for any assistance here..!