Mechatronix
Importance Of Fire Doors Are Crucial For Organization Safety: Explained"
You may have come across the sentences like "difference between fire & death," which exactly can be used to define the Fire rated doors. You would be wondering why we are associating these doors with life and death?
These doors are one of the essential fire protection components in a structure, and they can reduce the amount of time it takes for a flame to spread across a structure. A fire proof door, which acts as a physical barrier between the blaze and the people, can mean the difference between life and death. People have more time to flee or wait for the fire department to arrive if the fire is slowed down the people within. When correctly placed, maintained, and examined, they can help reduce the spread of firestorm and the damage it might cause.
HOW DO THEY MAKE A DIFFERENCE?
These windows or doors provide passive safety since they do not require physical activation; they are effective fire-resistant barriers that do not require external stimuli. A fire door is a specially designed piece of fighting equipment that has been engineered to meet stringent safety requirements.
When closed, such doors provide crucial protection and compartmentalization of escape routes, such as staircases and hallways, allowing occupants to reach a final exit point. When strategically positioned in a building, fire proof doors separate it into different sized compartments, a process known as compartmentalization. This detains the spread of smoke, allowing for a safe escape, and containing the burn in one compartment poses a risk to the rest of the building's structure. And giving the fire department crucial time to contain and extinguish the firestorm.
WHAT ARE DIFFERENT TYPES?
The features are generally the same, and they should all meet the appropriate safety standards. The level of resistance is usually where they differ. To reflect they are given an FD rating, and it is up to the person in charge of the premises to decide which is best for their structure.
The four most frequent FD (Fire Defense) ratings are:
FD30 -fire doors with this rating provide 30 minutes of sniping resistance
FD60 – resistance for 60 minutes
FD90 – resistance for 90 minutes.
FD120 – resistance for 120 minutes.
FREQUENTLY USED FIRE RATED DOORS: FD 30 & FD 60
The most frequent door style is the FD-30, which is also recommended by fire safety requirements. If there are numerous along a path, they can provide a high level of protection, as The 30 minutes build-up to a significant amount of time and considerably delay the spread of the flame. Compartmentalization is the term used to describe this process.
Except for a flame proof gates between two buildings (FD60 is generally used here), anything greater than FD30 is uncommon. However, a higher rating may be utilized in premises where the owner wants to maintain the building and anything within it, such as valuable papers.
DIFFERENCE IN MATERIAL USED
Some fire-safety gates may also differ in terms of the material utilized (for example, repellent glass or metal rather than wood) and any other features, such as a glass window. However, they must meet the essential safety criteria in these circumstances, such as having a fire-rated glass with the necessary seal surrounding it in a door window.
WHAT SHOULD BE AVOIDED?
First, understand these fire doors are not like ordinary doors. Like any other piece of fire safety equipment, protection doors should be fitted by a trained professional, and if they're built incorrectly, they could be rendered worthless in the case of a blaze. Similarly, you should not make any changes to your door, such as cutting vision holes or patching it up if it is broken; once compromised, it will need to be replaced.
The fire protection door closer should never be disconnected. In a fire incident, the door must be closed to maintain its integrity. Also, check whether the door has been propped open or obstructed, intentionally or accidentally.
FIRE DOORS FOR ORGANIZATIONS SAFETY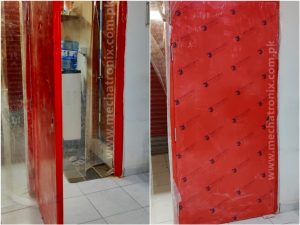 Besides providing escape time to the people stuck in an organization whose building caught blaze, these doors also mean rebuilding the small portion rather than rebuilding the entire location. Let's use a time machine and enter in the history of Pakistan where we lost thousands of lives, assets and buildings from a small fire of single room, such as Regent Plaza hotel in Karachi, cooperative market Karachi and many more. But if they had these safety doors, our ancestor's didn't had that much loss. In short, these doors can play a vital role in saving organizations data.
HOW CAN YOU ENSURE THE STANDARD OF FIRE PROTECTION DOORS?
Following are the five simple steps that can be performed to check the reliability of these fire rated doors.
Check for certification – A label on the top (or occasionally on the side) of the door should indicate certified fire safety gates. If there isn't, the door may need to be replaced, and it should be reported to the building's fire safety officer.
Estimating the gaps – The gaps around a fire protection door should consistently be less than 4mm (the bottom can be slightly larger).
Examine the seals – The intumescent seals around a flame door are critical to assuring its fire safety; if one is missing or damaged, the door's fire safety may be jeopardized. Any seals that are broken or missing should be reported.
Is it completely closed? — Allow the door to open and close on its own. It is unlikely to be useful in the case of a flame if it does not close completely on its own. It could be jeopardized if it sticks even by a few centimeters.
Examine the hinges — If the hinges aren't securely fastened or have missing or damaged screws, the door's integrity may be jeopardized, necessitating maintenance. With well-maintained hinges, you may save a lot of time.
CONCLUSION
Fire proof doors are an important component of a building's PASSIVE flame prevention system, required in public buildings, offices, and industries. A fire protection gate serves the same role as any other door in everyday use. However, because a fire outbreak is never predicted, the fire safety gates, unlike any other door, must then fulfill their primary function of protecting life and providing safety to the rest of the building and other structures. It's critical to choose one that's right for your building's needs, have it installed appropriately, and have it inspected and maintained regularly to get the most out of it.
For any query or assistance feet free to reach us here..!