Mechatronix
The British Standard – BS 476 Certified Fire Rated Door In Pakistan!
You may have come across the sentences like "difference between fire & death," which exactly can be used to define the Fire doors. You would be wondering why we are associating these doors with life and death?
What comes to your mind when you hear about the fire rated door? Maybe you are thinking of a door that can resist Fire. Yes, you are right, but there are much more things to know about this. Fire doors also used to be called fire resistant doors.
It is an internal door designed as a prerequisite in a company in an emergency. Moreover, it is also intended to create an escape route through the building in a condition of an incident of blaze by stopping flames and smoke from spreading Fire from one section of the building to another.
To make door certified fire door, it must go through different standardized tests that make them certified, reliable and the best quality product.
Certified fire door shows the product's authentication, whether or not they are eligible to resist Fire. Certification under the scheme involves rigorous type testing, audit testing, and factory production control, combined with fire tests, ensuring that they will perform the same level of performance as those tested.
What is BS 476 Certified Fire Door?
BS 476 is a British standard test which guarantees whether the door is resisting flame till the due time or not. It also makes sure that all the components of doors function correctly in a proper manner.
The test atmosphere is profoundly measured with stringent safety and timing measures. The inclusive aim is to achieve a fire rating expressed in minutes. Ratings guarantee that the door will last for the specified time when subject to fire. These are some most frequent rating measures that will tell you a specified time of resisting fire for entry.
FD30 – Resistance for 30 minutes.
FD60 – Resistance for 60 minutes
FD90 – Resistance for 90 minutes.
FD120 – Resistance for 120 minutes.
BS 476 Certified Fire Doors Now Available In Pakistan
You may have an idea of BS 476 certified fire protected door and how they have to fulfill British standards to get certifications. Suppose you are living in Pakistan and want locally manufactured fire doors. Do not worry about it. Mechatronix is one of the trustworthy leading firms in Pakistan that offers BS 476 certified fire rated doors with authentic BS-476 license.
The fire proof door is consistent and accurate per your company's needs. Mechatronix will not only gives you protection but aesthetics as well. Furthermore, they can be completely customized as per your requirement. Certified fire doors in Pakistan are available in varieties and full sizes, along with high-quality stainless steel and hinges. There are three types of fire exit doors. For instance
Single Leaf:
The single leaf is a one-panel door manufactured for commercial use. It is a traditional option for door openings around the home. Moreover, the door layout depends on the room and homeowners' preferences.
Double Leaf:
A double leaf is a double panel door manufactured for industrial use. It is also a customary model used for towers and health care centres. The accessories of double leaf doors are vertical or horizontal panic bars, Vision panels, optional louvres etc.
Locally Fabricated:
Locally fabricated doors are steel doors but have fire resistance capacity. The centre of the Fire proof doors is Mineral Rockwool, Honeycomb or Ceramic wool. The fire safety door is entirely customized as its finishing, size etc., are painted per customer-specified requirements.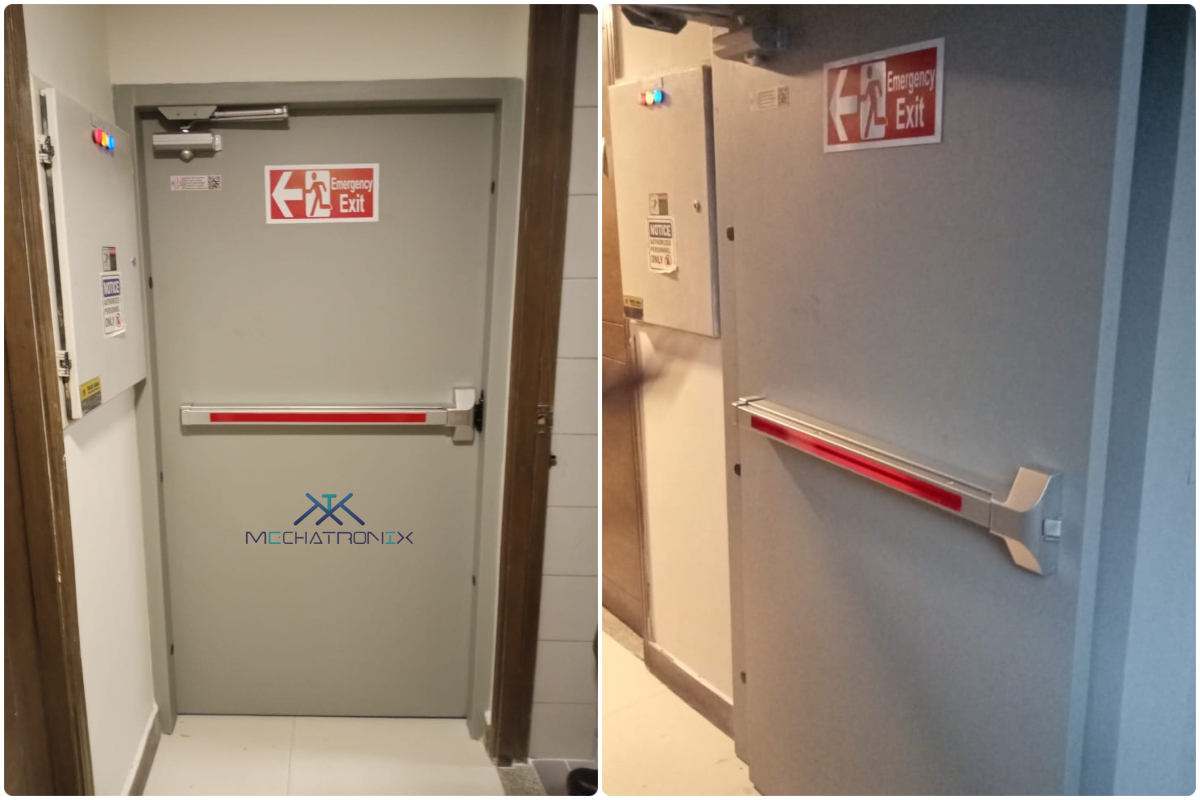 Mechatronix also offers flame proof windows.
BS 476 Fire proof windows:
If the entrance is secure, but small spaces like windows are not protected, the building will not be secure. For this reason, inventors also invented fire proof windows that will protect your premises more efficiently.
A certified fire rated Window is a tested window assembly verified to offer a certain degree of security in the face of flame. That may sound like a weird task for a window and its glass to perform. However, Mechatronix solves this matter professionally. The firm use fire-rated glass that can bear up to 1600° F, a comparatively simple glass of 500° F. That's a special glass marked difference in performance. Structural fires are capable of reaching extremely high temperatures very quickly.
To earn standard value, fire-rated glass must pass a
battery of tests approved by national test standards. (Such as BS 476 certified test) run the tests, then assign suitable ratings based on the results.
Functions Of Emergency Fire Doors:
The primarily aim to save lives and stop burning progress in support of escaping occupants and fire-fighting happenings. They play an important part in your premises' blaze protection system and are an essential requirement for most buildings, including residential, public buildings, offices and factories, etc.
There are some of the main functions of emergency exit doors. For instance,
Fire proof doors allow egress from space and close once released…
They also create compartmentalization in a building.
Protect outflow routes from the effects of Fire (smoke, gases and flames).
Potentially control the amount of oxygen available and slow the growth of a fire.
Fire Safety Considerations:
Fire safety is a crucial part of your security. To ensure that your building has fire safety protection, you must install fire exit doors. Such doors will help you in many ways. For example, it will not only enhance your business but also ensure the lives of your employees by preventing Fire from room to room.
Today's architectural priority of a building is to give complete relief from accidents. We cannot control disasters, but we can make some prerequisites for safety. In recent times, fire accidents have been heavily in range, specifically in big cities like Karachi. It is because of the occurrence of synthetic materials in buildings and homes. That's why emergency fire doors are invented; they can protect your premises and enhance the value of your structure.
Conclusion:
After all the above discussions, you may have a clear idea of fire rated door, its types and variety. Moreover, you probably know which types of fire proof doors in Pakistan are available. If you are interested and want locally manufactured fire doors, please get in touch with us. We are the leading firm that can reach your expectations entirely. The firm will make the best quality product per requirement, and the doors are fully customizable and certified.
MEX fire doors are BS 476 certified doors. The doors give authentication as per ratings and customers' needs. To know more about the benefits and importance, read our other blogs or can directly contact us without any hesitation.
For any query or assistance feet free to reach us here..! Consultation is 100% free of cost!