Mechatronix
Boom Barriers Keeps Your Warehouse & Manufacturing Plant's Entrance Safe.
As everyone is aware of the importance of security. For this reason, in every commercial or residential society, people encourage to increase security at the entrance. Boom Barrier is an advanced security tool that can keep your warehouse, manufacturing plants and residential building's entrance safe and secure.
Have you ever driven through the toll plaza or a checkpoint? You probably passed through a gate called a light weight booms. Such automatic They are usually used to slow down the traffic, and it is affiliated with traffic lights that can automatically record the registration number and speed of the motor.
Manufacturers in Pakistan are trying to give complete relief from the stress of entrance issues. Mechatronix is one of the best leading companies in Pakistan that provides high-quality automated and security equipment. Boom gates are wholly certified and updated as per today's needs.
Before buying boom gate barriers, look into the pros, needs and varieties of this valuable equipment to give complete trust for your entrance security.
Why floating boom barriers are in need:
Floating boom barriers have become a basic need for today's security and safety of the people and premises. The good thing about the it will be the first line of defence for protection. Security personnel can take time to inspect each vehicle calmly, especially in places like malls, warehouses etc., where traffic flow regularly.
Automated boom barriers are connected with one arm, pivoted at a fixed point connected with a gearbox, plunger, and AC motor and balancing spring. A strong AC motor moves in a vertical direction. When the power supply gives to the motor, It rotates the gearbox, which shifts the counterbalance channels from verticle to horizontal positions and vice versa. Some stopping barriers also come in a couple of arms that hang from 300 to 400 mm below the upper arm. It also has LED indicators that indicate movement, direction and working of the barrier.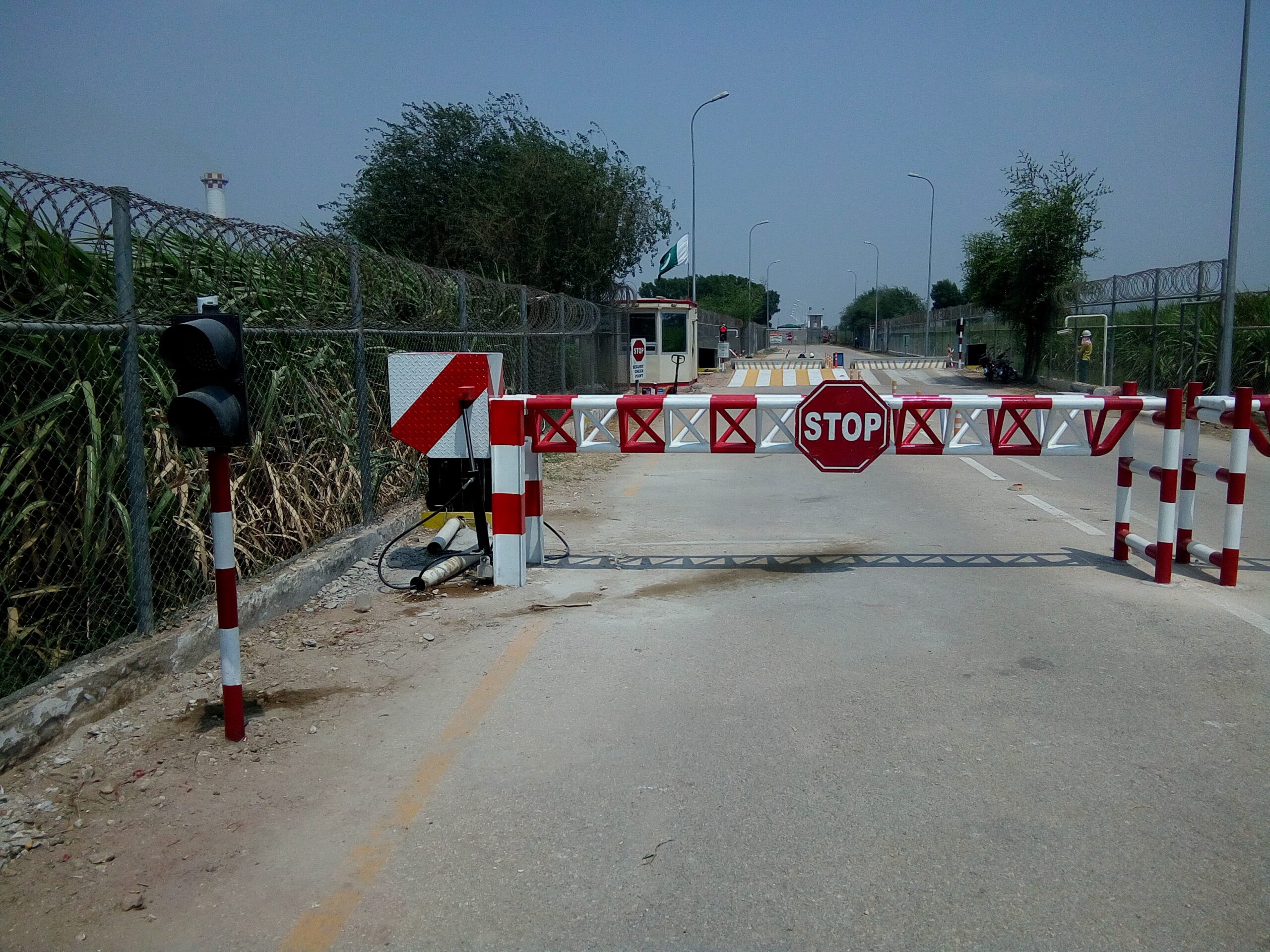 Types of boom fences:
Boom barriers come in different varieties based on their function. As some traffic barriers are used to be called light weight booms, and some are crash-rated barriers. Both have other ways to control traffic. Let's have a look at some of them.
Electromechanical booms:
Electromechanical is the most demanding boom in the market. Hence it is a multipurpose barrier and is used day and night time. It is one of the highest quality security entrance equipment used in your commercial and industrial surroundings. Such a stopping barrier is wholly customized per your premises' requirement.
Double boom barriers:
The double boom is the most substantial traffic barrier to control heavy vehicles like trucks or buses. Crash-rated walls are available with ratings of k-4, k-8, and k-12. They are manageable with various features, including access readers, inductive loop detectors, manual pushbuttons, signal lights, and interlocking operations.
Light weight booms:
Light weight booms are not crash-rated but completely automatic and customized. The primary purpose of light booms is to slow down the traffic and inspect the vehicle automatically. They can be mostly seen at toll plazas, checkpoints, parking lots or other such places.
Manual booms:
These types of boom walls are installed at locations where there is a limited visitors for entrance service entrances or residential apartments. These stopping barriers are installed at places with no electricity or frequent power failures because they don't need much electricity. Manual booms are the simplest type of barrier.
Hydraulic booms:
The hydraulic barriers are one of the most robust traffic barriers or entrance security expedient in the present time. These booms are required only when the purpose of security demands the length for a perfect solution. The hydraulic barrier is one of the most fundamental barriers operated with a hydraulic system and different electrical equipment, specifically designed for heavy security areas or sensitive sites, such as police stations, universities, ports or governmental buildings, etc.
In the subsequent section, we will discuss some significant benefits of installing stopping barriers at your premises. Suppose you are interested in installing this substantial equipment at your premises. Let's have a look at it.
Benefits of installing boom gate barriers outside your warehouse:
Technology's fundamental purpose is to benefit people in every aspect of life. Boom barriers are entirely customized and can be operated through advanced technology elements. Such as RFID readers, Remote controls, Push buttons, loop detectors, etc., help protect in several ways. Such as:
Authorized access:
Authorized and legal entries are a major headache for security personnel, which may cause trouble for them. It is effective in each type of environment, no matter the type of place or establishment you wish to protect against unauthorized access. You can add RFID readers, remote control and CCTV cameras to keep an eye on each vehicle, which will help your entire System even more safe and secure. Such automatic boom barrier is perfect for warehouses, manufacturing plants, hospitals, police stations, and any commercial or large industrial areas.
Furthermore, you can also have a record system where the exit and entries are thoroughly recorded and reported for maintaining the authorized passage of vehicles.
Least human interaction:
Another benefit of installing boom gate barriers is you don't need to hire personnel at the entrance. The device is entirely automatic and can be operated from home through buttons. The control buttons can be installed inside your home or in your company's control room. You can also control access via innovative digital hardware, such as fingerprint, palm, retina, etc. So, minimal human effort is required for operating an automatic barrier.
This benefit makes this tool more reliable as in pandemic situations contactless approach is mandatory. Hence the barrier gives you complete digital control over the entrance. You can collect all data digitally and allow entrance effortlessly. From entering motor vehicle details to authorization, it is all done and stored in a secured digital System. It assures significantly least contact between staff and guests.
Minimal space requirements:
The traffic control gate requires minimum space to provide high-quality security. However, it will be effective for all vehicles such as buses, cars, cycles, etc. The benefits lead this barrier to economically practical that can save space better than swinging or traditional gates. The benefits are installed to allow all sizes and types of vehicles and proof to be the best solution for access control.
Customized boom barrier:
Stopping barriers are entirely customized in size and technology, as we have discussed types of fences. All styles are adequate as per the need. However, if someone wants to add more features such as RFID logs, biometric and face recognition systems etc., they can be added anytime. Furthermore, the System can be operated digitally or manually as needed. Other than this, size is also be adjustable for premise requirements. Hence stopping barriers is an entirely advanced, customized and all-in-one solution for your building.
Flexible:
Floating boom barriers are very flexible in use. Several reasons make this tool flexible and practical for the company or individual use. Please have a look into them.
Power failures do not impact.
Can move from one area to another effortlessly.
Available with all advance digital features.
As safe and secure as you want them to be.
Automatically open and close System.
Budget-friendly.
All the features mentioned earlier make the barrier more flexible and effective for the daily use of security. Consequently, crash-rated barrier manufacturers in Pakistan fulfil every prerequisite for commercial purposes with fool-proof security and multiple fixtures and accessories.
Cost-effective:
As there are a lot of benefits of barriers, it is a budget-friendly feature that also makes it a valuable device for use. Their most minor maintenance also helps us to attract and do not need to invest much money in its protection. It will provide you with inclusive extended life security.
Furthermore, for more prominent societies like parks or shopping centers, mall floating boom barriers are convenient and perfect for controlling automobile traffic. In addition, the total cost is also insignificant if you see it in the long run. Furthermore, you don't need to hire multiple guards 24/7 at entry/exit points. Hence, you can control the entrance by sitting at your home or in-room by hiring one personnel. In this way, you can also save your money efficiently.
If you haven't secured your factory or manufacturing plant entrance:
Secured companies are the trusted companies for everyone. That's why we offers you the best security system in floating boom barriers. Such walls are entirely automatic, crash-rated, and up to date for premises. If you are interested in installing fences at the warehouse and manufacturing plants entrance, have a look our automatic barriers and make a decision of your choice.
For more details and queries, contact us without hesitation…!
Our team will eagerly help and support you!
Consultation is 100% free of cost!
For any query or assistance feet free to reach us here..!