Mechatronix
Manual vs Automatic Boom Barriers, Which one To Choose?
Boom barriers are widely used for securing the entrance/exit to company offices and sensitive working locations. It ensures manifold strength, and is a surely measures to prevent unwanted vehicles from ramming their way into the facility.
What is Boom Barrier?
A boom gate barrier is a short, straight hand that moves up and down to block the access of pedestrians and vehicles through the entrance point. Wall can control, monitor and restrict the movement of vehicles, assets and people. Boom barrier manufacturer in Pakistan aim to give guaranteed protection for the organization. They are not just designed to keep vehicles away from passage. Boom gate barriers are way more helpful than this, and we will have a short discussion.
Such gates come in two wide varieties. They can be operated manually and automatically. Manually operated boom barriers are hand-operated and need a guard or personnel to work. However, automatic boom barriers are much more advanced and wholly automated through access control systems (ACS). Let's discuss their working process to decide which one is better in use.
How Does Boom Gate Work?
A manual gate is the best choice when there is no need to shut and open the entrance frequently. For instance, during working hours, business hours or at temporary use such as road closures or an event. The boom gate barrier also used to be called the mechanical barrier. Automatic gate operated through fixed support or pendulum support. It consists of a self-supporting steel stand mounted in the ground and a gas-filled damper. There is a locking bolt on the upside of the barrier. The bolt is fastened employing a chain to the barricade stand or a fixed support post and will be removed to open and close the entrance. The manual boom barrier is heavy and requires personnel to look after it.
The automatic wall includes many more mechanical components, such as RFID, biometrics and faces identification systems. It is best known for giving entrance only to verified persons into the premises. Some boom gate barriers come in a pair of arms that hang from 300 to 400 mm below the upper arm. It is connected to an AC motor, gearbox, balancing spring, and plunger. The AC motor is potent and helps lift the fitted barrier arm, which moves in the vertical direction. When the power supply is specified to the motor, the gearbox is rotated, which drives the offset channels from horizontal to vertical positions & inversely at 90 degrees. Lightweight Booms have often united either end to end or offset adequately to block traffic in equal directions or guidelines.
Merits and Demerits of Manual Barricades.
Manual gate ensures security by mechanism system. You may see them in front of colleges, universities or the front building where there is less movement of vehicles. Since we have discussed that they are hand-held and operated manually, that's why. They are electric-free and can be used when there is no electric power. They are heavy but long-lasting, need less maintenance and are used mainly for short terms where there is no need for frequent opening and closing of the entrance.
However, there are some disadvantages of the manual wall gate as well. Such as, they are entirely dependent on personnel, heavy and old-fashioned. Moreover, due to its heavy weight, it is hard to add extra material to strengthen the barrier. A significant disadvantage is if the personnel are unavailable on the passage. An unauthorized person can quickly get access by controlling it manually. It can cause substantial damage to the office or a building soon.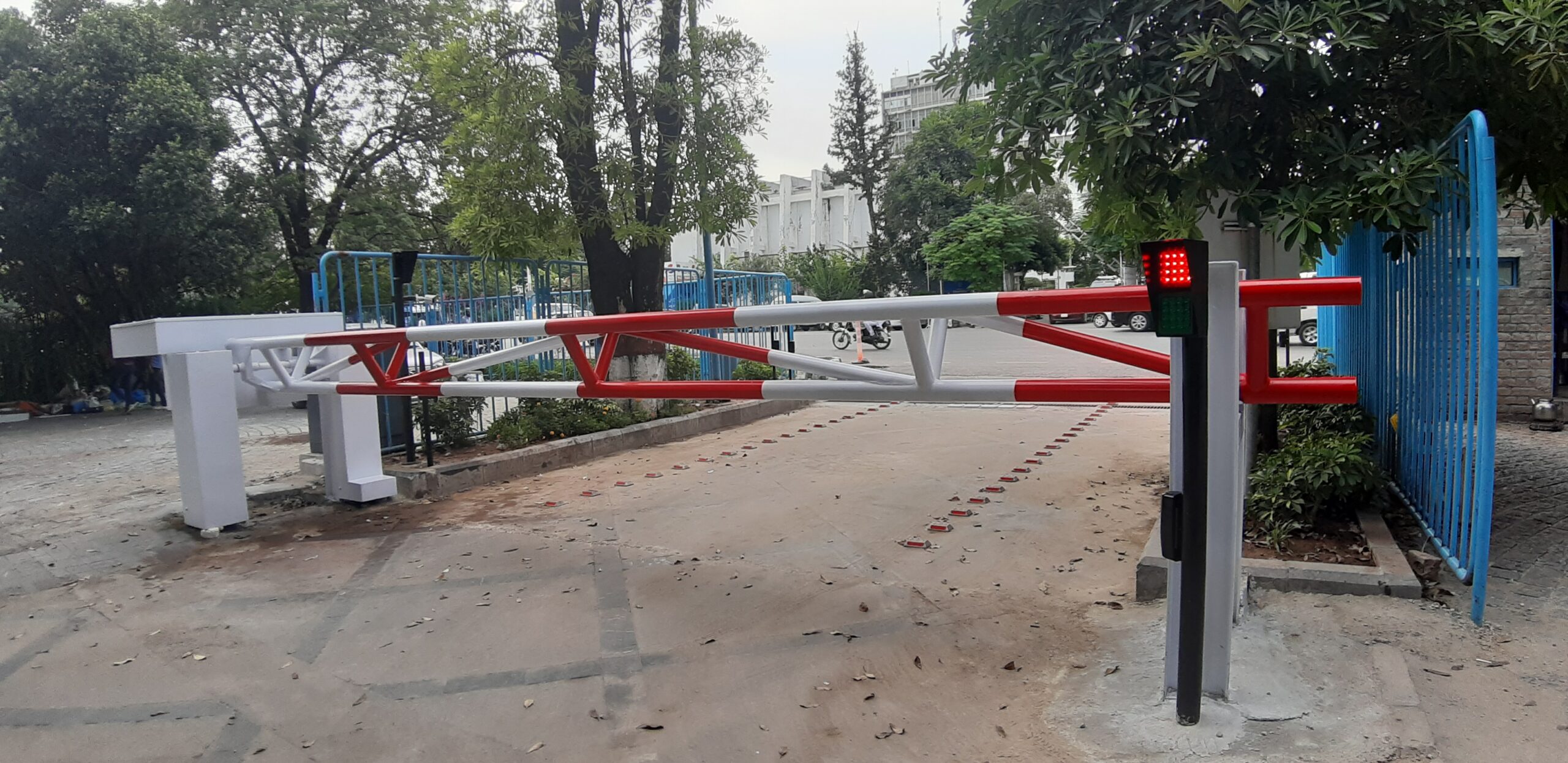 Merits and Demerits of Automatic Boom Gates
Automatic boom gates are frequently used at multiple places, such as Housing societies, work zones, Site zone areas, Industrial entrances, Parking garages, commercial buildings, apartments, hospitals, railway crossings, checkpoints etc.
It is entirely automated and has complete control over the door. Multiple advanced Access control systems have been introduced in lightweight boom barriers, such as RFID, face identification, biometrics and push button systems. People will be verified by credentials requirement and then can enter the premises. In case of power failure, a lightweight boom barrier can be operated by hand.
One disadvantage is that it needs little extra maintenance than a manual gate. The system needs to check regularly. Another shortcoming is it needs to rely heavily on electrical power. This means that when you lose control, your gate also loses power. It would be best if you planned for a backup generator in case the electricity's out. Furthermore, the automated gate's price is slightly different from the manual gate basis on its features and specifications.
Benefits of Automated Boom Gates:
A comparison of manual and automated gates is obvious. Due to modern technology, automatic boom barriers are frequently used, providing crash-ratings safety with certain advanced computerized features. Let's discuss some of the benefits of automated that make them more evident than manual systems.
Protection:
Security is the primary concern for everyone now. Lightweight booms are the best way to protect your organization. Its different functions make you feel more secure. No unidentified person can enter the premises without permission.
Furthermore, booms are crash-rated barriers, guaranteeing protection for your property. Mechatronix provided auto-operated crash ratings of k-4, k-8, and k-12. That leads to the best way of security.
Absolute Control:
Boom gate barriers allow the homeowner to control the entry or exit by the sensors of an unauthorized person. Access control systems offer complete control in the owner's hands. By this, you will be able to look after the gate even if you are not physically available there. Moreover, the data is saved in the system. In case of any hurdle activity, the owner will be able to check the entrance and can take action.
Stress-Free Observance:
As we know, gates are computerized, so it is a stress-free and unproblematic task for security hosts. For instance, if you are mounting gates over the society entrance, the public vehicles will be pre-approved before entering the community. The control buttons of the gate can be installed inside the house. You can also manage access via innovative digital hardware, such as fingerprint scanners, palm scanners, retina scanners, etc. in this, you will be able to observe the public freely.
Powers Failures do not Effect:
Crash-rated barriers are entirely stress-free in case of even power failures. In the matter of a power cut, you can convert it into a manual system if the floating boom barriers are only driven by electricity. It can cause problems and will be a headache for staff. So, in that case, floating boom barriers can allow solving power failure issues effortlessly.
Cost-effective
The designing and manufacturing of automated gates are done with precision technology. They are cost-effective as they can handle different tasks simultaneously and do not need three or four personnel at the entrance. Crash-rated barriers are assured for protection and allow illegal entries out of the access. Moreover, by installing floating boom barriers, you can increase the property value of your organization. People will analyze differently for your organization.
With technological advancement, everything gets converted Digitally, So at-the-least you should change your mindset and discover new pieces of machinery. Now the time is different and needs everything to advance. It is up to you now to determine the better option. Automated or Manual Gate? If you need any help feel free to ask whatever thing related to new technologies. Mechatronix is one of the best boom barrier manufacturer in Pakistan for your premises. Other accessories like traffic signal lights, Safety loop detectors, and Indication lights can also be integrated with walls.
Consultation is 100% free of cost.
For any queries, contact our team of experts. We will solve your questions in every possible way.
For any query or assistance feet free to reach us here..!